Manage episode 245857112 series 2527371
By
Andrea Subissati and Alexandra West
,
Andrea Subissati
, and
Alexandra West
. Discovered by Player FM and our community — copyright is owned by the publisher, not Player FM, and audio is streamed directly from their servers. Hit the Subscribe button to track updates in Player FM, or paste the feed URL into other podcast apps.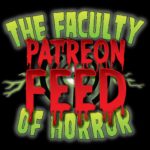 In our first-ever Glossary of Gore episode, Alex tackles Laura Mulvey's theory of the male gaze; analyzing Mulvey's essay Visual Pleasure and Narrative Cinema and discussing how it's been applied since it became part of cinematic vernacular.
The full episode is available only to the post-graduate tier of our Patreon! Join now and gain access to the complete one-hour episode, plus even more perks and extras.
Right click or option-click here and choose "Save Target As"
108 episodes