Manage episode 216660203 series 1539200
By
Cognilytica
. Discovered by Player FM and our community — copyright is owned by the publisher, not Player FM, and audio is streamed directly from their servers. Hit the Subscribe button to track updates in Player FM, or paste the feed URL into other podcast apps.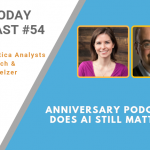 The AI Today podcast is celebrating our 1 year anniversary! With this, we wanted to revisit our first podcast topic "Does AI Matter?" as well as reflect on a year of great podcasts, awesome guests, and some thought provoking content.
In our inaugural podcast hosts Kathleen Walch and Ron Schmelzer discuss our reasons for Why AI Matters and we thought it was a great idea to go back and visit this topic again one year later.
108 episodes