Manage episode 216225535 series 1376562
By
RadioMD
. Discovered by Player FM and our community — copyright is owned by the publisher, not Player FM, and audio is streamed directly from their servers. Hit the Subscribe button to track updates in Player FM, or paste the feed URL into other podcast apps.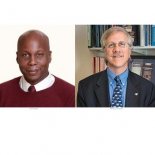 In the United States, about 1.4 million individuals have Inflammatory Bowel Disease. BMC provides expert care in helping patients with Crohn's or Ulcerative Colitis manage their complex disease.
Dr. Francis Farraye and Dr. Jason Hall discuss living with IBD, treatment options available, and how they work together to provide the best possible medical and surgical care for patients with any form of IBD.
95 episodes