Manage episode 214916275 series 1376562
By
RadioMD
. Discovered by Player FM and our community — copyright is owned by the publisher, not Player FM, and audio is streamed directly from their servers. Hit the Subscribe button to track updates in Player FM, or paste the feed URL into other podcast apps.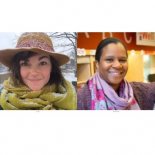 Vital Village is a network of residents and organizations committed to maximizing child, family, and community well-being. Our place-based, community engagement network mobilizes collective investment from residents, community organizations and institutions to seed scalable and sustainable community change around child protection and promoting healthy social and emotional development in early childhood.
Erica Pike, MA & Renée Boynton-Jarrett,MD,ScD, discuss how the Vital Village Network uses a collective impact approach to supporting a deeper collaboration among educators, clinicians, social service providers, legal advocates and residents. This has been shown to strengthen the economic security of a community and to help understand the far reaching consequences of early life adversities and toxic stressors on child development and health.
95 episodes