Manage episode 240778206 series 1531659
By
Represented | Rep Radio
. Discovered by Player FM and our community — copyright is owned by the publisher, not Player FM, and audio is streamed directly from their servers. Hit the Subscribe button to track updates in Player FM, or paste the feed URL into other podcast apps.
On today's podcast, Edinburgh Festival Fringe offering "Trump Lear" is discussed with creator David Carl aka David Carl. Will this piece be the formula for a successful fringe production? Here's my interview with Trump Lear's David Carl.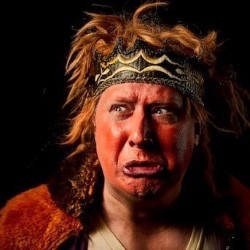 Last year's 'chaotically enjoyable' (Spectator) sell-out hit Shakespeare adaptation returns. Actor and impersonator Carl David – aka David Carl – is locked up for performing his hilarious Trump-inspired version of Shakespeare's King Lear. Forced to play for an audience of one – the US President himself – Carl's life depends on making the bard great again and giving the performance of a lifetime without offending the audience. 'A surreal, grotesque send-up of The Donald by brilliant American impressionist David Carl' (Daily Mail). 'It's quite damning' (New York Times). Time Out NY Critics Pick!
71 episodes