Manage episode 232594309 series 1940667
By
Discovered by Player FM and our community — copyright is owned by the publisher, not Player FM, and audio streamed directly from their servers.
In Vancouver, BC Tune in every Wednesday 6 – 7 PM to CFRO – 100.5 FM
Anywhere in the world by Stream, Satellite, TelusTv - How to Listen
Only last 10 shows are available to listen to for free - REGISTER NOW. Supporting Members have unlimited access to this and hundreds of other life changing programs - Click Here to sign-up
Join Tasha Simms and myself, Marc L Caron as we speak with Sarah Jennings, an International Aura Mediator™ Instructor. Aura transformation is the ultimate in consciousness expansion, setting off a process of Crystallising your spirit energy into every cell, dissolving karmic, ancestral & collective imprinting and clearing eons of emotional baggage. Aligning your frequency to the Crystal & Indigo children and having a fresh start in connecting to your purpose, means making things happen in a balanced and earthly way.
AuraTransformation
We live in a time in history where immense quantum leaps in our evolution and possibilities for transformation are present. The tools are here, the change we crave is at our finger tips. There is no more room for climbing endless mountains, martyr like, sloth like, in a sad slumber. Now is the time for breakthroughs that last and integrate, and can be sustained in daily life. AuraTransformation™ is essential in these powerful times, to get our bio-energy fields to their optimum crystalline balance. When we are fully embodied, grounded and protected we can really step into our powerful hopes and dreams and liberate our energetic force-fields and living operating systems from any Old Time shackles so that we can live to our full potential renewed and sovereign.
Whether you want to tap into your creativity, self-worth and drive to maximise your ability to run your business, or you want to reach the depth of your self development and spiritual growth for good, or you want to parent the new wave of beings in the most aligned way or you just want to make a meaningful impact without being held back then this is for you.
AuraTransformation™, is a Danish born modality, founded by Anni Sennov, that is sweeping across the globe, and Sarah has been actively doing these wherever she goes for 5 years, and is now an International Instructor. It is a 3.5-4h session, in two parts, at least 2 days apart. A bit of research and reading is needed to embark on this option. It is a total upgrade/evolution of your aura structure (to match the Indigo/Crystal children). It sets off a process of embodying your higher self/spirit energy in every cell of your body, and a full integration of your masculine and feminine energy. Upping your clarity, coherence, focus, radiance, joy and sense of embodiment. This is a mega expansion of your consciousness and entering 5D and beyond on all levels. This is the Rolls Royce of energy healing on the planet and the new Crystal Aura is permanent.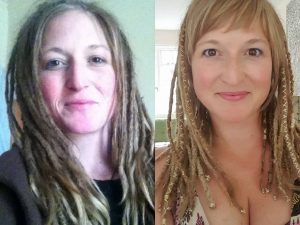 Before and After
AuraTransformation™ & The AuraMediator™ Courses
Join Sarah Jennings, International Instructor, 14th May, 7-9 pm at a private residence in Kerrisdale, for an informative talk on this permanent bio-energy field upgrade and about training in this groundbreaking modality, which is like no other on the planet.
AuraMediator™ Courses.
The gift of the Aura Mediator™ training is to unplug the adults of today from the Old Time energy matrix, and support the (Crystal & Indigo) children of the future and their caregivers in the mass awakening of human consciousness that is so needed right now. The initial step for those of you who are ready to take your mission to the next level is to have your AuraTransformation™ first. Once you are AuraTransformed you can embark on the AuraMediator™ Course, giving you an amazing opportunity to become abundant while delivering your mission of awakening and supporting humanity in this current transition. See a video here https://goo.gl/VHZVR2
Sarah is an International Aura Mediator™ Instructor and is looking for the next wave of Aura Mediators™ who want to train in this modality later in the year. If you wanted to train then the first step is to have your AuraTransformation™ whilst Sarah is in the area. Register your interest for the info talk or book your personal session with Sarah at daretobe@withsarahj.com. Attendance at the talk is not essential to having a session but there is a book to read so do get in touch to get prepared.
There is a prerequisite book to read by Anni Sennov called Balance on All Levels! So download or buy NOW! (Amazon, Kindle, Goodreads).
You can have instant access to videos with everything you need to know here: http://www.withsarahj.com/atintro
Testimonials here: http://www.withsarahj.com/aura-transformation-testimonials/featured
Frequently Asked Questions: http://www.withsarahj.com/faq/
About Sarah
I grew up Cocooned In Inspiration and I only just realised! I pushed the boundaries of my mind, body and soul since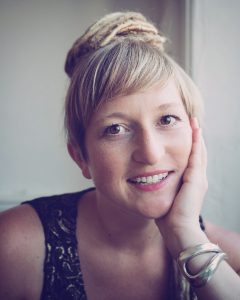 moving to the UK. I learnt by studying Activism that to take charge of your life, to Tend To Your Own Garden (and live in a Bender) was a way of being in service to the world and community. Scrambling The Imprinting, shedding the unnecessary and old, became my goal, through all means imaginable until I made myself ill and had to Go
Natural, curing my skin disorder with conscious nutrition.
My work has led me to Navigating The Intercultural Highway, whether it was working for a Development Education Centre, the Welsh Assembly Government, or Oxfam, I have always believed in what I do.
Standing On My Own Two Feet as a mother was tough but achieved with determination and the discovery of hidden gifts like Healing Hands and shamanic visions. Learning that Love Just Is from an unlikely cosmic visionary friend (another me) has set me on the path of No Fear.
How Falling Off The Wagon and almost crippling myself led me to abandon the rat race and gave me the opportunity to Magically Break & Make Habits. Unbeknownst to me my deep inner work and hermitude prepared me for the most magical experience of my life. Having an AuraTransformation™ and becoming whole with a Crystal Future has been the ultimate advance in my evolution.
The post Transform Your Aura – With Sarah Jennings appeared first on Conscious Living Radio.
235 episodes available. A new episode about every 6 days averaging 49 mins duration .