Manage episode 241218876 series 1433066
By
David Garfinkel
. Discovered by Player FM and our community — copyright is owned by the publisher, not Player FM, and audio is streamed directly from their servers. Hit the Subscribe button to track updates in Player FM, or paste the feed URL into other podcast apps.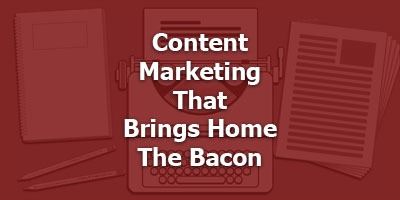 Our guest today, Brian Basilico, is the very reason this episode is called "Content Marketing That Brings Home The Bacon." That's not only because he's an expert on content marketing and he has helped a lot of people make a lot of money..
It's also because he's the host of "The Bacon Podcast." In fact, bacon seems to pretty much have taken over his life.
His business life, anyway.
Brian has a best-selling book called "It's Not About You, It's About Bacon." His Bacon Podcast was voted by Inc. Magazine as one of the top 35 business podcasts..
He's been around a long time, and he's a pioneer. For example, when LinkedIn started up 15 years ago, he was one of the first 1000 people to join..
Brian, thanks for coming on, and welcome!
1. So Brian, give us the Express Tour of how you got to where you are today, and especially how you discovered what you are going to tell us about content marketing..
2. Let's start with some basic definitions. What is content marketing… how do most people use it… and what are some misconceptions about how to use it to make money?
3. What are some of your favorite techniques to use content marketing to make money. Please give us some examples either from your own business, or from clients you've helped. (Or both!).
4. Do you think the ability to create profitable content marketing will become more important over time? Why?.
5. Please give us some additional tips on what to do, what not to do, and where to find great examples of profitable content marketing..
6. So I'm going to guess that if people want to contact you, they should not go to the bacon section of Whole Foods. If that's right, what can people get from you and what's your contact info?
.
Download.
146 episodes