Manage episode 222067387 series 2112138
By
Discovered by Player FM and our community — copyright is owned by the publisher, not Player FM, and audio streamed directly from their servers.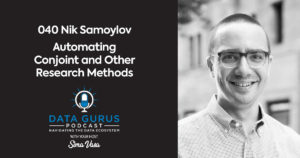 On today's episode, Nik Samoylov, founder of Conjoint.ly joins Sima Vasa. Together they talk about how Nik fell into market research and how automation has affected the industry and its methods. "If anything, core research skills like drafting questionnaires will definitely stay in demand." – Nik Samoylov Nik Samoylov – Choosing Market Research With the […]
The post Nik Samoylov – Automating Conjoint and Other Research Methods | Ep. 040 appeared first on Infinity Squared, LLC.
69 episodes available. A new episode about every 8 days averaging 21 mins duration .