Manage episode 220598918 series 2112138
By
Sima Vasa
. Discovered by Player FM and our community — copyright is owned by the publisher, not Player FM, and audio is streamed directly from their servers. Hit the Subscribe button to track updates in Player FM, or paste the feed URL into other podcast apps.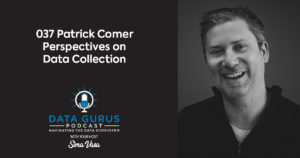 On today's episode, Patrick Comer joins Sima Vasa. Patrick is the Founder and CEO of Lucid, a software company focused on delivering human answers on a massive scale. Today he shares his thoughts on competition and purpose, and the importance of understanding perspective on data collection. Patrick Comer – The Competitive Landscape for Lucid Everybody […]
The post Patrick Comer – Perspectives on Data Collection | Ep. 037 appeared first on Infinity Squared, LLC.
76 episodes