Manage episode 196170169 series 1530620
By
Discovered by Player FM and our community — copyright is owned by the publisher, not Player FM, and audio streamed directly from their servers.

Mike Aquilina, in conversation with Bruce and Kris McGregor, breaks open the life and teachings of St. Anthony of Desert (aka St. Anthony the hermit, St. Anthony Abbott or St. Anthony the GREAT!)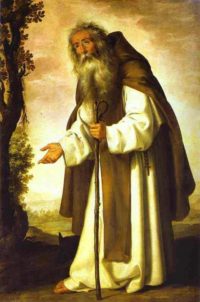 Born c. 251
Herakleopolis Magna, Egypt
Died 356
Mount Colzim, Egypt
You can find the Life of St. Anthony by St. Athanasius at the link provided here:
– Vita S. Antoni (Life of St. Anthony)
A quote from St. Anthony:
"I saw the snares that the enemy spreads out over the world and I said groaning, "What can get through from such snares?" Then I heard a voice saying to me, "Humility."
The post St. Anthony of the Desert, Father of the Church…patriarch of the monastic life with Mike Aquilina appeared first on Discerning Hearts Catholic Podcasts.
842 episodes available. A new episode about every day averaging 29 mins duration .