Manage episode 262648700 series 2527371
By
Andrea Subissati and Alexandra West
,
Andrea Subissati
, and
Alexandra West
. Discovered by Player FM and our community — copyright is owned by the publisher, not Player FM, and audio is streamed directly from their servers. Hit the Subscribe button to track updates in Player FM, or paste the feed URL into other podcast apps.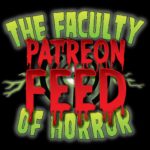 We've had a lot of people asking what we've been watching lately so here's a run of the new releases that have been on our radar.
The second portion of this episode is available to all tiers of our Patreon! Join now and gain access to the rest of our lockdown activities, plus even more perks and extras. Become a Patron!
Movies discussed:
The Hunt
Vivarium
The Invisible Man
Sea Fever
Sputnik
Underwater
I See You
Antlers
Blood Quantum
Relic
Dreamland
The Rental
Swallow
Download direct: right click or option-click here and choose "Save Target As"
108 episodes