Manage episode 229418767 series 1539360
By
Discovered by Player FM and our community — copyright is owned by the publisher, not Player FM, and audio streamed directly from their servers.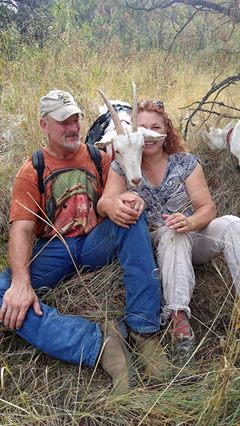 Today's journeys that are taking people from farm to city and back to farm are many and varied. One way or the other there are thousands who have invested in education, careers and commutes who have found there was still something missing–open space, outdoors, family time and the satisfaction of growing crops or livestock. Karen and Dale Kopf are on that journey. They grew up on a farm and ranch, respectively, then pursued education and subsequent careers. They have found the best of both worlds when they moved to their Kopf Canyon Ranch in Idaho where they are proud to call themselves "herdsmen". They believe that care of animals and land is a stewardship, a trust. Today they enjoy "goating" together, raising Kiko goats in northern Idaho and helping others become herdsmen. To equip and educate new herdsmen they founded the Palouse Goat Guild and host an annual Goat Academy in Moscow, Idaho. The Food Animal Concerns Trust's Humane Farming Project awarded them a grant to cross fence a canyon for goats, laying hens and guardian animals. These herdsmen of goats and trainers of aspiring herdsmen, Karen and Dale Kopf, join Farm to Table to share their journey and to remind others who should consider goat, to consume or raise. www.kikogoats.org
285 episodes available. A new episode about every 7 days averaging 34 mins duration .