Manage episode 190978242 series 131176
Discovered by Player FM and our community — copyright is owned by the publisher, not Player FM, and audio streamed directly from their servers.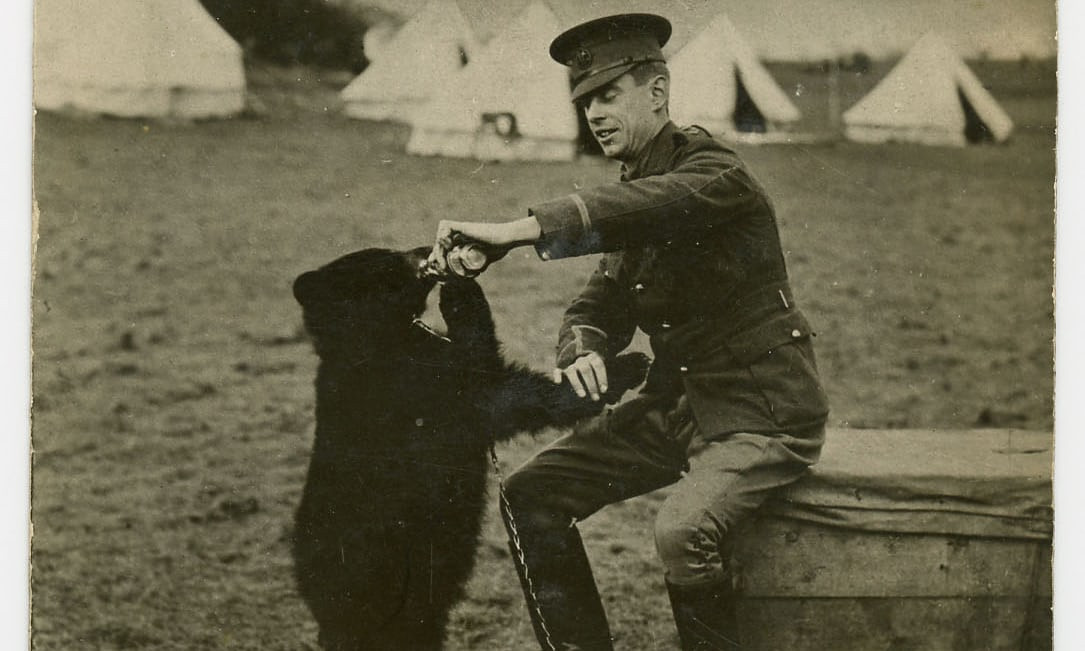 In 1914, Canadian Army veterinarian Harry Colebourn was traveling to the Western Front when he met an orphaned bear cub in an Ontario railway station. In this week's episode of the Futility Closet podcast we'll follow the adventures of Winnie the bear, including her fateful meeting with A.A. Milne and his son, Christopher Robin.
We'll also marvel at some impressive finger counting and puzzle over an impassable bridge.
Intro:
At least two British television series have included Morse code in their theme music.
A map of the American Midwest depicts an elf making chicken.
Sources for our feature on Winnie the bear:
Ann Thwaite, A.A. Milne, 1990.
Val Shushkewich, The Real Winnie, 2005.
Christopher Milne, The Enchanted Places, 1974.
A.R. Melrose, ed., Beyond the World of Pooh, 1998.
Paul Brody, In Which Milne's Life Is Told, 2014.
Jackie Wullschläger, Inventing Wonderland, 1995.
Gary Dexter, Why Not Catch-21?, 2008.
Anna Tyzack, "The Story of Winnie the Pooh Laid Bare," Telegraph, Dec. 20, 2015.
Lindsay Mattick, "The Story of How Winnie the Pooh Was Inspired by a Real Bear — in Pictures," Guardian, Nov. 24, 2015.
Tessa Vanderhart, "Winnie The Pooh Story Turns 99," Winnipeg Sun, Aug. 25, 2013.
Jim Axelrod, "The Story of the Real Winnie the Pooh," CBS News, March 21, 2016.
The Real Winnie, Ryerson University (accessed Oct. 22, 2017).
"The True Tale of Winnie the Pooh, an Unlikely First World War Legacy," CBC Radio, Nov. 11, 2015.
Christopher Klein, "The True Story of the Real-Life Winnie-the-Pooh," history.com, Oct. 13, 2016.
Sean Coughlan, "The Skull of the 'Real' Winnie Goes on Display," BBC News, Nov. 20, 2015.
"Winnie and Lieutenant Colebourn, White River, 1914," Canadian Postal Archives Database (accessed Oct. 22, 2017).
Michael Palmer, "Artefact of the Month: Winnie the Bear and Lt. Colebourn Statue," Zoological Society of London, Nov. 28, 2014.
"Winnie-the-Pooh: Inspired by a Canadian Bear," Canada Post Corporation (accessed Oct. 22, 2017).
"Major Harry Colebourn," Canadian Great War Project (accessed Oct. 22, 2017).
"The Real-Life Canadian Story of Winnie-the-Pooh," CBC Kids (accessed Oct. 22, 2017).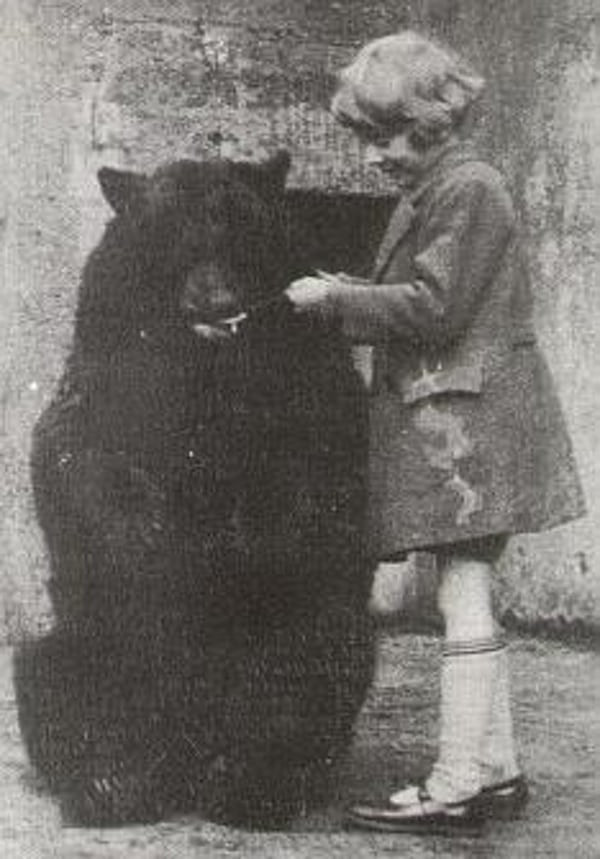 Christopher Robin Milne feeding Winnie in her enclosure at the London Zoo in the 1920s.
Listener mail:
A demonstration of a binary or base 2 finger-counting method.
Wikipedia, "Benford's Law" (accessed Nov. 3, 2017).
"Counting," QI (accessed Nov. 3, 2017).
"Sumerian/Babylonian Mathematics," The Story of Mathematics (accessed Nov. 3, 2017).
Wikipedia, "Sexagesimal" (accessed Nov. 3, 2017).
Wikipedia, "Chisanbop" (accessed Nov. 3, 2017).
"Math Lesson Plan: Chisanbop (Korean Counting to 99)," LessonThis (accessed Nov. 3, 2017).
A 3-year-old doing arithmetic using the Chisanbop method.
A kindergartener doing more complicated arithmetic using the Chisanbop method.
Older kids doing very fast, advanced arithmetic using a mental abacus.
Wikipedia, "Mental Abacus" (accessed Nov. 3, 2017).
Alex Bellos, "World's Fastest Number Game Wows Spectators and Scientists," Guardian, Oct. 29, 2012.
This week's lateral thinking puzzle was contributed by listener Jack McLachlan.
You can listen using the player above, download this episode directly, or subscribe on iTunes or Google Play Music or via the RSS feed at http://feedpress.me/futilitycloset.
Please consider becoming a patron of Futility Closet — on our Patreon page you can pledge any amount per episode, and we've set up some rewards to help thank you for your support. You can also make a one-time donation on the Support Us page of the Futility Closet website.
Many thanks to Doug Ross for the music in this episode.
If you have any questions or comments you can reach us at podcast@futilitycloset.com. Thanks for listening!
69 episodes available. A new episode about every 0 hours .