Manage episode 231911887 series 131718
By
Discovered by Player FM and our community — copyright is owned by the publisher, not Player FM, and audio streamed directly from their servers.
Today, a half century after Neil Armstrong took one small step onto the surface of the Moon, there are still just three humans living in space—the crew of the International Space Station. But, after decades of talk, both government agencies and entrepreneurs are now drawing up more concrete plans to return to the Moon, and even travel onward to Mars. Getting there is one thing, but if we plan to set up colonies, we'll have to figure out how to feed ourselves. Will Earth crops grow in space—and, if so, will they taste different? Will we be sipping spirulina smoothies and crunching on chlorella cookies, as scientists imagined in the 1960s, or preparing potatoes six thousand different ways, like Matt Damon in The Martian? Listen in this episode for the stories about how and what we might be farming, once we get to Mars.
Space is harsh. We aren't suited to the thinner atmospheres and lower gravitational pull of Mars or the Moon, and, without Earth's atmosphere to protect us, cosmic rays damage the structure of our cells, including our DNA. Plants, it seems, are a little tougher than humans when it comes to adapting to the rigors of alien worlds: according to NASA scientist Ray Wheeler, scientists began sending algae into space in the 1950s, and, since 2015, U.S. astronauts on the ISS have been able to enjoy the odd leaf of home-grown lettuce, thanks to the work of Wheeler's Kennedy Space Center colleague, Gioia Massa.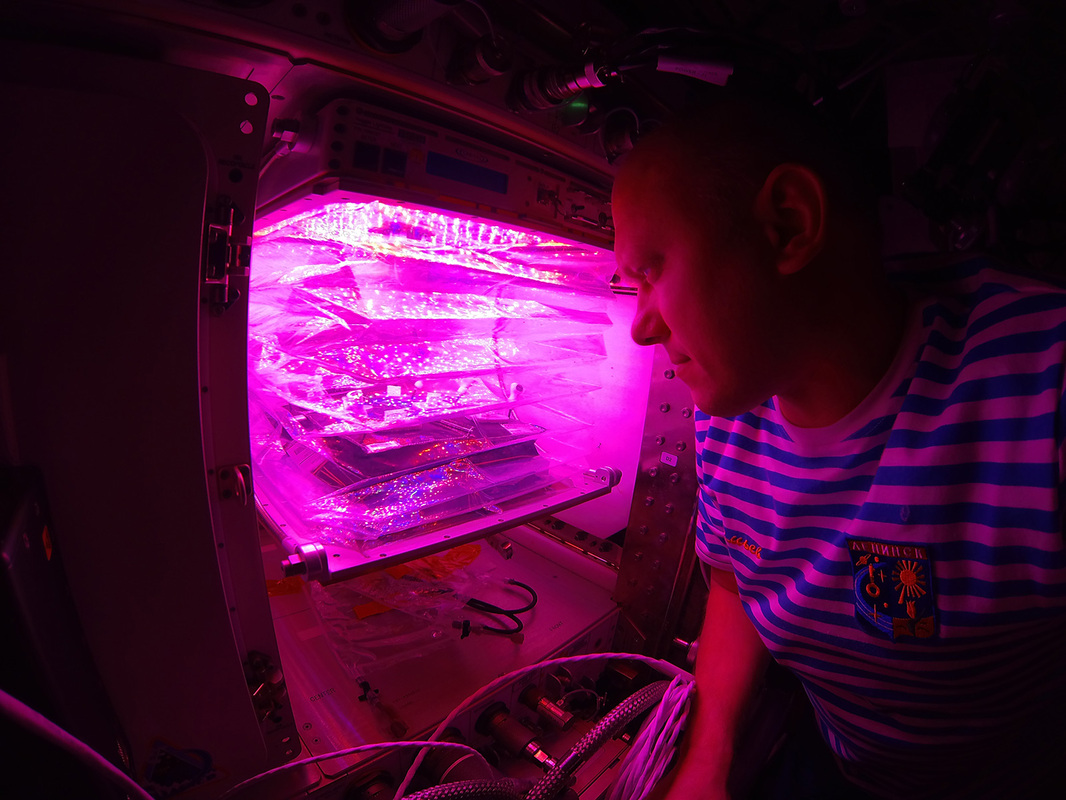 Gazing wistfully at produce growing in the Veggie system. Photo: Oleg Artemyev.
One of the big leaps forward in space agriculture came with the introduction of broad-spectrum, affordable LED lights, little more than a decade ago—these are now powerful, efficient, and cool enough to allow plants to be grown entirely indoors. This episode, Gastropod visits Wageningen University in the Netherlands, the world leader in indoor farming, where scientist Esther Meinen drew on her greenhouse expertise to select the crops and design the best "light recipe" for EDEN ISS, a European space farming prototype that provided fresh herbs and vegetables to the crew of the Neumayer Antarctic station throughout last polar winter.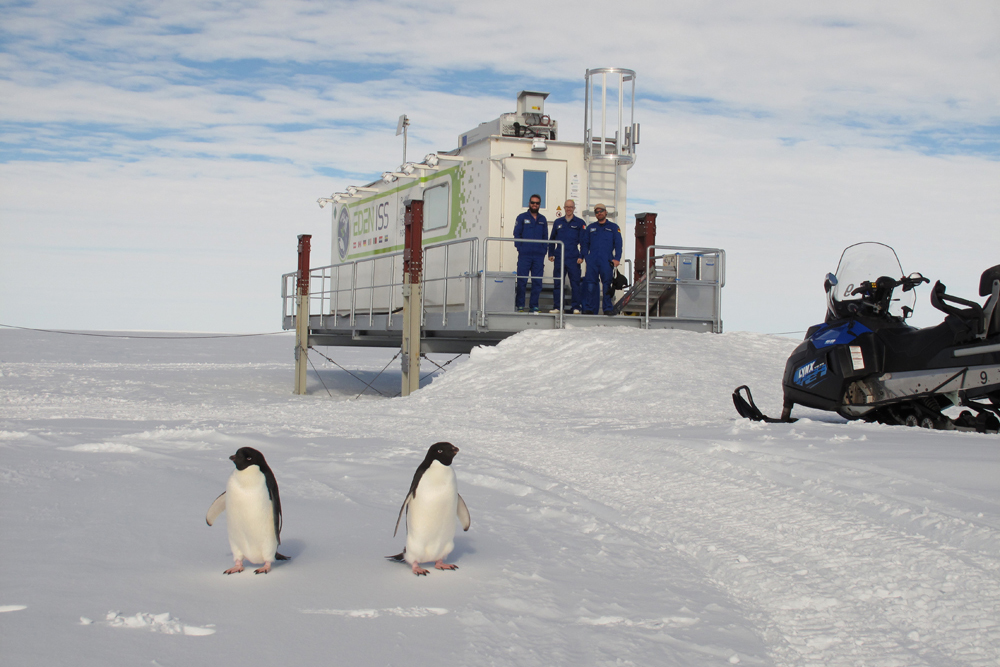 EDEN ISS in position at the South Pole, complete with penguins. Photo: Harald Rentsch.
Those radishes, celery, and tomatoes were all grown hydroponically, without soil. But plants love soil—and, on Mars, the subsurface soil may even offer some water. So can we grow crops directly in Martian or Moon dirt? As it turns out, although Apollo astronauts brought nearly a thousand pounds of rocky dust back from the surface of the Moon, no one at NASA had used it to grow plants. The remaining lunar material is too precious for NASA to hand out, and we don't even have soil from Mars. But, a few years ago, Meinen's colleague, Wieger Wamelink, decided to try growing plants using Martian and lunar soil simulants. This episode, we visit his Martian test plot to learn about the challenges of exoplanetary terroir—and taste the results. And, whether we get there or not, it turns out that figuring out how to grow plants in space has plenty to teach us about farming here on Earth. Listen in this episode for the how, what, and why of space agriculture.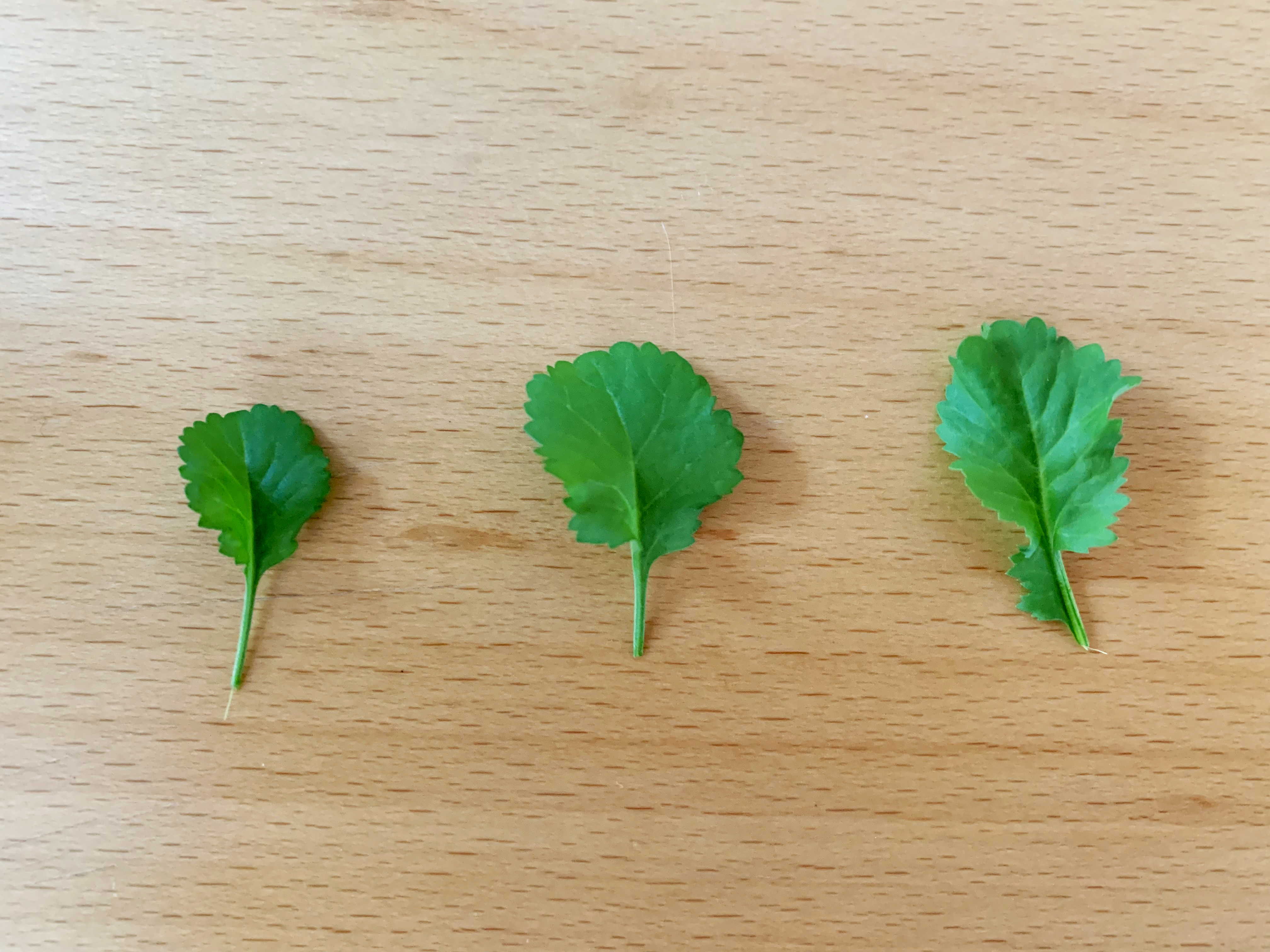 Cress leaves from plants grown in (left to right) Martian, Earth, and lunar soil. Photo: Nicola Twilley.
Episode Notes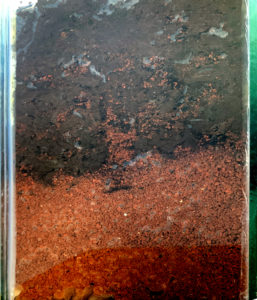 Wieger Wamelink is an ecologist and exobiologist at Wageningen University in The Netherlands. You can read more about his ongoing research (mostly in Dutch) on his blog and read the paper detailing the results of his initial experiments here. Over the years, NASA has developed a few lunar and Martian soil simulant recipes, which have been produced both in-house and by vendors. Right now, the best bet for those looking to source their own exolith simulants is the Center for Lunar and Asteroid Surface Science, which is based at the University of Central Florida and is part of NASA's Solar System Exploration Research Virtual Institute.
Martian soil in a terrarium in Wieger's office; the layer in which the worms have been active is quite distinct. Photo: Nicola Twilley.
Esther Meinen is a plant physiologist at Wageningen University. Together with her colleagues and collaborators from across Europe, Canada, and the U.S., she worked on the EDEN ISS project, a European Union research initiative to develop innovations in cultivating food in closed-loop systems. You can read more about EDEN ISS's ground test at the South Pole here.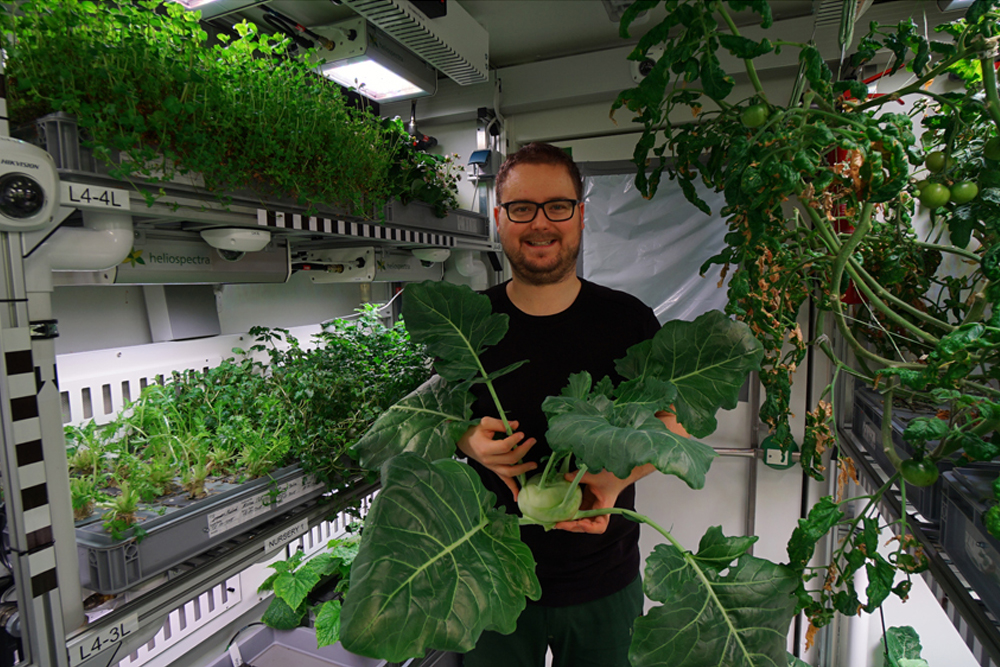 Technician Paul Zabel in EDEN ISS, holding kohlrabi.Photo: EDEN ISS.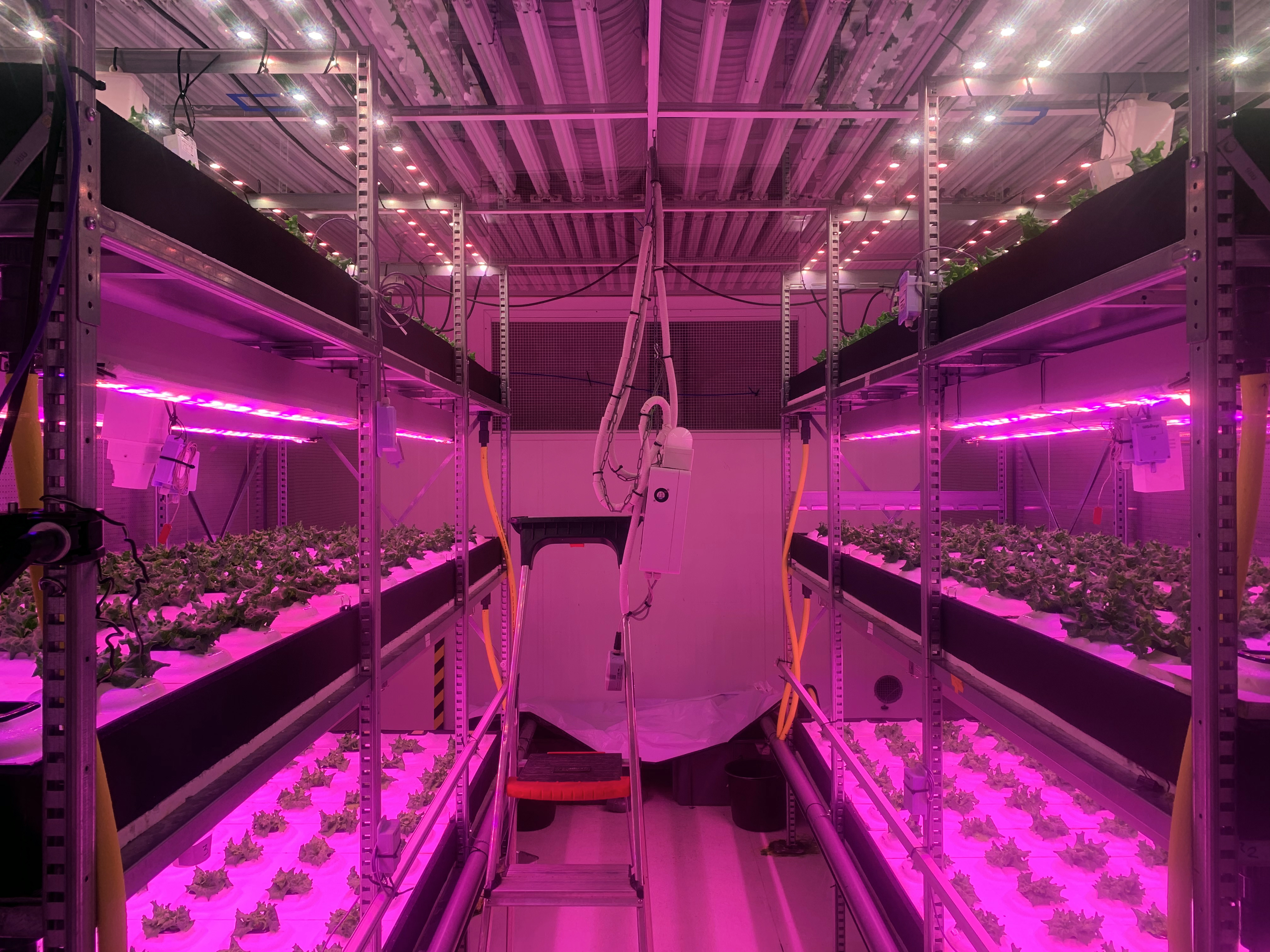 Plants growing under pinkish light in Esther Meinen and Luuk Graaman's test greenhouse in Wageningen. Photo: Nicola Twilley.
Gioia Massa is the NASA science team lead for Veggie, a modular plant growth unit designed to provide salad-type crops for the crew of the ISS. Veggie was launched in 2014, and U.S. astronauts Scott Kelly and Kjell Lindgren were finally given permission to eat a romaine leaf grown in the system in 2015.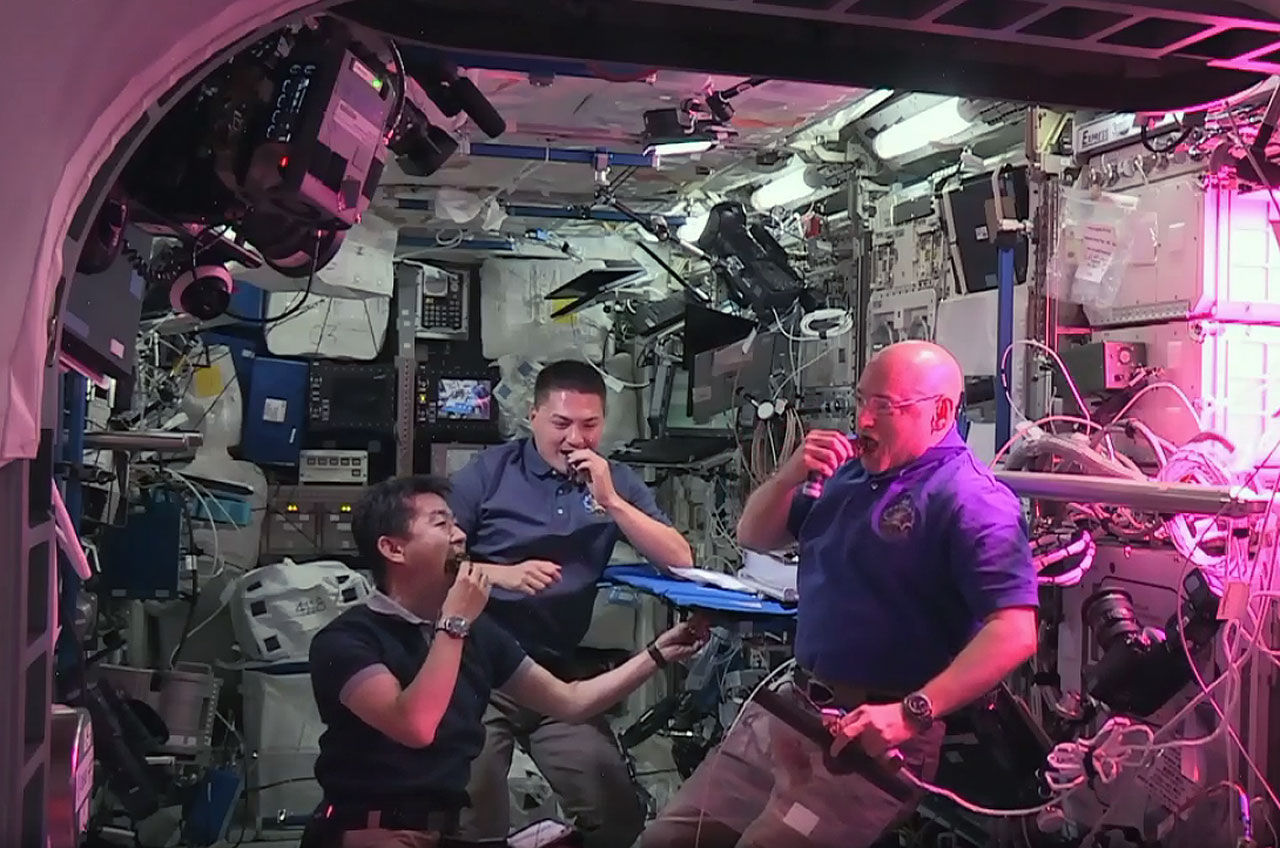 Astroanuts sampling red romaine lettuce leaves grown onboard the ISS. Photo: NASA.
Raymond Wheeler
Ray Wheeler is a colleague of Gioia Massa's at NASA's Kennedy Space Center, and author of the recent paper "Agriculture for Space: People and Places Paving the Way."
Sounds and Movies
We used archival sound from NASA, whose SoundCloud page is well worth exploring. We also featured clips from Star Trek: Voyager, The Martian, Total Recall, this Russia Today visit to Bios-3, and Eater. A huge thanks to all of you for suggesting so many fun space farming movies, books, and T.V. shows to check out—we had to drag ourselves out of the rabbit hole you sent us down to get this episode out on time!
Sloan Foundation
We'd like to thank the Alfred P. Sloan Foundation for the Public Understanding of Science, Technology, and Economics for supporting our science coverage this episode.
The post Potatoes in Space! appeared first on Gastropod.
141 episodes available. A new episode about every 15 days averaging 47 mins duration .