Manage episode 185771310 series 131718
By
Discovered by Player FM and our community — copyright is owned by the publisher, not Player FM, and audio streamed directly from their servers.
It's found in almost every home, whether it's destined to dress salads or clean surfaces and kill fruit flies. But, effective as it is at those tasks, most of us struggle to get excited about vinegar. Today, however, a handful of enthusiasts and entrepreneurs are trying to launch a vinegar renaissance—one in which we appreciate vinegar (nearly) as much as the alcohol from which it's made. This episode, we visit vinegar attics in Italy, conduct an epic tasting in a backyard vinegar shed in west London, and chat with our in-house microbiologist, Ben Wolfe of Tufts University, in order to explore vinegar's long, frequently accidental history, its rumored health benefits, and its culinary potential. Plus: is the balsamic vinegar on your shelf the real thing? Listen now for all this and more!
The clue to vinegar's origins lies in its name: vin aigre, or sour wine in French. Michael Harlan Turkell, author of a new cookbook, Acid Trip, dedicated to vinegar's overlooked charms, told us that the first vinegars were likely made by accident in ancient Mesopotamia, along the banks of the Euphrates, when acetic bacteria in the environment fell into a cask of wine and soured it. Undeterred, people drank the vinegar anyway, before eventually discovering its multitude of other uses: as a health tonic (first recorded in ancient Greece), preservative (in ancient Egypt), and, finally, as a dipping sauce (in ancient China).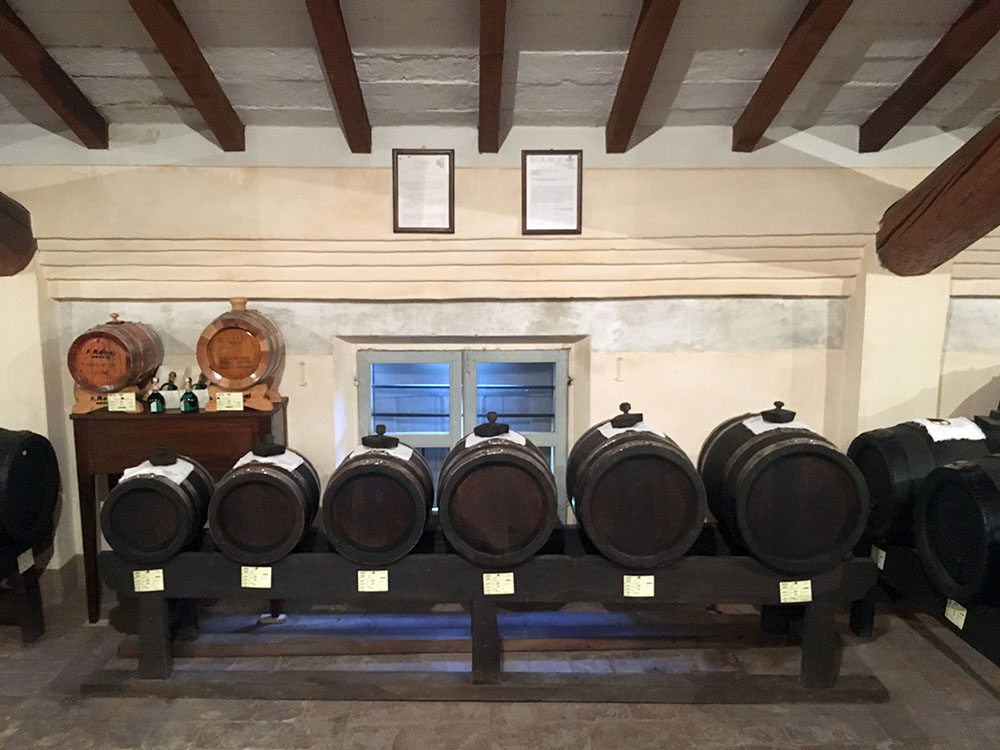 A set of barrels for aging balsamic vinegar in the vinegar attic at the Museo del Balsamico Tradizionale at Spilamberto. Photo by Nicola Twilley.

Until the late 1700s, vinegar was made in much the same way, all around the world, from all sorts of different fruits and grains, from pineapple to pomegranate—anything that contained enough sugar to be fermented into alcohol. It was a slow business: the microbes that transform alcohol into vinegar work at their own pace. Andy Harris, a food writer turned vinegar maker, told us that his single-varietal red wine vinegar can take between three and six months to sour, while Emilio Biancardi, whose family has been making vinegar for at least six generations at their estate just outside the Italian city of Modena, explained that it takes at least twelve years to produce the thick, sweet deliciousness that is traditional balsamic vinegar. Nowadays, however, Biancardi and Harris's approaches are the exceptions: after Louis Pasteur explained the microbial processes at the heart of vinegar-making, a handful of European scientists designed devices to speed things up, turning industrial ethanol into white vinegar in a matter of hours.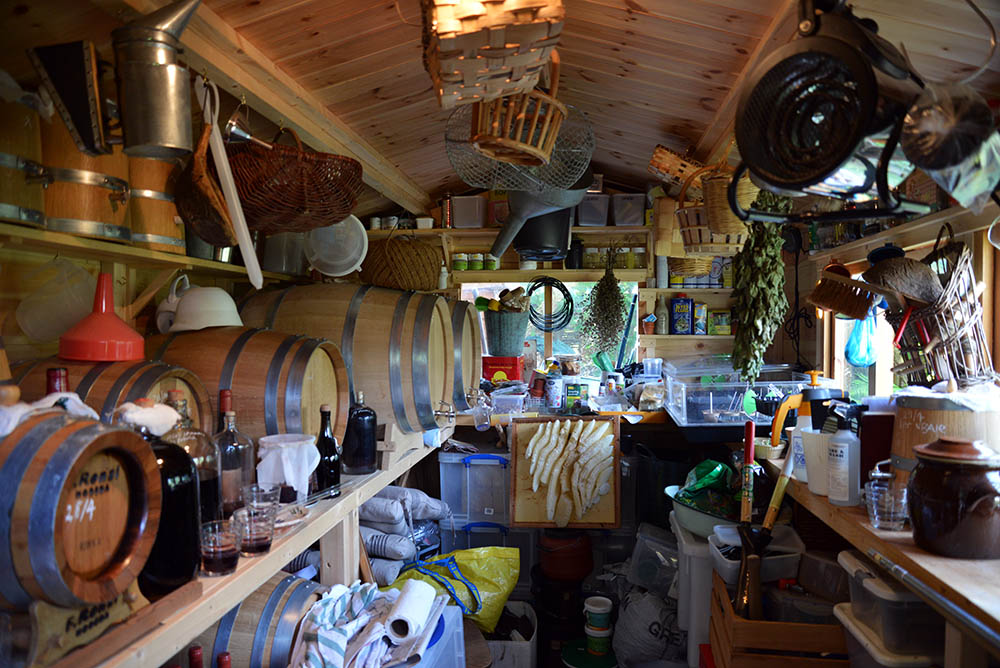 Inside Andy Harris's Vinegar Shed. Photo by Nicola Twilley.

Today, celebrities from Katy Perry to Ranulph Fiennes claim that a daily dose of vinegar cures almost everything: arthritis, eczema, diabetes, even dandruff. With the help of our favorite microbiologist, Ben Wolfe of Tufts University, we look at the science behind vinegar's undisputed antimicrobial properties and its less well-documented super powers, as well as the secret to its varied flavors. And, for those bold enough to embrace the sourness, we explore the heady world of infused and barrel-aged vinegars, from the deep purple of Michael Harlan Turkell's favorite purple yam vinegar, to the banana notes of Andy Harris's Riesling vinegar, all the way to the king of vinegars itself: genuine, aged traditional balsamic vinegar of Modena. Enjoy!
Episode Notes
Andy Harris sells his own London vinegar, aged in his back garden vinegar shed, on his website, alongside all the paraphernalia you need to make your own vinegar, as well as some of his favorite vinegars from other makers. He's also shared a handful of recipes to inspire you to start using vinegar more creatively, in stews, soups, and sauces.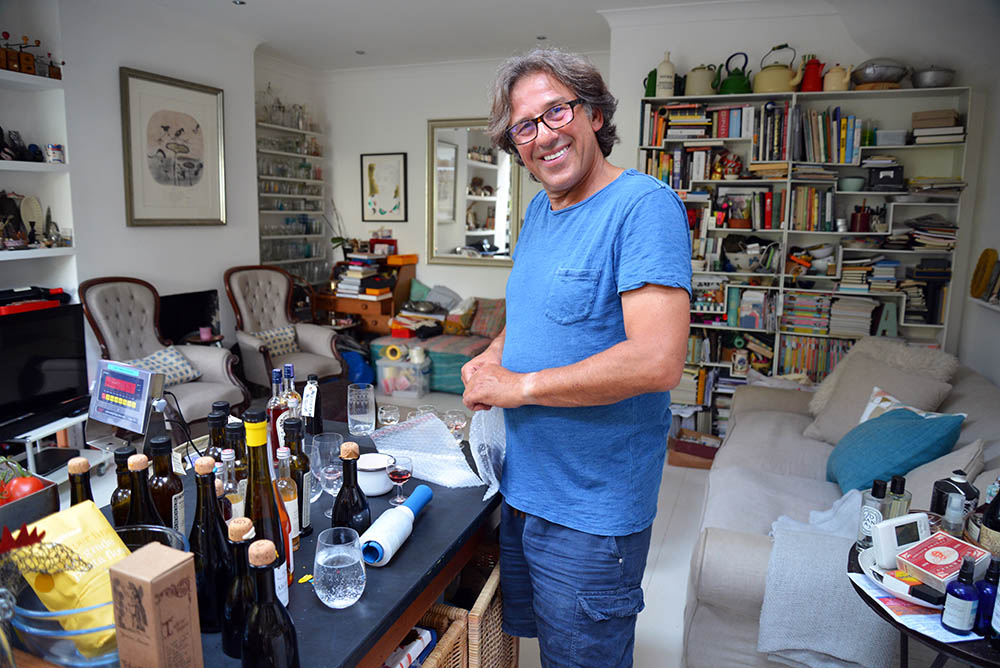 Andy Harris setting up our epic tasting. Photo by Nicola Twilley.
Michael Harlan Turkell's Acid Trip
Michael Harlan Turkell's new book is called Acid Trip: Travels in the World of Vinegar, with Recipes from the Leading Chefs, Insights from Top Producers, and Step-by-Step Instructions on How to Make Your Own. His favorite vinegar (if forced to choose) is this Benimosu purple sweet potato vinegar.
Ben Wolfe and the Wolfe Lab at Tufts
Long-time Gastropod listeners will know and love our go-to microbiologist, Ben Wolfe of Tufts University: his research into microbial ecosystems in cheese and kombucha have made him the star of a couple of previous episodes.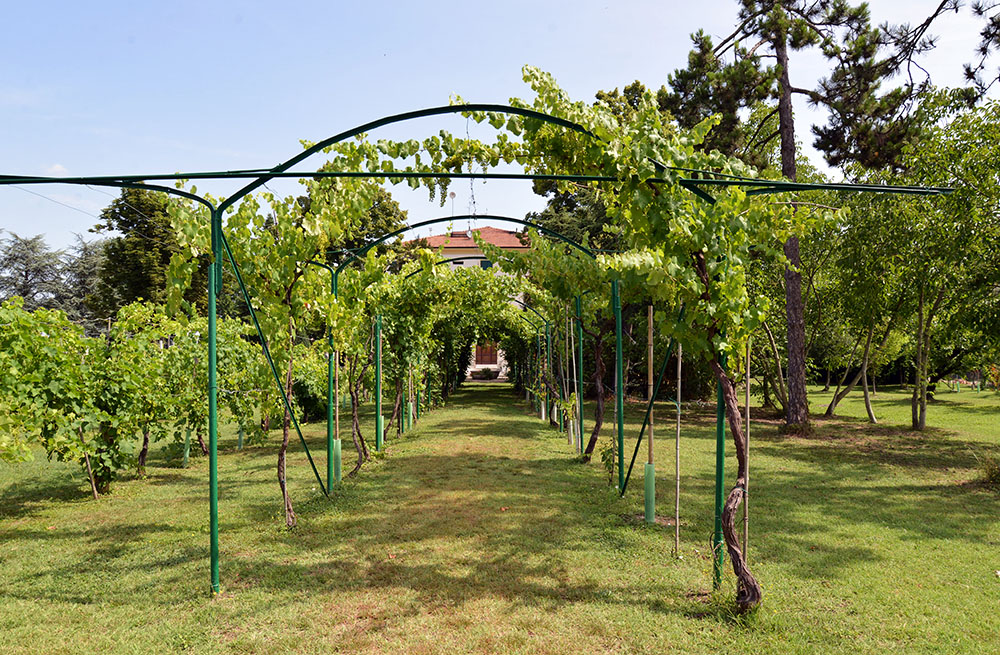 The Biancardi villa and vineyards. Photo by Nicola Twilley.
Our morning in the Biancardi family's vineyards, vinegar attic, and dining table was among the most delicious and delightful of our travels. You can buy their superb traditional balsamic vinegar of Modena (D.O.P.) online here—and, if you're ever in the region, you should visit yourself!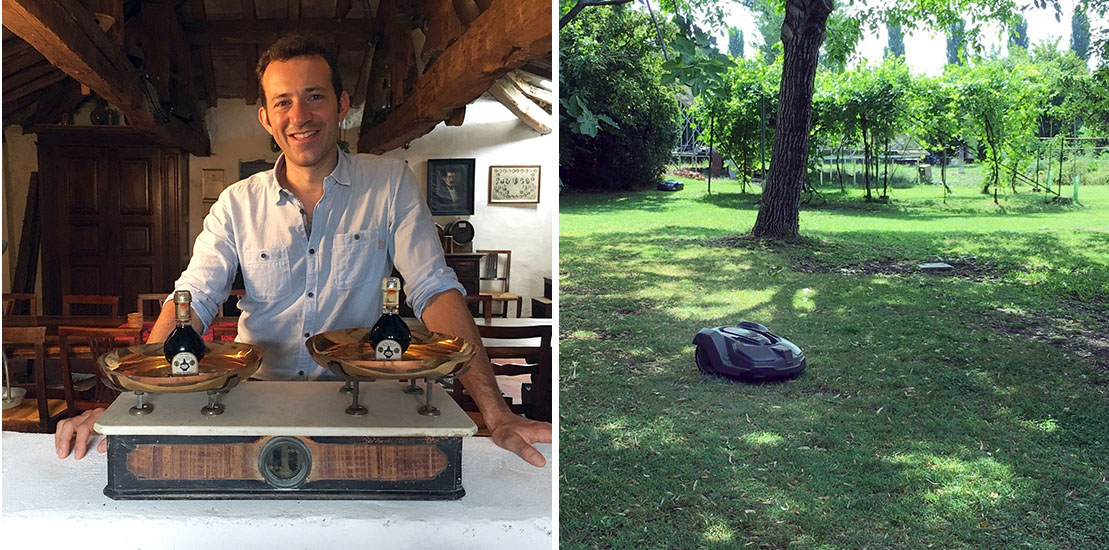 (L) Emilio Biancardi and two bottles of his family's traditional balsamic vinegar of Modena; (R) a lawnbot mowing between the vines at thei Antica Acetaia Villa Bianca. Photos by Nicola Twilley.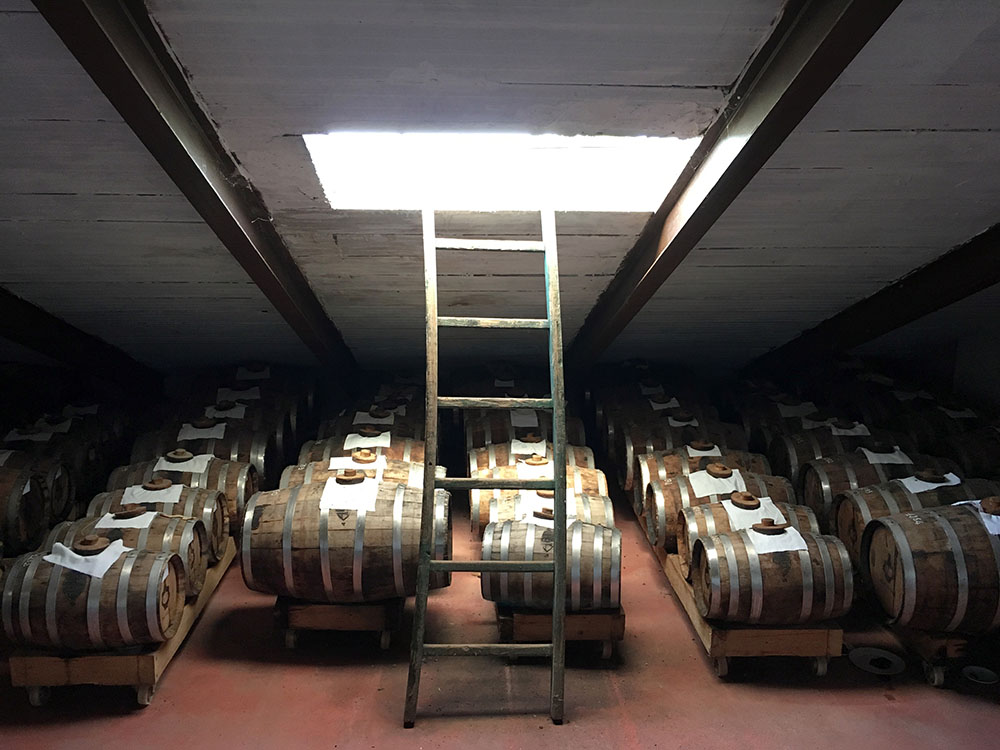 Sets of balsamic vinegar barrels aging in the Biancardi family's attic. Photo by Nicola Twilley.
Cristina Sereni is a balsamic vinegar maker and a former master taster, and she works at the fascinating Museum of Traditional Balsamic Vinegar in Spilamberto—which is also the headquarters of the consortium that governs and protects the D.O.P. traditional balsamic vinegar of Modena.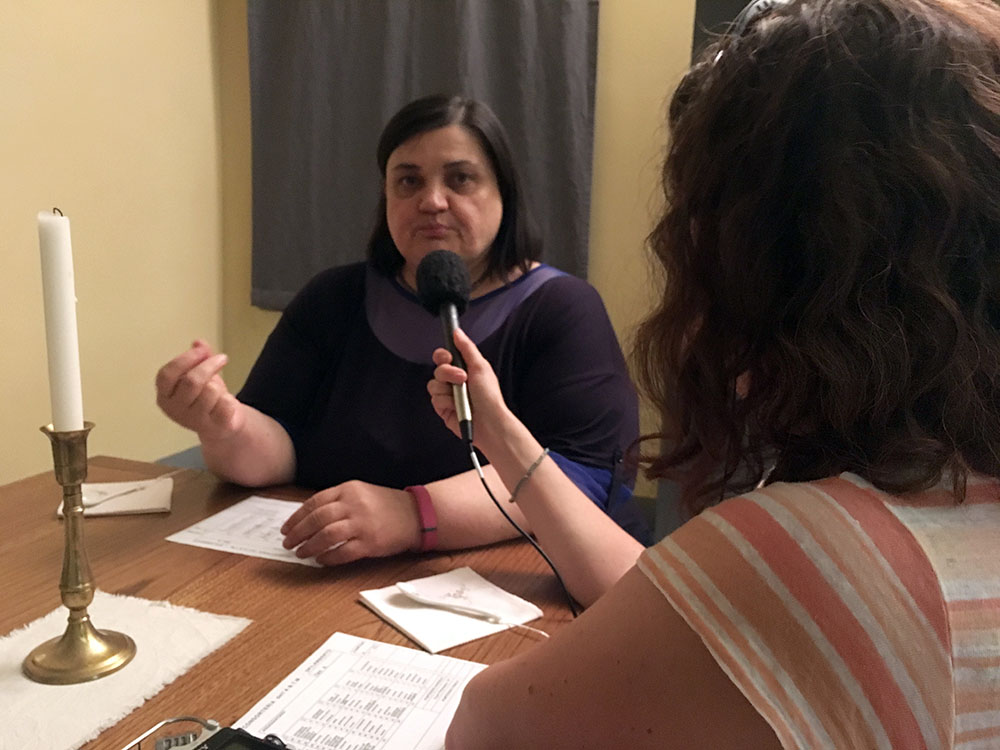 Cristina Sereni at the tasting table at the Museo del Balsamic Tradizionale, where the consortium gathers to taste and score vinegar before it is allowed to be bottled. Photo by Nicola Twilley.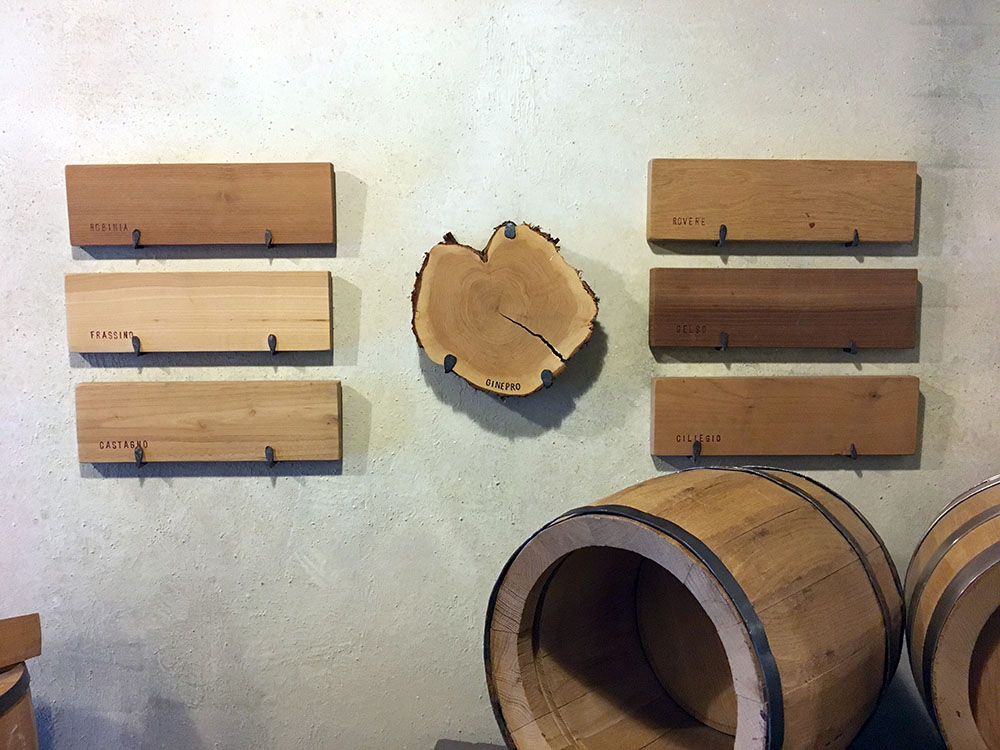 The woods permitted for balsamic vinegar aging barrels, on display at the museum. Photo by Nicola Twilley.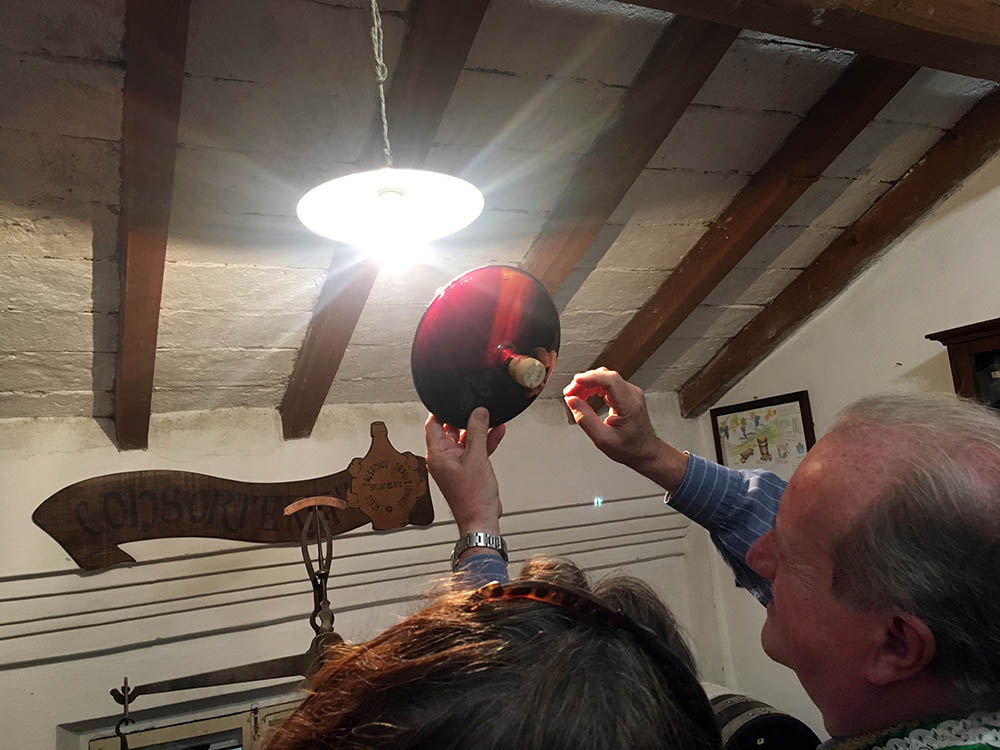 Cynthia and the Gran Maestro of the Coterie examine the ruby flecks that characterize the color of traditional balsamic vinegar of Modena. Photo by Nicola Twilley.
Toni Mazzaglia is the best. If you're planning a trip to Italy, you need to take one of her amazing Taste Florence food tours. And, if you're a journalist looking to report a story in Italy, Toni has seeming magical powers to make things work: you can reach her here. We can't recommend her highly enough!
Transcript
For a transcript of the show, please click here. Please note that the transcript is provided as a courtesy and may contain errors.
The post Sour Grapes: The History and Science of Vinegar appeared first on Gastropod.
145 episodes available. A new episode about every 15 days .