Manage episode 232838620 series 131718
By
Cynthia Graber
and
Nicola Twilley
. Discovered by Player FM and our community — copyright is owned by the publisher, not Player FM, and audio is streamed directly from their servers. Hit the Subscribe button to track updates in Player FM, or paste the feed URL into other podcast apps.
Four bakers, one evening, and one challenge: Who can steam the best spotted dick? On this week's action-packed episode, Tom Gilliford, Selasi Gbormittah, and Yan Tsou of Great British Bake-Off fame, along with honorary Gastropod member (and Cynthia's partner) Tim Buntel, compete to see who can master this most classic of British puddings for the first-ever Great Gastropod Pudding Off! But what in the world is spotted dick? "It's got nostalgia, mystery, horror, and comedy—it's a perfect British dish," explained British food designer and jellymonger Sam Bompas, who joined us to judge the competition. Listen in as Tom tries to beat his rival Selasi, Yan revives the flavor combination that robbed her of a Bake Off victory, and Tim tests out his Yankee-style pudding on the Brits. While the four bakers duke it out in the kitchen, we dive into the history and science of British pudding to find out what makes a pudding a pudding, the secret ingredient that will give your pud a lovely light texture, and why anyone would name a dessert "spotted dick."
Today, when you mention pudding, Americans will picture a rich, creamy, custard-like dessert, while British people use the word to mean any kind of dessert—but then also attach it to very traditional but deeply savory dishes such as steak & kidney pudding and blood pudding. Meanwhile, in seventeenth-century Britain, "pudding time" meant dinner time. So what is pudding? We consulted pudding expert Regula Ysewijn, a Belgian Anglophile whose book, Pride & Pudding, tells the stories behind Britain's most peculiar puddings, from spotted dick to dead man's arm. "Haggis, sausages, black pudding—that's the actual mother of pudding, the alpha pudding," said Ysewijn. Indeed, she told us that first pudding in literature was actually a tripe-based dish, "bubbling with its blood and fat," that awaits Odysseus upon his (delayed) return from the Battle of Troy.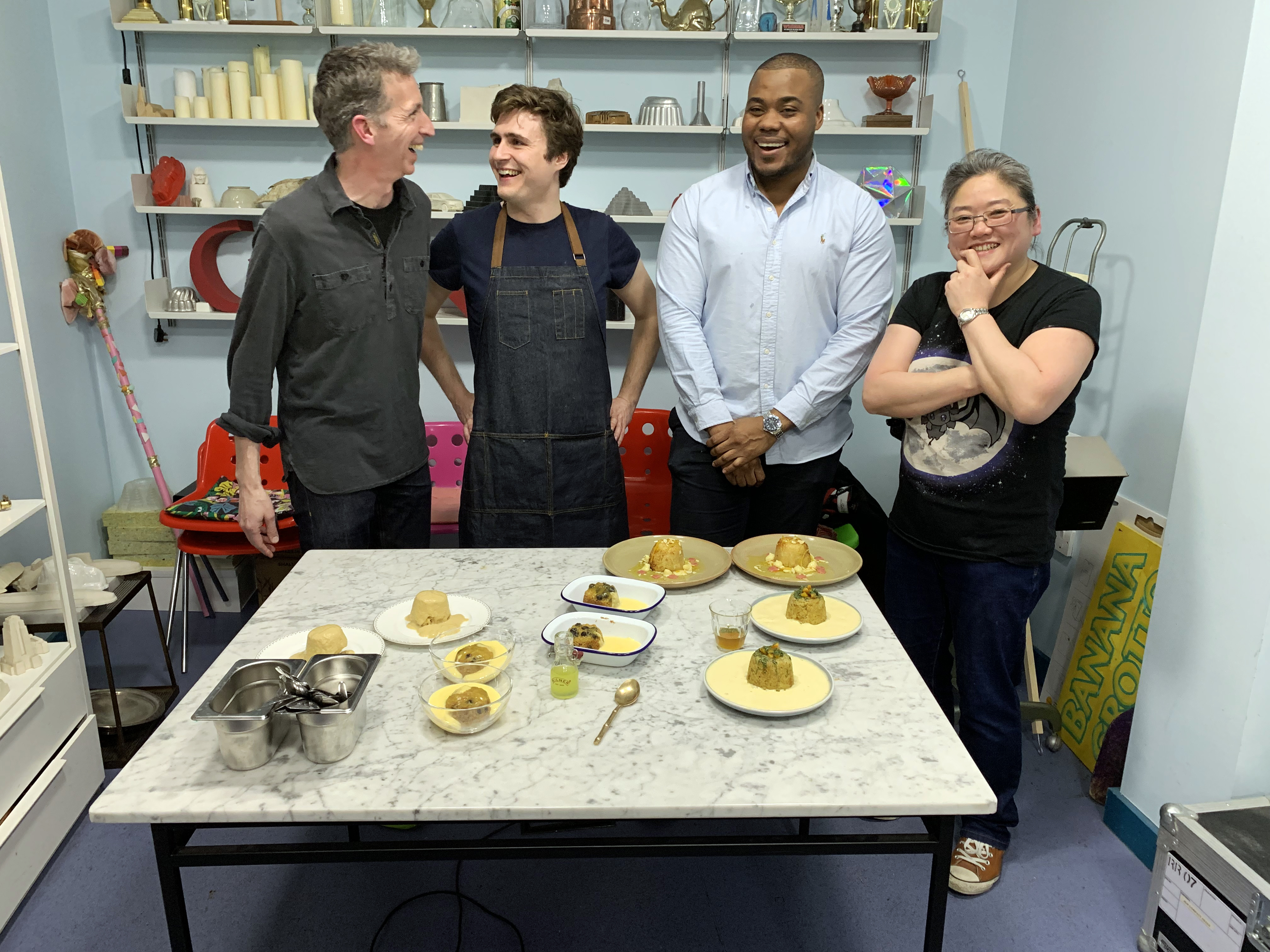 Tim, Tom, Selasi, and Yan with their puddings, at Bompas & Parr HQ. Photo by Nicola Twilley.
This episode, we trace pudding's migration from the start of a meal to the end—and its transition from meaty to meat-free. With the help of award-winning British food writer Felicity Cloake, we discover the essential elements of a traditional British pudding—suet and steam—and the science behind the super-moist, super-fluffy result. We even solve the mystery of sticky toffee pudding, which seems as British as Oliver Twist, but turns out to likely be a twentieth-century import from Canada. All that plus plenty of juvenile spotted dick-related puns, as pans boil dry, custard splits, and Selasi sets the kitchen on fire in this first-ever Great Gastropod Pud Off! Listen in now—and find out who won!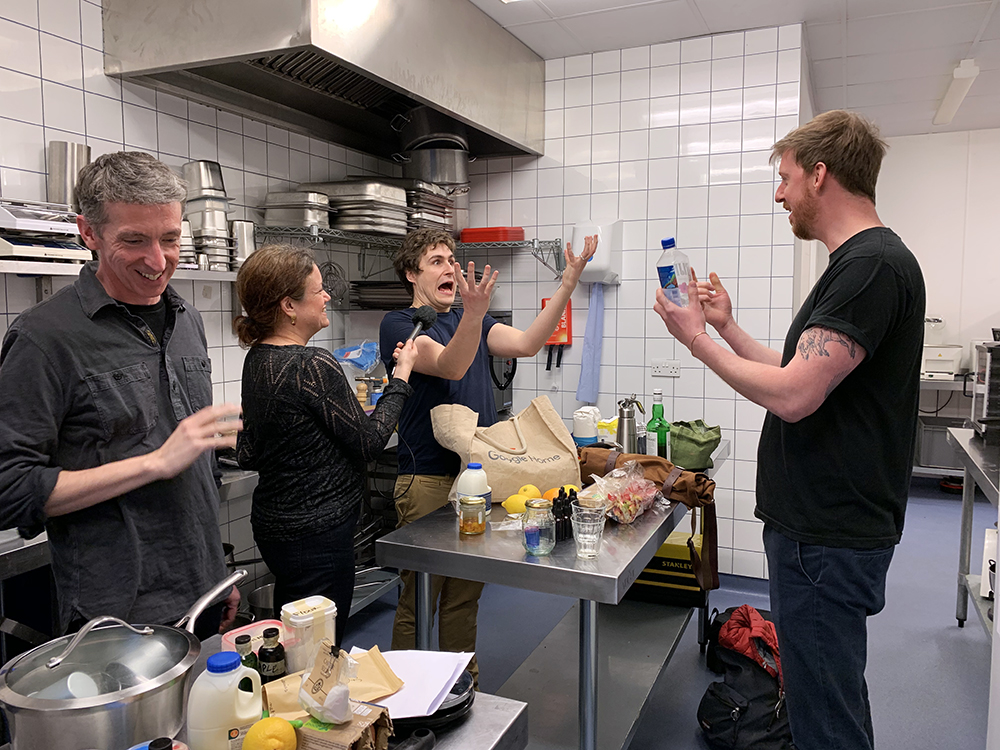 Tim, Cynthia, Tom, and Danny in the Bompas & Parr Test Kitchen. Photo by Nicola Twilley.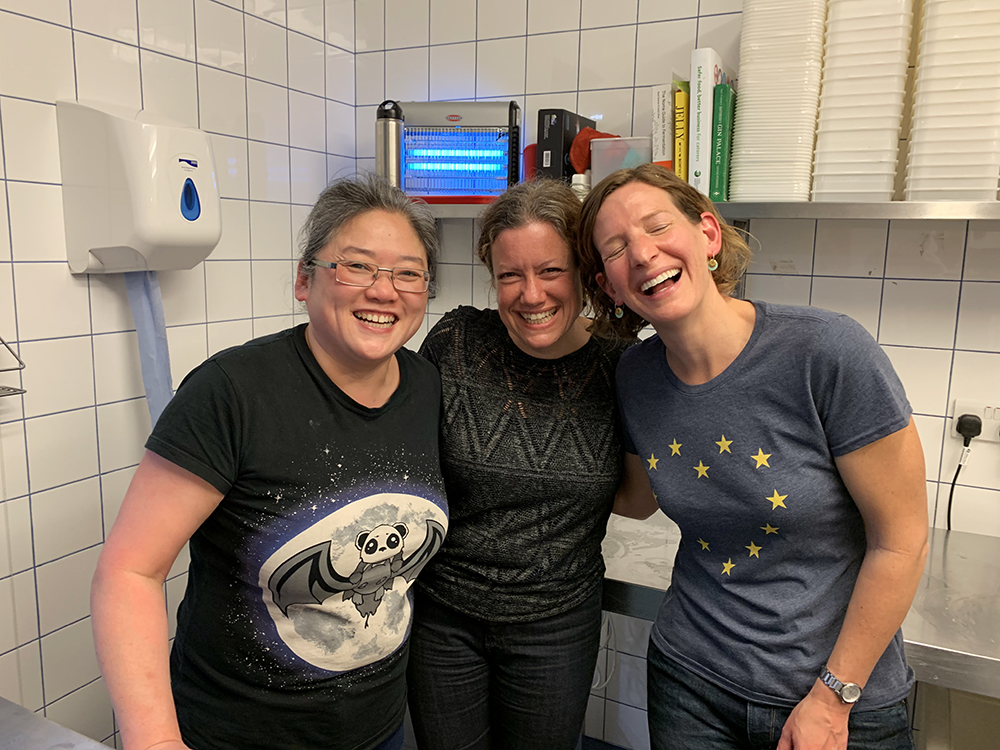 Yan, Cynthia, and Nicky, exhausted and euphoric at the end of the evening. (The Great Gastropod Pud Off took place on the day Brexit was originally supposed to take place, so Nicky was celebrating that not happening, too!).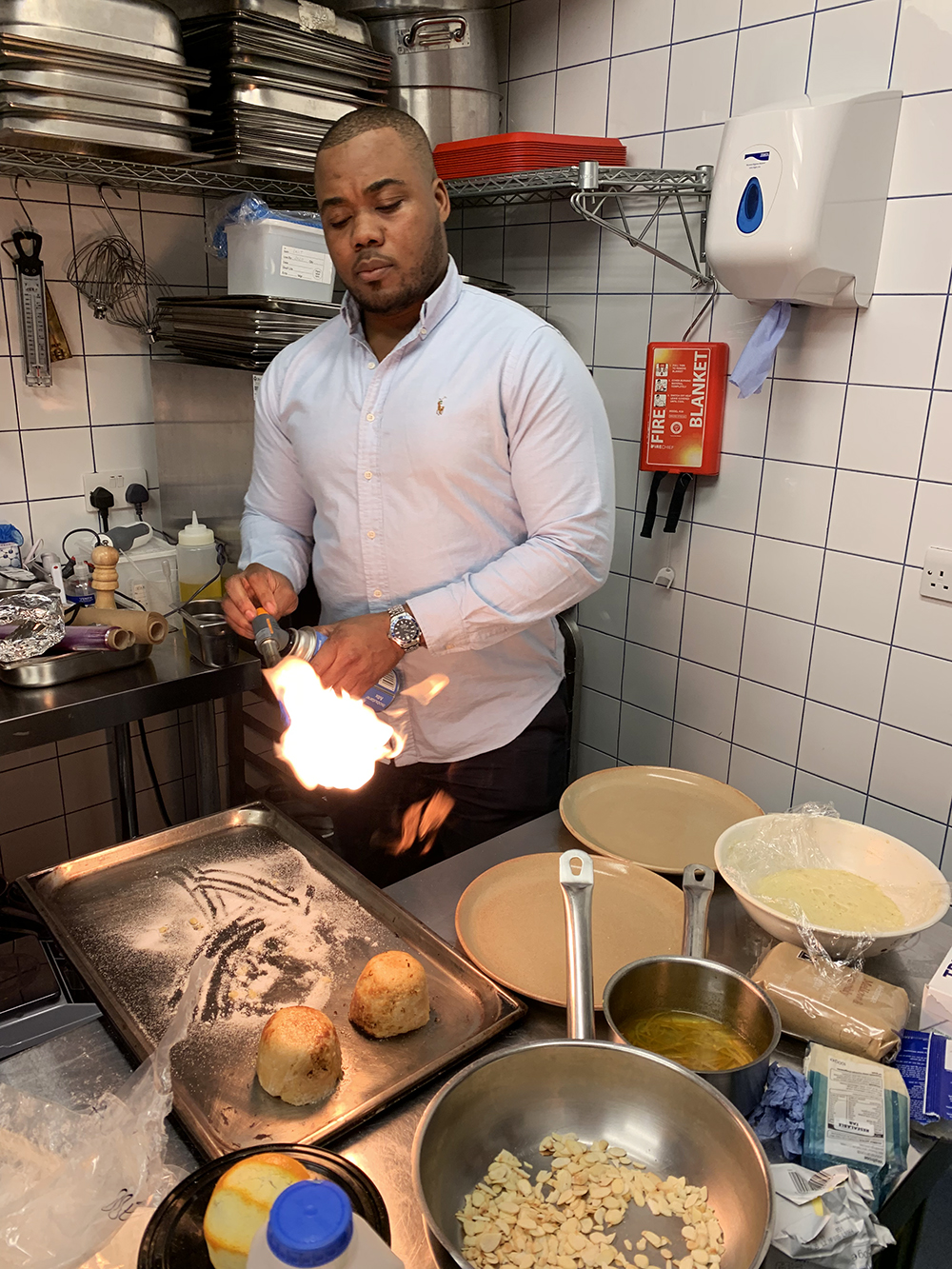 Selasi setting his puddings on fire. Photo by Nicola Twilley.
Episode Notes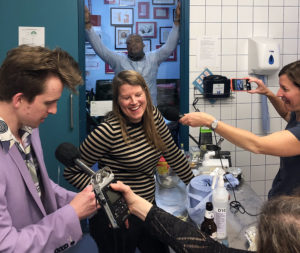 Felicity Cloake is a food writer and the author of multiple cookbooks, including the forthcoming One More Croissant for the Road, based on her very own bike-based culinary Tour de France. Her "How to cook the perfect…" column for The Guardian features several classic British puddings, as well as the sticky toffee pudding recipe that Nicky swears by and that Tim successfully made for Cynthia's birthday.
Selasi pressed against the window as our expert tasters confer: Sam and Felicity pictured, with Nicky and Cynthia taping, and Danny taking the photo.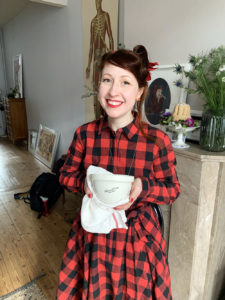 Regula Ysewijn is the author of Pride & Pudding: The History of British Puddings Savoury and Sweet, which tells the story of the British pudding from ancient times until today, complete with recipes. Her most recent book is the National Trust Book of Puddings, and she is also a judge on the Belgian version of the Great British Bake Off (Bake Off Vlaanderen).
Regula holding a pudding basin. (We went on to eat its delicious contents—a steamed plum pudding!)
Tom, Selasi, and Yan were all contestants on the Great British Bake Off—Tom and Selasi in 2016, Yan in 2017. Unfortunately, despite winning many star baker awards and Hollywood handshakes, none of them won the competition—but they definitely won our hearts! We can't thank them enough for giving up their Friday evening to make spotted dick in South London. Follow Yan, Selasi, and Tom on Instagram to stay up to date with what they're doing.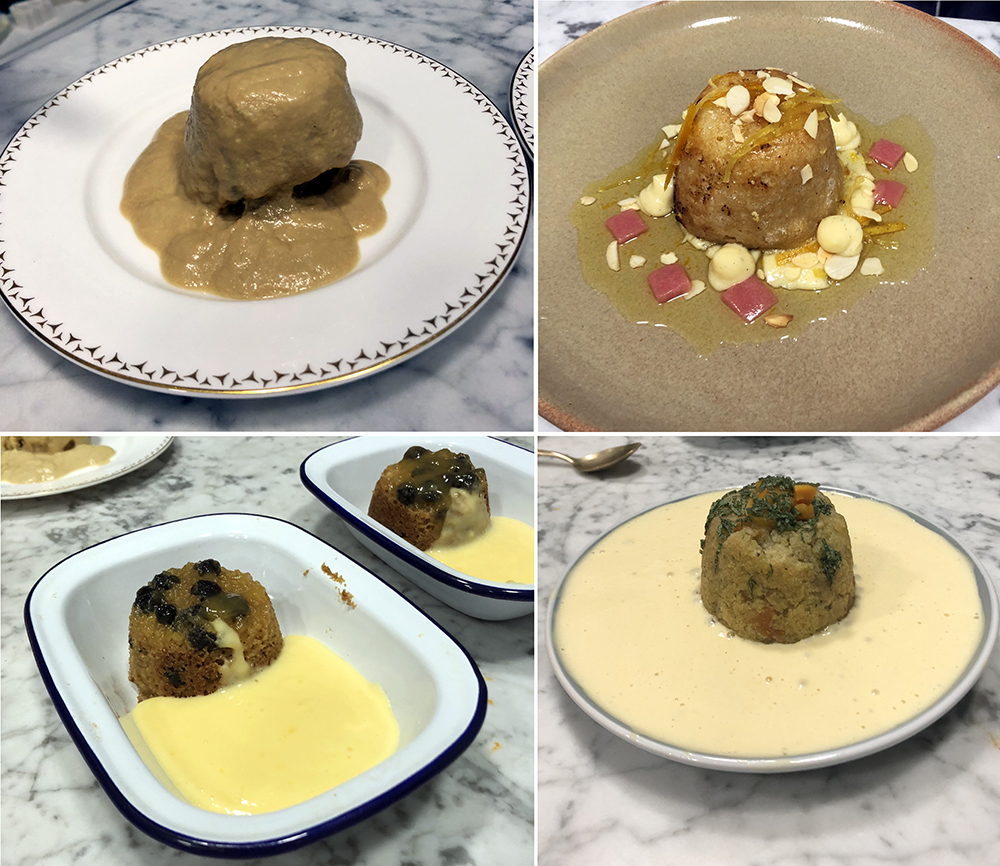 From left to right and top to bottom, Tim's Yankee dick, Selasi's spotless dick with rhubarb jelly, Yan's lemon and blueberry dick with Bird's custard, and Tom's apricot, sage, and pistachio dick with Laphroaig custard. Photos by Danny Cheetham.
Sam Bompas and Danny Cheetham of Bompas & Parr
Sam Bompas is the co-founder of Bompas & Parr, a multi-sensory design studio in London known for their fine English jellies; you'll recognize him as the star of our Jell-O episode! Danny Cheetham is Bompas & Parr's development chef. We are eternally grateful to them for loaning us their test kitchen and their time for a night of spotted dick shenanigans!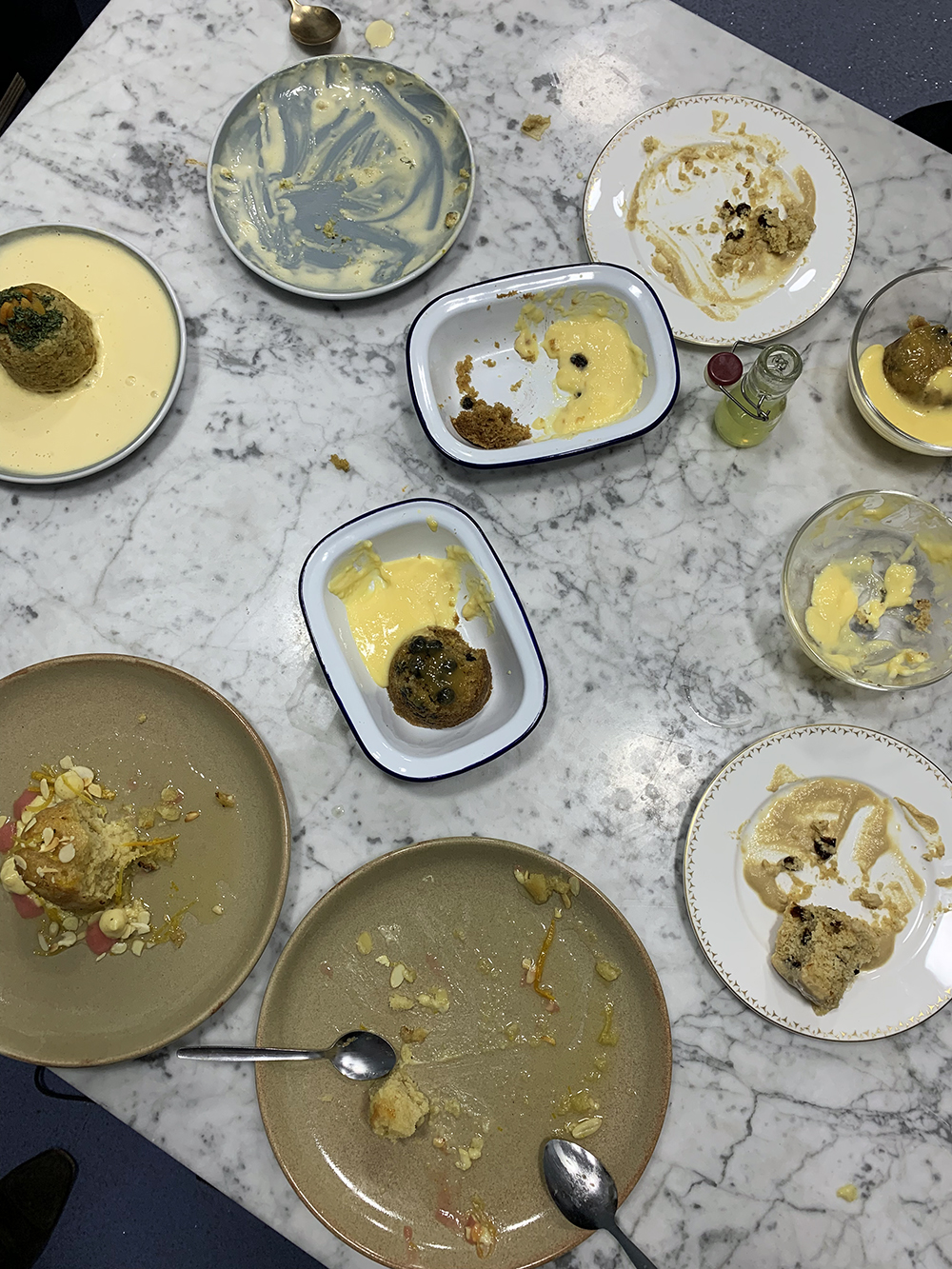 Post-tasting. Note that Tom served his with a golden spoon! Photo by Nicola Twilley.
Tim's Yankee Dick
(Makes two mini-dicks)
Ingredients
For the dick:
70g white flour
70g cornmeal
25g caster sugar
1 tsp baking powder
1/8 tsp salt
55g butter
70ml whole milk
1 tsp vanilla essence
Zest of half a lemon
1 tbsp sour cream
50g dried cranberries
For the maple-rum custard:
150 ml whole milk
100 ml heavy cream
2 egg yolks
40ml maple syrup
1 tsp cornstarch
1/2 tsp vanilla
2 tsp dark rum (not spiced)
1. Mix dry ingredients in food processor. Add butter cut into 1cm-ish cubes.
2. Pulse until mixture resembles coarse sand and return to large bowl.
3. Combine milk, sour cream, lemon zest, vanilla, and cranberries in second bowl. Add to dry mixture and stir until combined.
4. Scoop into butter-lined mini muffin tins and cover with second tins
5. Place on rack in pot of steaming water. Cover and steam undisturbed for 45 minutes.
6. While your puddings are steaming, make your custard. Mix milk and cream and bring to simmer (190 degrees Farenheit) over low heat.
7. Whisk egg yolks, maple syrup, and cornstarch in large bowl.
8. SLOWLY add hot milk to egg mixture, whisking constantly.
9. Return to pan and add vanilla and rum. Stir with wooden spoon over low heat until thickened.
10. Remove puddings from steam and let rest for a few minutes. Invert onto plate and cover with custard.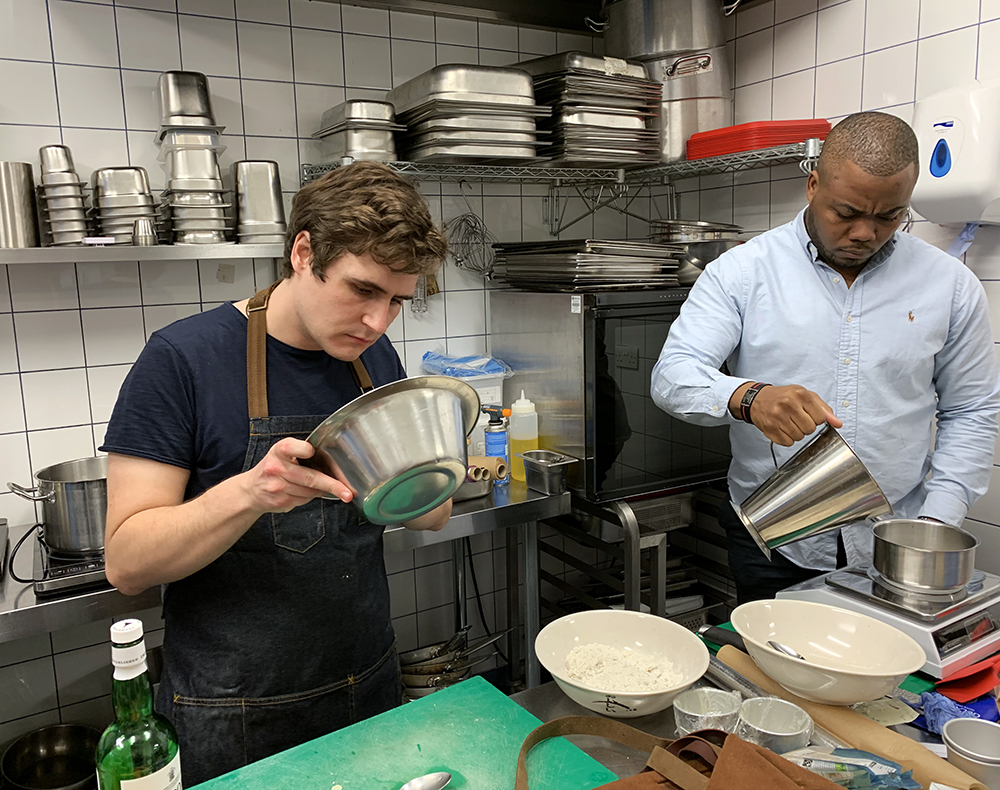 Tom and Selasi cooking. Photo by Nicola Twilley.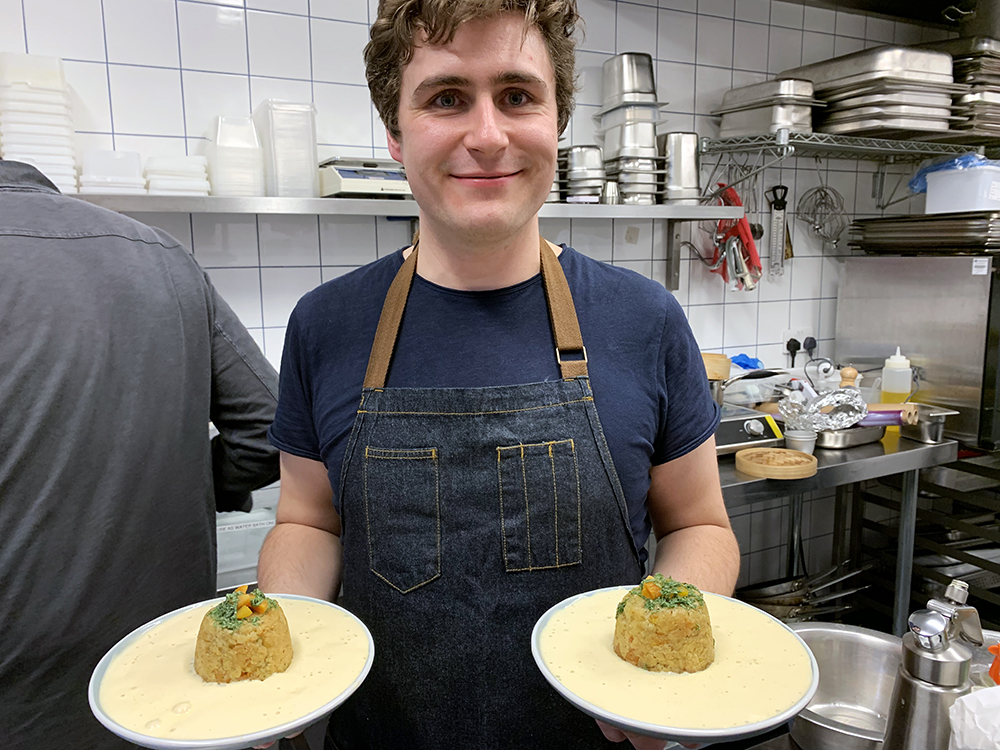 Tom and his puddings. Photo by Nicola Twilley

Tom's Apricot, Pistachio, Sage and Laphroaig Spotted Dick
(Makes 2 mini-dicks)
Ingredients
For the dick:
80g soft dried apricots, diced
200g self-raising flour
50g vegetable suet
4 teaspoons of ground pistachio
Zest of 1/4 of a lemon, finely diced
4 sage leaves, finely diced
25g caster sugar
66g full-fat milk
For the custard:
4 egg yolks
250ml double cream
50ml Laphroaig
4 teaspoons powdered demerara sugar
For the garnish:
Soft dried apricots
60ml Laphroaig
For the syrup:
2 teaspoons set wildflower honey
5 sage leaves, finely sliced
splash of cold water
Method
24 hours before making the puddings prepare your garnish by soaking the dried apricots in the Laphroaig.
1. Fill a pan with water and set it on the hob to boil.
2. Grease two mini-pudding tins and then line with cling film before greasing the cling film.
3. In a mixing bowl, combine all the dry pudding ingredients. Mix these with a knife until evenly distributed.
4. Add the milk to the pudding mix and combine using the knife. Take care to work the firm dough as little as possible and try to keep the shreds of suet as whole as possible as it is these that will provide your aeration later.
5. Divide the dough in two and place firmly into the lined pudding tins.
6. Cover the tins with tin foil making sure you leave some room for the pudding to expand into while also making sure the at the edges are well sealed.
7. Place the tins into a bamboo steamer and place the steamer lid on top. Cover the join between the lid and steamer with tin foil.
8. Place the steamer over the now rapidly boiling pan of water for 45 mins, check regularly to ensure that your pan has not boiled dry (!).
9. While the puddings are steaming, in a glass combine the sage, honey and water for the syrup and stir until it is loose. If it remains thick, you can add a few drops more water until it is a syrup consistency
10. Prepare your custard around 5 mins before your puddings are due to be ready. Start by whisking the egg yolks with the Laphroaig and powdered demerara sugar until light.
11. In a saucepan bring the cream just to the boil and then immediately remove from the heat.
12. Splash a little of the hot cream into the eggs and whisk vigorously before adding the rest of the cream and whisking until fully combined.
13. Return your egg and cream mix to the pan and on a gentle heat cook for around 3 mins, stirring constantly. Allow to thicken slightly.
14. If you have a nitrogen siphon, you can pop it in there, charge it and it will be ready to use. If not, use an electric whisk to beat the mix until it is aerated but not so that it thickens into whipped cream.
15. Once the puddings are cooked, tip them out onto individual plates, place a few of the soaked apricots on top and then spoon over the honey and sage syrup.
16. Pour the custard however you like, but I like a pool of it around my pudding, especially if I am using the siphon.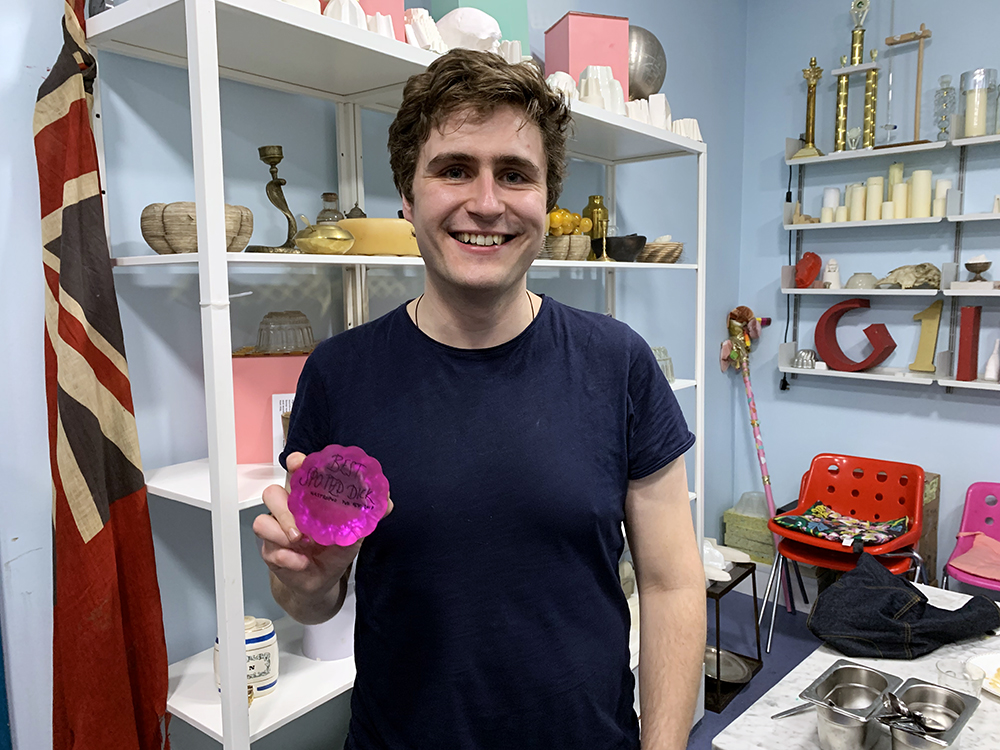 Tom holds the pink jelly! Photo by Nicola Twilley.
The post The Great Gastropod Pudding Off appeared first on Gastropod.
147 episodes