Archived series ("Inactive feed" status)
When? This feed was archived on March&nbsp24,&nbsp2016&nbsp16:20 (). Last successful fetch was on December&nbsp31,&nbsp2014&nbsp19:15 ()
Why? Inactive feed status. Our servers were unable to retrieve a valid podcast feed for a sustained period.
What now? You might be able to find a more up-to-date version using the search function. This series will no longer be checked for updates. If you believe this to be in error, please check if the publisher's feed link below is valid and contact support to request the feed be restored or if you have any other concerns about this.
Manage episode 33375947 series 3483
By
Boing Boing
. Discovered by Player FM and our community — copyright is owned by the publisher, not Player FM, and audio is streamed directly from their servers. Hit the Subscribe button to track updates in Player FM, or paste the feed URL into other podcast apps.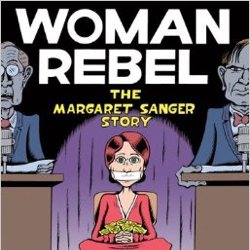 Peter Bagge is the Harvey Award–winning author of the acclaimed nineties alternative-comic series Hate, starring slacker hero Buddy Bradley, and a regular contributor to Reason magazine. He got his start in comics in the R. Crumb–edited magazine Weirdo. My co-host Peter Bebergal and I talked to him about his latest book, a graphic novel biography of the reproductive rights activist Margaret Sanger, called Woman Rebel.
We also talked about: Paul Kwiatkowsi's photobook/novel about "delinquent magic and chaotic adolescence" in "South Florida's lush and decaying suburban landscape," And Every Day was Overcast; and the singer/songwriter of The Shaggs' first album in 44 years, called Ready! Get! Go! And lots more!
GET GWEEK:
155 episodes