Manage episode 197206677 series 7846
By
Discovered by Player FM and our community — copyright is owned by the publisher, not Player FM, and audio streamed directly from their servers.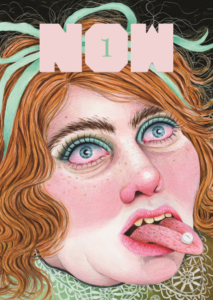 Eric Reynolds has spent his entire adult life at Fantagraphics, starting as an intern and returning to work as an ace reporter, news editor, Hate inker, marketing muckamuck, and even, occasionally, cartoonist. These days his jack-of-all-tradesness has seen him clamber to the broad title of Associate Publisher, and he's currently editing his third major anthology series for the company. Dirty Stories ran from 1997 to 2002 on the Eros imprint, featuring filth, fannies and fingering. Mome brought the more highbrow side of Fanta's nature to bookstore audiences and alt-comix readers from 2005 to 2011. NOW is a dense full-colour bundle of new work largely from artists under-represented in the direct market, publishing three times a year in a comic-book format.
The second issue of NOW is out as of this week in comic shops, and substitute 'stud Kit Brash spoke to him before its release.
NOW can be purchased in print and digital via Fantagraphics. If you like this podcast and want to hear more, please consider supporting Inkstuds on Patreon
133 episodes available. A new episode about every 14 days averaging 65 mins duration .