This series is archived ("HTTP Redirect" status)
Please note series archiving is a new, experimental, feature of Player FM with the aim of helping users understand how we fetch series and report on any issues.
Replaced by: www.apatheticenthusiasm.com
When? This feed was archived on March&nbsp26,&nbsp2018&nbsp06:07 (). Last successful fetch was on March&nbsp18,&nbsp2018&nbsp14:54 ()
Why? HTTP Redirect status. The feed permanently redirected to another series.
What now? If you were subscribed to this series when it was replaced, you will now be subscribed to the replacement series. This series will no longer be checked for updates. If you believe this to be in error, please check if the publisher's feed link below is valid and contact support to request the feed be restored or if you have any other concerns about this.
Manage episode 186969807 series 1533530
By
Discovered by Player FM and our community — copyright is owned by the publisher, not Player FM, and audio streamed directly from their servers.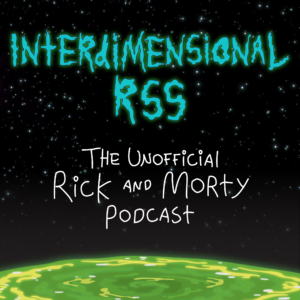 Awwww geeze man… what a crazy episode that was, huh? The Ricklantis Mixup turned out to be Tales from the Citadel and ooohhh boy was it great! So many Ricks, so many Mortys and even the return of Evil Morty?!?! Hurry up and listen to this podcast already!
SHOW NOTES – The Ricklantis Mixup!
Semi Pertinent News – Little Bits
MERCH!

New McFarlane Toys, Rick and Morty Construction Sets

Sets include Rick and Morty in the Garage w/ the ship, Evil Rick and Morty, Meeseeks and Jerry, Ants in my Eyes Johnson, Scary Terry, and "Discreet Assassin" Krombopulous Michael

H3 Podcast fundraiser for Harvey Relief, over $200K raised

Justin Roiland Prank Call
Main thang

The Ricklantis Mixup

Written By Dan Guterman and Ryan Ridley

Directed by Dominic Polcino

The ol' Atlantis diversion trick

While our C-137 Rick and Morty enjoy a one-off adventure in Atlantis, we are instead treated to Tales from the Citadel where social issues abound and we finally catch up with fan theory favorite, Evil Morty!

Ricking Day

The Training Day(ish) storyline where Rookie Rick partners with Veteran Cop Morty

Stand by Mort-Tee

The coming of age tale where four mortys head out on a search for the wishing portal(?)

Dog Day Rickternoon (Ricking Down?)

A disgruntled, assembly line Rick, loses his cool and holds the factory hostage

Rickchurian Mortydate

Social Commentaries

Life divided in the citadel

Mortys as second class citizens

Harmon does love his political statements

The victory of the unlikely candidate who wins by telling a segment of the population exactly what they want to hear

Favorite Bits

Travis – Juggling Rick and Steve Jobs Rick, …

Unity Thoughts

Redditors –

Farkhipov – Darkest episode yet

Nicktheinfamous – Best ep of the series… did not see the plot twist coming at all

Pkaz123456789- definitely interesting seeing more of the citadel

Itskristinleto- Finally an evil Morty!! Still hate Tammy though

Deus – havent been this excited over a series since Mr Robot

solucid – Honestly all I can think about is that sweet mermaid puss!
Listener Suggortions and Short Outs
Patreon!

Shut Up, Casey! Hit us with the $50 yo! Thanks for hosting the show this month!

Tweets

Christopher Stenvold – Confirmation of Morty growing into Rick?

Chuck Punch – his thoughts: evil pres is C-137 Morty, Cop Rick will help C-137 Rick, we won't see either of them the rest of the season

Thanks to all the peeps that thought to tweet at us as soon as the show was over including: Terry Wolf, Rob and Slim, Jeremy Young, Brian Buck, Steven Cunha, and Erik Paulson

Facebook

Eric Pitcher (CireDark)

Okay gang…

What's the over/under on tonight's episodes having anything to do with Atlantis at all?

Reviews

Duke.fn.wayne – Love the Podcast! Thank you for putting this Podcast together! I know a lot of work and time goes into this and I certainly appreciate that! If you are a fan of the show, you MUST add this to your weekly rotation!
Social
Twitter! @RickandMortyPod
RickandMortyPodcast.reddit.com
www.facebook.com/RickandMortyPodcast/
TeePublic! – www.apatheticenthusiasm.com/shop
PATREON! https://www.patreon.com/RickandMortyPod
The post RaM Ep 34: The Ricklantis Mixup appeared first on Apathetic Enthusiasm.
48 episodes available. A new episode about every 8 days averaging 52 mins duration .