Manage episode 228257710 series 1460675
By
GoLeanSixSigma.com
. Discovered by Player FM and our community — copyright is owned by the publisher, not Player FM, and audio is streamed directly from their servers. Hit the Subscribe button to track updates in Player FM, or paste the feed URL into other podcast apps.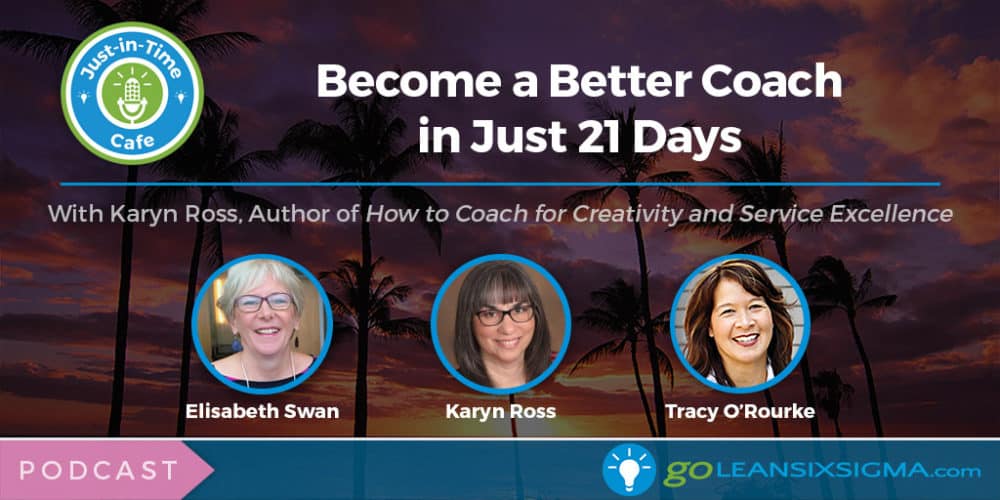 For Today's Special we've got Elisabeth's interview with Karyn Ross to discuss her new bold new book, How to Coach for Creativity and Service Excellence!
With our Appetizer of the Day, QIMacros, we're continuing our series where we review popular charting, graphing and statistical software. For Q&A we've got a Go-Getter Forum question about the different types Control Charts people can use, and for the Printed Page, we'll give an in depth look at Karyn's new book and how she is busting assumptions about coaching and Lean. It's a great day at the cafe!
---
Timeline
2:22 Appetizer of the Day
6:53 Q&A
10:19 The Printed Page
17:03 Coupon Code

Special coupon code for all of our awesome listeners: 20% discount on all of our online training!

18:13 Today's Special

Interview with Karyn Ross, author of How to Coach for Creativity and Service Excellence

42:44 This Just In
---
Thanks for Listening!
The post Podcast: Just-In-Time Cafe, Episode 50 – Become a Better Coach in Just 21 Days, Featuring Karyn Ross appeared first on GoLeanSixSigma.com.
63 episodes