Manage episode 244467560 series 1460675
By
GoLeanSixSigma.com
. Discovered by Player FM and our community — copyright is owned by the publisher, not Player FM, and audio is streamed directly from their servers. Hit the Subscribe button to track updates in Player FM, or paste the feed URL into other podcast apps.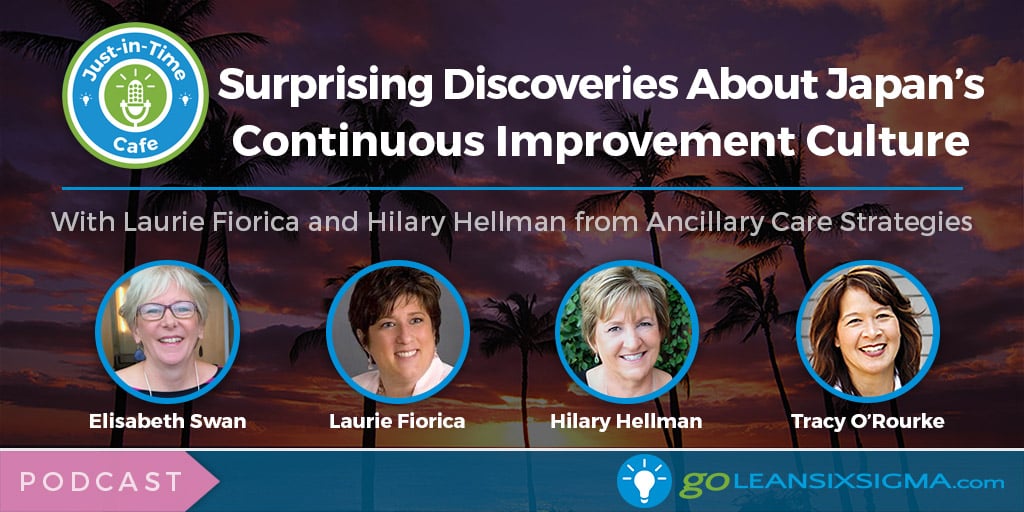 In this episode, Tracy and Elisabeth dip into their incredible experiences in Nagoya and Tokyo in their interview with Laurie Fiorica and Hilary Hellman—two amazing leaders they met on Katie Anderson's Japan Study Trip. Great takes on Continuous Improvement culture in Japan through the eyes of two Healthcare experts!
For our In the News segment, we'll tell you about the upcoming conferences where you might run into the GoLeanSixSigma.com Team! For Q&A we answer a listener's question about whether you can break the rules when using time-honored Lean Six Sigma tools. Stay tuned to find out how to stay out of "Improvement Infraction Jail." And for the Printed Page, Tracy and Elisabeth reflect on tips from the book, Accidental Instructional Designer. Part of everyone's job in the Continuous Improvement world is to teach others, but there are secrets and tips to doing that effectively. Stay tuned for some highlights from Cammy Bean's plainspoken (slightly sassy) book about how to deliver content in a way people actually learn from it. Open a bag of that Candy Corn and join us for a Pre-Halloween Episode!
---
Timeline
3:24 In the News
7:04 Q&A
14:21 The Printed Page
21:24 Coupon Code

Special coupon code for all of our awesome listeners: 20% discount on all of our online training!

22:30 Today's Special

Interview with Laurie Fiorica & Hilary Hellman

52:45 This Just In
---
Thanks for Listening!
The post Podcast: Just-In-Time Cafe, Episode 60 – Surprising Discoveries About Japan's Continuous Improvement Culture, Featuring Laurie Fiorica and Hilary Hellman appeared first on GoLeanSixSigma.com.
62 episodes