Manage episode 212196441 series 2387978
By
Discovered by Player FM and our community — copyright is owned by the publisher, not Player FM, and audio streamed directly from their servers.
Yakmala! Yakmala!
American Ninja is truly a classic of the VHS-era action movie genre. Spawning an impressive 4 sequels, this film was a repeat view for all of the hosts. A trip down memory lane. A trip that has ninjas, motorcycles, climbing claws, and lots of khaki.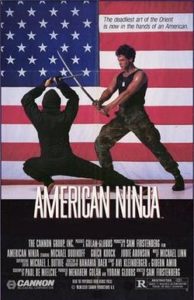 Welcome back for more Kung Fu Electric Boogaloo. Your five hosts continue their search for the ultimate B-Movie with the next entry in the "White Dragons: All American Ninjas" season.
Joe Armstrong, an orphaned drifter and secret ninja on an American Army base in the Philippines, gets caught up in an attack while driving in a convoy. The attacking rebels try to steal the weapons the platoon is transporting and kidnap Patricia, the base colonel's daughter who happens to be along for the ride. Joe rescues Patricia and gets her safely back to the base, but everyone else in the platoon is killed, leading his superiors to conclude that Joe is guilty of cowardice, collaboration or simple incompetence. At the same time, the rebel leader vows revenge against the serviceman who disrupted his plans, and sends an army of ninjas to assassinate him and bring back Patricia. If he wants to survive and save the girl, Joe's going to have to draw on every last ounce of his training.
A

s always, the KFEB hosts will provide ratings for the films that are based on the fun, enjoyment, and craziness of the film. These scores will be tabulated and an on-going grid will keep you up to date with the search.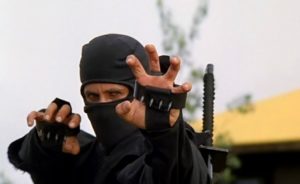 So sit back and enjoy the laughs as KFEB explores the film Chuck Norris didn't have the cajones to star in!
After listening check in with The Octagon, our on-going ranking of the movies covered in KFEB.
Join us all season as we explore the action movie genre we can only call "White Dragons: All American Ninjas!"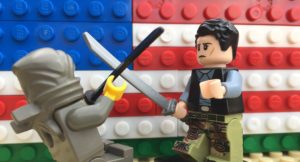 Note: Brad is off this week.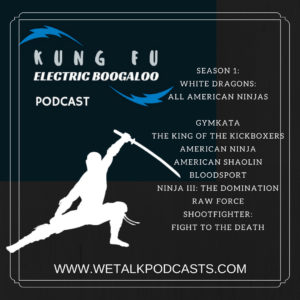 The post Kung Fu Electric Boogaloo 103: American Ninja appeared first on We Talk Podcasts.
14 episodes available. A new episode about every 5 days averaging 57 mins duration .