Manage episode 224615295 series 2691
By
Discovered by Player FM and our community — copyright is owned by the publisher, not Player FM, and audio streamed directly from their servers.
To listen to this episode, download the mp3 directly, find us on iTunes, or use the player below.
http://traffic.libsyn.com/wsst/LOL198.mp3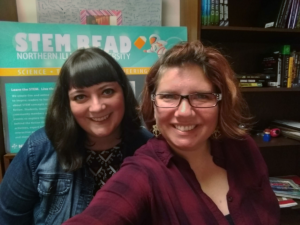 Gillian King-Cargile and Dr. Kristin Brynteson
Gillian King-Cargile and Dr. Kristin Brynteson join us this week to talk about STEM Read – a program from Northern Illinois University that uses live and online programs to inspire a broad range of readers in order to learn more about the science, technology, engineering, and math concepts in popular fiction. Listen to the show to learn more about STEM Read and the educational opportunities it offers, including book-aligned lesson plans, a podcast featuring an author or STEM expert and even a STEM Read Summer Institute.
Links:
Connect with our Guest:
Twitter:
Facebook: https://www.facebook.com/NIUSTEAM/
YouTube: https://www.youtube.com/user/NIUSTEM
Featured image courtesy of Brian Bartel, taken at the ISTE Conference in Chicago while Kritin and Gillian present "Gameifying Artemis" based on the book by Andy Weir
---
Become a Lab Out Loud Patreon

Support Lab Out Loud
If you've been listening to Lab Out Loud, played an episode in the classroom for students, or simply value teacher-driven support for science education, please consider supporting our show by becoming a Lab Out Loud Patreon.
To learn more, visit: https://www.patreon.com/LabOutLoud
---
We always love to hear from you – our listeners. Do you have any ideas for guests? What topics in science and science education need to be addressed? Submit your comments, concerns and suggestions through our contact page or tweet to us at @laboutloud.
Do you like the show? Please leave a comment on iTunes and rate us!
91 episodes available. A new episode about every 16 days .