Manage episode 295550884 series 2799691
By
RCJ
. Discovered by Player FM and our community — copyright is owned by the publisher, not Player FM, and audio is streamed directly from their servers. Hit the Subscribe button to track updates in Player FM, or paste the feed URL into other podcast apps.
Invités de la rédaction : Marc Knobel, historien et essayiste, auteur du livre « Cyberhaine : propagande et antisémitisme sur Internet » paru aux éditions Hermann
---
À propos du livre : «Cyberhaine : propagande et antisémitisme sur Internet»
paru aux Éditions Hermann
---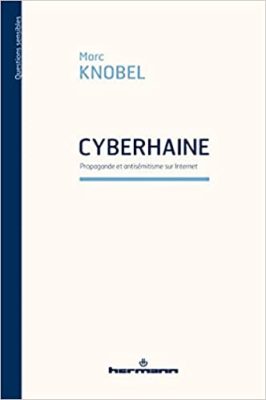 Qu'est-ce que la cyberhaine ?
C'est l'utilisation des technologies de communication pour diffuser des messages, des informations ou de la propagande antisémites, racistes, homophobes, extrémistes ou terroristes. Internet est le lieu idéal – facile d'accès, simple d'utilisation et d'une immense lisibilité – pour inciter à s'en prendre à des individus ou des groupes, et les réseaux sociaux sont régulièrement les vecteurs d'injures, d'intimidation ou de propos haineux.
L'émergence de l'Internet puis son expansion dans les années 1990 ont favorisé la diffusion de toute cette haine. Depuis la fin des années 2000, les discours antisémites se sont structurés autour de trois groupes relativement distincts, mais nullement clos sur eux-mêmes : l'extrême droite plurielle, l'extrême gauche anticapitaliste, et la nébuleuse islamiste (Frères musulmans, salafistes, djihadistes).
Ces discours, qui se propagent tel un virus, se caractérisent par un déferlement de passions négatives (envie, jalousie, haine, ressentiment…) et se présentent sous la forme d'accusations mensongères, de fake news et de théories du complot.
À travers l'analyse de nombreux exemples, l'auteur met ici en lumière l'ampleur inégalée du phénomène et montre que l'Internet n'est pas un simple espace de communication ; il peut devenir une arme de guerre.
Cet essai clair et érudit, qui expose les faits en les restituant dans leur contexte social et historique, est l'aboutissement de la réflexion menée pendant plusieurs années par Marc Knobel, l'un des meilleurs experts sur le sujet.
---
Marc Knobel, historien et essayiste, a été membre du conseil scientifique de la Délégation interministérielle de lutte contre le racisme et l'antisémitisme et la haine anti-LGBT (DILCRAH). Il est président de l'association antiraciste « J'Accuse !… ».
---
287 episodes