Manage episode 295756829 series 2799691
By
RCJ
. Discovered by Player FM and our community — copyright is owned by the publisher, not Player FM, and audio is streamed directly from their servers. Hit the Subscribe button to track updates in Player FM, or paste the feed URL into other podcast apps.
Invité de la Rédaction : Rudy Saada reçoit Elisabeth Bost & Karine Dusfour pour « Grandir avec l'absence » chez Robert Laffont
---
À propos du livre : «Grandir avec l'absence »
paru aux Éditions Robert Laffont
---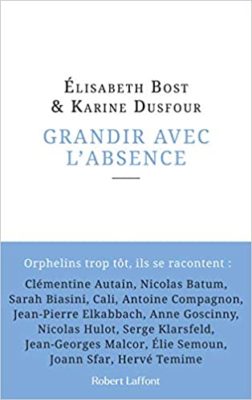 Orphelins trop tôt, ils se racontent :
Clémentine Autain, Nicolas Batum, Sarah Biasini, Cali, Antoine Compagnon, Jean-Pierre Elkabbach, Anne Goscinny, Nicolas Hulot, Serge Klarsfeld, Jean-Georges Malcor, Élie Semoun, Joann Sfar, Hervé Temime
" Ton père est mort. "
" Maman ne reviendra plus. "
Et leur enfance chavire.
Treize personnalités racontent leur parcours d'orphelin de père ou de mère : le choc du décès, le manque prégnant, le regard des autres qui change – et une construction personnelle inévitablement différente...
Comment transformer cette vulnérabilité en force ? Comment continuer à faire vivre le parent disparu ?
Quelle relation bâtir avec le parent restant ?
Devenues écrivain, artiste, avocat, sportif ou personnalité politique, elles ont accepté de dévoiler cette part intime et méconnue de leur vie pour lancer un message d'espoir et de solidarité à tous les orphelins, dont la situation est encore souvent ignorée, voire taboue.
---
Élisabeth Bost est journaliste et a animé plusieurs émissions de télévision. En parallèle, elle s'est toujours consacrée à l'écriture, du théâtre au documentaire. Aujourd'hui scénariste pour des séries télévisées, elle est la maman de Jean, quatorze ans, dont le père est mort lorsqu'il avait seulement cinq ans et demi. Karine Dusfour réalise des documentaires pour la télévision dans lesquels elle interroge les silences de notre société. Son père est mort dans un accident d'avion quand elle avait douze ans.
Élisabeth et Karine ont coréalisé Destins d'orphelins, un documentaire diffusé sur France 5 dans l'émission " Le Monde en face ".
---
303 episodes