Manage episode 190078750 series 1095894
By
Discovered by Player FM and our community — copyright is owned by the publisher, not Player FM, and audio streamed directly from their servers.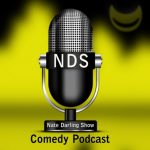 Originally Uploaded September 2014
Diana is working late and Kareem is running late, so Nate & Christiana start the show with a discussion of tipping low to send a message and if Scotland will indeed vote to split from the United Kingdom. Kareem joins in time to talk about the Adrian Peterson "whoopin" issue and what you can do to ruin Valentine's Day sex.
http://natedarlingshow.com/wp-content/uploads/Show236.mp3
193 episodes available. A new episode about every 3 days .