Manage episode 182084315 series 43472
By
Discovered by Player FM and our community — copyright is owned by the publisher, not Player FM, and audio streamed directly from their servers.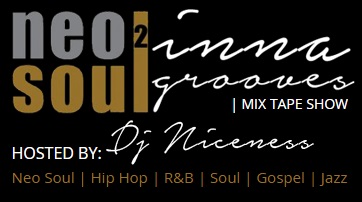 Bridging the gap between mainstream and indie artists, INNAGROOVES brings light to the underground and gives you the quality music you want to hear, not have to hear. Non-stop, less chat, more in the mix (NeoSoul, Hip Hop, R&B, Soul, Gospel, Jazz) musical grooves. Our goal is to help emerging, unsigned independent artists and bands to connect with opportunities to increase their exposure through Internet radio. Website
www.neo2soul.com
Mysti Day - You Gotta Do Rich Hunter - You Are Everything Solomons Garden - Good Things Anae ft Priscilla Bailey - Praise Your Name Ms. Irene Renee - I'd Rather LovaSoul - Fear Of Feeling Samnelly - Untitled Billie Mitchell - What Do You Do Rob Milton ft Nicholas Ryan Gant - Healer Young Bull - Egyptian Joint (All I Need) Paige Lihya ft Skye Chai - So Good Erikka J ft Tese Fever Noah O - Silver Crowns Eric Legnini ft. Natalie Williams - Living for Tomorrow Jungle Leez - From My Soul Ballad - Jasmine Claire Mortifee - Ouroboros Gwen Bunn - Not A Dream Jake Milliner ft Bubblerap - Heard It In The News Oya Noire - Baby Felicia Temple - Carpe Diem Cheryl Woods - The Weekend Gwen Yvette - Walk & Hold Hands Caren Green - Color Me Green Myra Smith - Breaking The Silence BB Boogie ft Maleke O'Ney - Wanna Be With You Rkls ft Sio - Hours Go By Taylor Kelly ft Rayel - Don't Have To (Make U Mine) Da-P & theMIND ft Sun - Ms Communcation Shaila Prospere - Break The Chain Cleopatra Dame - Tease Ruby Francis - Traffic Lights Melodik Tonez - H.B.S.O.M Lylo Gold - Starry Night The Pollyseeds ft Rose Gold & Chachi - Feelings Of The World Allison Balanc - Never Enough Charlotte Dos Santos - Cleo Djeff - Natural Truth Ameen - Take Me High Lex Amor - Praises Ayanda Jiya - Outta Control Julian Avila x Mia Gladstone - Lavender William Florelle - Next Time I'll Learn Nayomi Rosina - Headaches And Heartaches Brittany Nacole - Changed My Mind Lydia Kitto - Sweet Minds Gwyn Foxx - Never Gonna Leave Me George Pettus - Better Man JSWISS ft Chandanie - (Re)Play Fredy V ft Malika Tirolien - Fly With Me Tristan ft Heston - Rising To The Top Buttering Trio - From The Tree Free The Robots remix Goldie ft Terri Walker & Swindle - Horizons
274 episodes available. A new episode about every 5 days averaging 179 mins duration .