Manage episode 176566124 series 43472
By
Discovered by Player FM and our community — copyright is owned by the publisher, not Player FM, and audio streamed directly from their servers.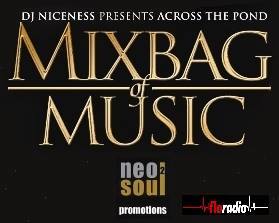 Bridging the gap between mainstream and indie artists, INNAGROOVES brings light to the underground and gives you the quality music you want to hear, not have to hear. Non-stop, less chat, more in the mix (NeoSoul, Hip Hop, R&B, Soul, Gospel, Jazz) musical grooves. Our goal is to help emerging, unsigned independent artists and bands to connect with opportunities to increase their exposure through Internet radio Jill Peacock - I'll Come Running Minni Manchester - Rock Your World The Isle Of CC - Losing Ella Frank - Sugar Zilo - Know That I Want You Feyde - Never Forget U MJBaker - Feel Something Jeff Bernat ft The Cool Kids - West Coast Getaway Children Of Zeus - I Can't Wait Ruepratt - Is This Love Bowtye ft Avalon Young - To Me Ane - All That I Want Nayomi Rosina - Final Call Victoria Monét - Ready Iman Europe - Foldin Clothes La'Porsha Renae - Will You Fight Quinese - Every time I Solo Woods - H2O MovaKween - Better Days Riian Raquel - Skurr Cupidon ft Tierra - Be The One Yolonda Lavender - Sink or Swim Ill Camille - Again Ebhoni - Love Me Lady Sharon Wynn - Follow Jesus Lakai - Gentle With My Love Sulpacio Jones - Better Way Fritzwa - Like My Art - (Scratch) Toriyah ft Jeff Marshall - Elevate Adrianne Huff - My Fantasy Natalie Oliveri - Timezone J Robb - Sofire Melisa Whiskey - Sweetest Cake Anna Kova - My Heart Ain't Wrong Leela James - Did It for Love Mali Music - Gonna Be Alright Raekwon ft. Cee-Lo Green - Marvin Traedonya - The Invincible (Hook) Boogie Bang Mali Hayes ft. Jermaine - Moma J Rena' - Do 4 Love (radio) Maylight - Heavy Artillery Rohey - Responsibilities Clarie Renee - Easy Come Go (Nights With You) Yung Miss ft. CM McDuff - Lifetime Niia - Hurt You First (J.Robb & The Kount Remix) Vanessa White - Rotation Keith Robinson - Never Be You Durand Bernarr - Fly On The Wall Jazzy D ft Kenya - Wonder Ronnie Mason Jr ft Caretta Bell - Love Songs Kenya & Nemor - Give it to me (Forteba remix) Arika Kane ft. Kmelz - Wonderful Ivy Sole - Dream Girl AudioSource - Will I Ever Liz Aku - Seasons Change Elisa Imperilee & Srigala - Little things
249 episodes available. A new episode about every 5 days averaging 182 mins duration .