Manage episode 195563675 series 1052252
By
Discovered by Player FM and our community — copyright is owned by the publisher, not Player FM, and audio streamed directly from their servers.
Thank you to all who prayed and supported our Ukrainian soldiers Christmas outreach. You can read more about it and view pictures here.
Sermon notes:
---
Resolved to Learn from Suffering
James 1:2-4
2 Count it all joy, my brothers, when you meet trials of various kinds,
3 for you know that the testing of your faith produces steadfastness.
4 And let steadfastness have its full effect, that you may be perfect and complete, lacking in nothing.
Let these words sink in,
Do not allow them to go down too easy
These are not easy words
This isn't angel food cake and frosting
This is fiber, it's grit, and it's tough
It's the kind of stuff you can feel go all the way down
It lets you know it's there.
So grab a tall glass water and place it next to your Bible because you're going to need it to wash these truths down!
I'm glad James wrote these words under the inspiration of the Holy Spirit, because if I had written them they would say:
"Count it all joy, my brothers, that you may be perfect and complete, lacking in nothing!"
Now wouldn't that be a nice sermon?!
Sadly that is exactly what is preached in many churches, that is exactly what is believed my many Christians, and many of us even though we don't confess that kind of abridged theology, we have it in the back of our mind a we live as if the middle half of that passage had somehow disappeared!
Many Christians spend their lives running from suffering, trying to avoid it, and looking for ways to get rid of it! Entire industries survive because of it. We spend billions on eradicating it from our lives. You will find shelves of books loaded down with advice on how to avoid it.
Products are sold

Sermons are preached

Pills are prescribed

Counselling is given

Escapes mechanisms are sought
All with the purpose of avoiding the the unavoidable, all with the hopes of living a suffering free life!
But so few face suffering head on has James instructs us here. So few have learned the embrace joy in suffering and see Jesus in it, and beyond it
The longer I live and the more I study God's Word, the more I'm convinced that one of the greatest weaknesses of the Western Church is a lack of a practical Biblical theology of pain and suffering. Too many have come into the Church believing unbiblical promises about the Christian life. They have been lured into the Church, if that were possible, with dreams of success, health, and an easier life.
These promises of prosperity and health for the Christian are only good at producing one thing, weak willed, shallow rooted, fragile faithed church goers, who are emotionally motivated, pleasure pursuing, and Scripturally starving.
For a little contrast let's look at two preachers and their mindset on this topic:
Jonathan Edwards resolutions on Suffering
9. Resolved, to think much on all occasions of my own dying, and of the common circumstances which attend death.

10. Resolved, when I feel pain, to think of the pains of martyrdom, and of hell.

57. Resolved, when I fear misfortunes and adversities, to examine whether ~ have done my duty, and resolve to do it; and let it be just as providence orders it, I will as far as I can, be concerned about nothing but my duty and my sin.

67. Resolved, after afflictions, to inquire, what I am the better for them, what good I have got by them, and what I might have got by them.
June 9, and July 13, 1723.
Contrast these to the the declarations of contemporary prosperity preacher
Creflo Dollar's declarations for the New Year:
I declare that God's favor promotes and causes me to increase daily (Esther 2:17; Psalm 75:6-7).
The Lord takes pleasure in my total life prosperity (Psalm 35:27).
Because I am God's "favorite," I prosper in every area of my life-spiritually, physically, financially, socially and mentally (3 John 2).
Because the favor of God shields me, no sickness or disease has a right to live in my body (Deuteronomy 7:15; Psalm 5:12).
Wealth and riches are in my house because I am empowered with His anointing and favor to draw wealth (Deuteronomy 8:18; Psalm 112:3).
These two worldviews and understanding of the role of suffering in the life of the believer are competing with each other in the Church today! Without a strong Biblical foundation, the prosperity gospel will win out much of the time. Honestly, I don't like to admit that I will probably face greater hardships in my life. I don't like to preach and tell others that suffering will find its way into their life.
But more than I don't like the idea of suffering, I despise the unbiblical, deception of those who would preach the prosperity of others for their own profit. Too many in the Church have been swallowed by the incredulous preachers of gluttonous gospel.
A gospel that promises instant gratification and yet gives little grace

A gospel that entertains but fails to edify

A gospel that shows you tips and tricks, but never teaches to go through trails

A gospel that elevates temporary pleasure and robs of our eternal joy!
It's not a new gospel:
The prophet Micah recognized it 2500 years ago!
Mic 2:11 If a man should go about and utter wind and lies, saying, "I will preach to you of wine and strong drink," he would be the preacher for this people!
As we enter the New Year may we not be looking for God to give us the wealth of this world or any other temporary treasure but rather let us look to the worth of His Word and the goodness of his glory. In which we will find joy in suffering and peace in trials.
Let us let's turn our attention back to the instructions James gives us.
James 1:2-4
2 Count it all joy, my brothers, when you meet trials of various kinds,
3 for you know that the testing of your faith produces steadfastness.
4 And let steadfastness have its full effect, that you may be perfect and complete, lacking in nothing.
James opens his letter with the firm strike of an iron smith's hammer, he brings his hammer down square upon our hard our hearts, our misguided expectations, and our foolish world view!
This hammer strike would have undoubtedly all at once unsettle and yet comforted his original readers.
Unsettle because it may have not been what they hoped for.

Comforted them because now they could better understand their situation.
If we simply go back to verse one we can see why Jame's abrupt introduction was necessary.
Jas 1:1
1:1 James, a servant of God and of the Lord Jesus Christ, To the twelve tribes in the Dispersion: Greetings.
There is no fluff here, James greets the 12 tribes scattered abroad, the diaspora.
Acts 8:1 tells us that the Church was scattered here because of the persecution of Paul. The early believers must have been in somewhat of a confused state.
Jesus came and rose in popularity

Jesus suddenly was put to death

Jesus rose from the dead

Jesus promised his followers power

The first questions the disciples asked was "Is this the time when you will restore the Kingdom?" Acts 1:6

Jesus rose into heaven and the Angels said he would return the same way

The early believers had expectations that this would happen shortly

And then persecution began
James is probably the first epistle written and one of the reasons it was written was to answer the question.
"Why are we suffering all these trials?"
If you look carefully at the book of James you will find that it is a one two punch that takes careful aim at the prosperity gospel.
Count: Our mindset, how do we think about trails?
The word count is in other contexts translated as "to lead" "to govern" or even "to have authority"
In this context however it refers to leading our own thoughts. It seems to indicated a conscious decision to think about something in a certain way.
What do you think of when you think of suffering?
Is it something to avoid at all costs?

Is it something you think shouldn't happen to you?
It is vital that we have the right mindset about suffering even before we enter it.
Once we are in suffering emotions can easily overcome us

Suffering makes it harder to think clearly

Our human tendencies will always lead us astray in suffering.
James wants us to direct our thoughts to one thing: Joy!
All joy
I want to be careful how I say this because I don't want to belittle anyone's suffering who will hear my words.
There is great suffering in the world. My suffering can not compare with the tremendous and unspeakable suffering of millions of my brothers and sisters in Christ.
Yet, by faith in God's Word and by my limited experience I can tell you that the Christian is the only person on the face of this planet who can have ALL joy in ALL trials
We are so tempted to put limitations on our joy!
Partly because we don't understand real joy

Partly because we don't trust God

Partly because we still live under the deception that Biblical joy is dependent upon our physical, temporal, health, and financial circumstances.
"Christian joy is a good feeling in the soul, produced by the Holy Spirit, as he causes us to see the beauty of Christ in the word and in the world."
-John Piper
Unlike worldly pleasure or comfort which depends solely upon your relationship to your immediate circumstances, Christian join depends entirely and solely upon God's presence in your life!
Christian joy is a great weapon in your spiritual arsenal dear Christian! Please use it often!
Illustration of how God gave us joy when Mishael was diagnosed with cancer:
Find joy in the presence of God

Find joy in the truth of his Word

Find joy in the fellowship of other believers

Find joy in praise and song

Find joy in knowing that your faith is directed toward an almighty, unchanging, ever-loving, God!

Find joy in believing that God will use your suffering for his glory!
1Pe 1:6-9
6 In this you rejoice, though now for a little while, if necessary, you have been grieved by various trials,
7 so that the tested genuineness of your faith—more precious than gold that perishes though it is tested by fire—may be found to result in praise and glory and honor at the revelation of Jesus Christ.
Find joy in knowing that you have a Savior who also suffered for you with joy!
Heb 12:2
2 looking to Jesus, the founder and perfecter of our faith, who for the joy that was set before him endured the cross, despising the shame, and is seated at the right hand of the throne of God.
Have joy in knowing that you share in Christ's sufferings
1Pe 4:13
13 But rejoice insofar as you share Christ's sufferings, that you may also rejoice and be glad when his glory is revealed.
For you know
Jas 1:3
3 for you know that the testing of your faith produces steadfastness.
When you don't have answers for why you are suffering go back to what you know from God's Word.
What do we know?
God tested Abraham and he's the epitome of faith, so if he's testing us that must be a good sign.

God's tests are meant to prove our abilities to God but His abilities to us.

Without testing it is unlikely that our faith will grow

God never gives a test without also giving the grace to pass the test

We know that steadfastness is vital

Steadfast = endure, remain, stay under,

Not giving up, not wavering in faith
Let it have it's full effect
4 And let steadfastness have its full effect, that you may be perfect and complete, lacking in nothing.
The more trials and suffering you go through while looking to Jesus the greater your spiritual growth. The problem is that we want out to early.
What does suffering teach us?
To wait eagerly for glory (Rom 8:18)

To pray (Rom 8:26)

To hang tightly to God's love (Rom 8:35)

To comfort others (2 Cor 1:7)

To acknowledge the reality of our own weakness (2 Cor 11:29)

To boast in Jesus (2 Cor 11:30)

To become like Christ (Phi 3:10)

To declare the gospel boldly (1 Th 2:2)

To not be ashamed of the gospel (2 Tim 1:12)

To be steadfast (Jam 1:3-4)

To cease from sin (1 Pet 4:1)

To rejoice (1 Pet 4:13)

To glorify God (1 Pet 4:16)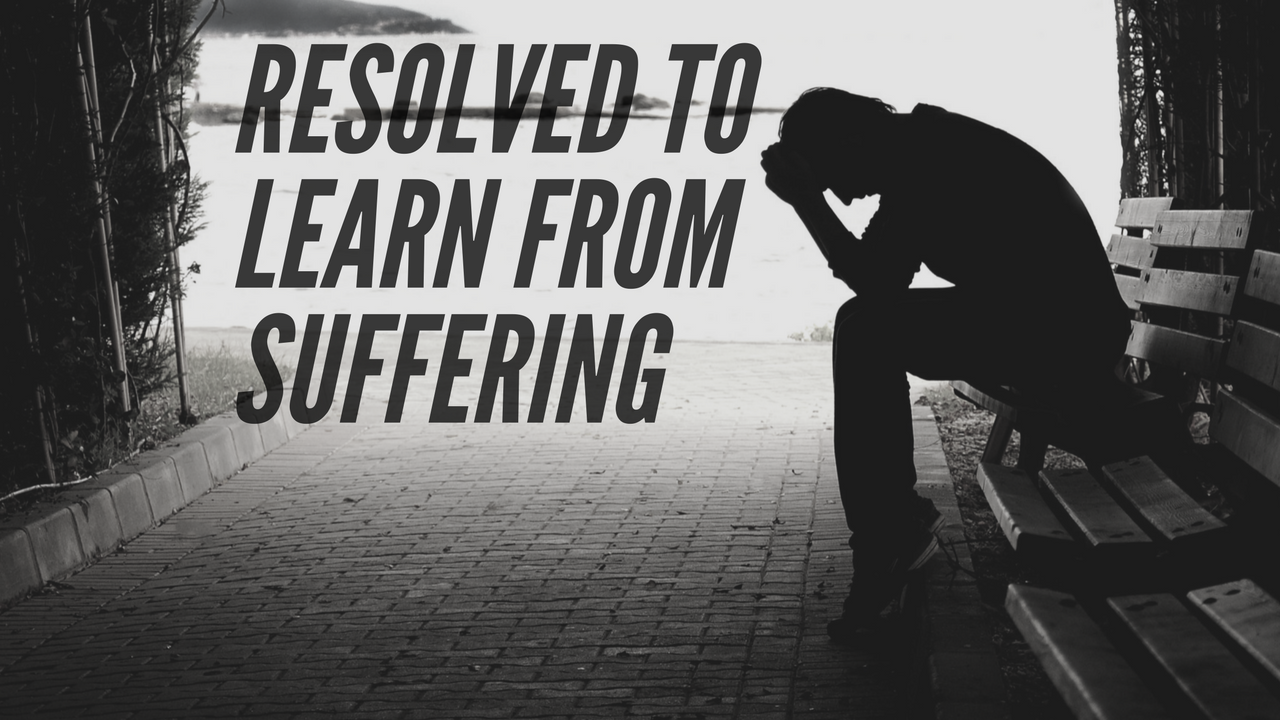 142 episodes available. A new episode about every 19 days averaging 35 mins duration .