Manage episode 262747799 series 1107309
By PLEASANT HILL COMMUNITY CHURCH. Discovered by Player FM and our community — copyright is owned by the publisher, not Player FM, and audio is streamed directly from their servers. Hit the Subscribe button to track updates in Player FM, or paste the feed URL into other podcast apps.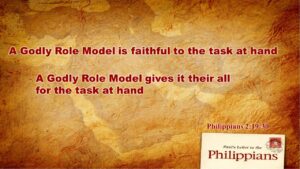 We each have people who have been and may even continue to be role models for us. Role models don't go out and apply for the job. They just become, due to their faithfulness, their integrity, their grit, and their positive influence in the lives of those who follow them. In our passage today we learn about two guys that Paul put forth as role models for living in a manner worthy of the gospel.
The post Two Really Good Guys (Philippians 2:19-30) appeared first on PLEASANT HILL COMMUNITY CHURCH.
350 episodes