Manage episode 198137507 series 2042466
By
Discovered by Player FM and our community — copyright is owned by the publisher, not Player FM, and audio streamed directly from their servers.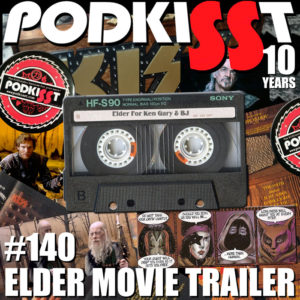 We were asked to make THE ELDER MOVIE TRAILER a downloadable file all by itself. It was produced by the talented BJ Kramp.
Announcer
David Ghosty Wills.
Voices – Ken Mills
Boy
Sean Connery
Sarah Douglas
Terrance Stamp
(Misc Arthurian voices)
BJ Kramp produced that "ELDER Trailer" segment, he writes
"What would a trailer for The Elder film have sounded like? That was the idea. Ken recorded a bunch of dialogue clips and I cobbled it together from there. I tried to give each clip different background noise so that it sounded like they were separate clips edited together. I spent way too much time working on it but I am very happy with how it came out. If you listen closely you can hear Gene's laugh from the intro to his solo album and Gene's screams at the end of God of Thunder, isolated. Here are the music sources I used, in order:
Fanfare
Just a Boy rehearsal
Deadly Weapons
The Oath
Partners In Crime
A little bit of Dark Light
Only You
intro sounds from Mr. Blackwell
A World Without Heroes
Under the Rose intro
I
Odyssey
Escape From the Island
It's My Life
coda from Shocker by The Dudes of Wrath
Listen at the end of the battle scene for "Ouch Charlie!""
Rate us on iTunes,
"like" us on Facebook,
and join the "PodKISSt Army!"
Join the conversation!
www.facebook.com/groups/Podkisst/
https://www.facebook.com/groups/thekissroom/
https://www.facebook.com/PodcastRockCity/?fref=ts
Get a PodKISSt/KISSROOM! shirt here
http://www.redbubble.com/people/designsbyken/collections/314385-kiss-art
For a limited time, you can get your own KISS ROOM and PodKISSt buttons, FREE!
All we ask is that you pay shipping and handling of $3 for one/$5 for two.
• Purchase via PayPal: zilchorders@gmail.com
(Leave your name and number of buttons and which kind you are ordering in the note/instructions field)
Visit www.muttmerch.com for cool Rock & Dog shirts!
Come meet us at the "Nashville Rock N Pod expo"
https://www.gofundme.com/rocknpodexpo
"KISS ALIVE FOREVER-A complete touring history"
get your hands on a digital copy of the book via Apple's iBooks store.
https://itunes.apple.com/us/book/kiss-alive-forever/id1218506426?mt=11
262 episodes available. A new episode about every 10 days averaging 94 mins duration .