Manage episode 185489733 series 1496429
By
Discovered by Player FM and our community — copyright is owned by the publisher, not Player FM, and audio streamed directly from their servers.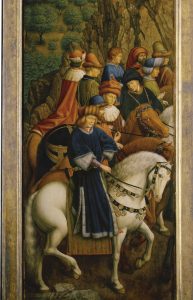 The Ghent Altarpiece, or the Adoration of the Mystic Lamb, is one of the most important pieces of Renaissance art–which is probably why it's also known as the most frequently stolen painting of all time. In 1931 the most beguiling portion of it went missing for good, and what followed was an eighty-year caper involving Nazis, psychics, and stolen cheese.
Music in this episode provided by Musopen, the open source, public domain, classical music databse.
Fantasie op. 16. Composed by César Franck Franck, Performed by Michael Schopen
Prelude, Choral et Fugue Composed by César Franck, Performed by Mehmet K. Okonsor
Sonata for Cello and Piano, Composed by César Franck, Performed by Paul Pitman, Bang-Eun Lee
34 episodes available. A new episode about every 11 days averaging 41 mins duration .