Manage episode 154301372 series 1120046
By
Discovered by Player FM and our community — copyright is owned by the publisher, not Player FM, and audio streamed directly from their servers.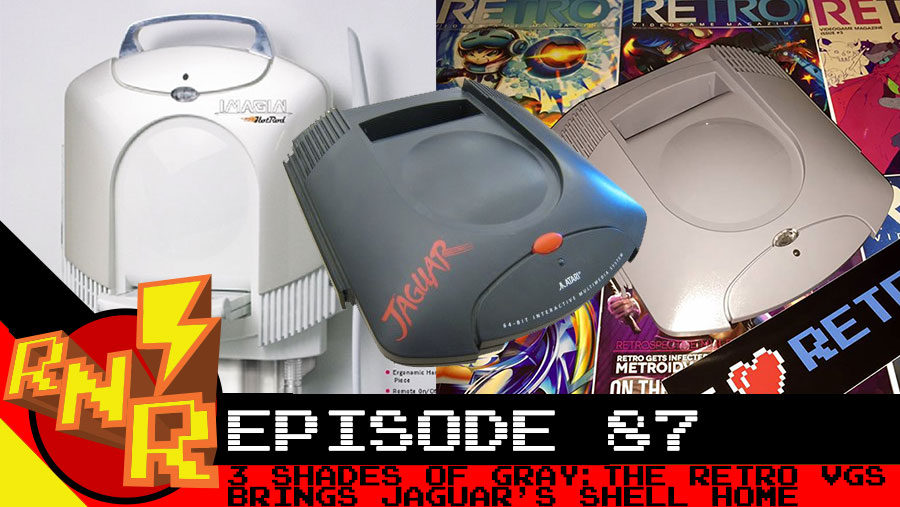 Recorded on 04/12/2015
Sunday April 12th 2015, join us live for a very special RetroNick Radio as we discuss the development of the first cartridge-based console since the N64 with the founder of GameGavel.com and publisher/co-founder of Retro Videogame Magazine, Mike Kennedy. Sheathed in the shell of the Imagin Hotrod… Err, I meant, Atari Jaguar, the VGS signifies the return of the Jaguar's shell to gaming hardware from a brief stint at your dentist's office. That said, it will be completely unique hardware under the hood, and will feature a brand new controller. The project will be hunting for funding on kickstarter later this year. Here's a blurb from their Facebook page.
"The RETRO VGS aims to deliver gamers the best gameplay experience for this new wave of RETRO inspired games fast becoming an art-form and genre on today's mobile and modern consoles.
It also serves to bring back the culture of gaming and the collectibility of owning cartridges, boxes and illustrated instruction manuals."
…
UPDATE! 04/12/15: Mike held court for nearly 2 hours with our audience going over everything from the reason they're pursuing this project, to how he came to acquire the Atari Jaguar tooling from Imagin dental systems. You'll laugh, you'll cry, you'll wonder why no one thought of this sooner!
As a bonus to our listeners, Mike provided us with the code, "MKX", that you can apply here to receive a free digital copy of Retro Gaming Magazine's Mortal Kombat issue. There are only 10 codes total, so snatch yours while you still can. Maybe the best things in life are free! See a small portion of Mike's Retro VGS journey below.
We'll be following Mike's journey, and encourage anyone reading or listening to do the same. We're not sure how this thing is going to turn out, but I can tell you this. We're looking at what may well be the key to recapturing a taste of what it was to play games growing up in the 80s and 90s. If they can get funded and do that, I think there's going to be a lot of happy people out there.
Drinking Rules: Slam your drink when the purity cloth is burned and we start spilling obscenities all over this piece.
Joined on Twitter by the enigmatic @NdArkie89, and his cunning sidekick, @usfhbomb
10 episodes available. A new episode about every 40 days averaging 77 mins duration .