Manage episode 223053321 series 2383627
By
Discovered by Player FM and our community — copyright is owned by the publisher, not Player FM, and audio streamed directly from their servers.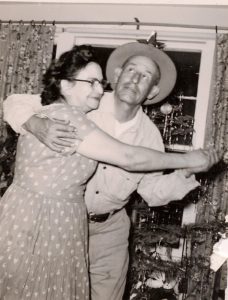 Hello and welcome! You're listening to Song Stories, Quiet Stories. This is podcast episode 10, Christmas in Taos. I am your host, Carolyn Murset. This is the second bonus episode of the new original one-woman musical, Tales of Tila, which premiered at the Electric Theater in St. George, Utah, in October 2018.
I promised you earlier in this episode that I would tell you how to make biscochitos, our traditional Christmas cookie which is one of the things I gave to the children who came around to our house that morning. Do you like the taste of black licorice? If you don't you may not like this cookie. I guess you could omit the anise seed, but then it wouldn't be a biscochito, but that's up to you.
Here goes: Don't turn on your oven to 350 degrees just yet, because the dough might need to chill for a little while before you roll it out. Are you ready?
6 cups flour. If you're picky, sift it. If you're lazy, don't.
3 teaspoons baking powder. Use an official measuring spoon, not the one you eat your posole with.
1 teaspoon salt. If you forget to add this, you'll know it when you take the first bite. Don't try to be healthy. You need salt to improve the flavor. Even the Bible says it's necessary.
A pound of butter or lard. You'll only eat these cookies once a year, so go for the lard. Do you want these to melt in your mouth, or don't you?
1 ½ cups sugar and brush your teeth afterwards.
2 teaspoons anise seed, which tastes like black licorice and makes your cookies look like bugs crawled into your flour sack. Don't say I didn't warn you.
2 eggs, be sure to thank the hens, and bring an extra one in from the coop just in case there's an animal inside one of them.
½ cup liquid of your choice, some use milk, some use orange juice or lemonade. I don't have experience with liquor, but I'm sure if you used it, you wouldn't get drunk, but you might develop a taste for it. Don't say I didn't warn you.
Mix the flour and the baking powder and the salt together in one bowl, and in another bowl, with your hand mixer, cream the lard or the butter with the sugar and the anise seed on medium speed. In yet another bowl, (make one of the kids wash all of these bowls, because so far, you've gotten three bowls dirty), beat the two eggs until they are frothy with bubbles and add them to the sugar mixture.
Add the flour mixture and enough liquid to form a stiff dough. You may not need the full amount of liquid that I mentioned earlier, but that doesn't mean I lied to you. It depends on the weather, and the amount of humidity in the air. Really, it does. Ask Betty Crocker. If you live in Taos, where it is drier than the Sahara desert, you'll need all of that liquid. You've been warned!
Knead the dough a little bit and roll it out to about ¼ inch thick. Cut out in your favorite shape. The traditional shape around here doesn't require a cookie cutter. You just need a glass to cut the circle, then a knife to cut the slits to form the arms of a crab. I don't know where this tradition came from, because there's no ocean around here. But the holidays sometime bring out the worst in people and their behavior sometimes resembles a…..
Bake your cookies now. Oh, I forgot. You should've started heating your oven around the time that you started rolling the dough. If you are rolling in the dough, then you can hire someone to do all of this for you.
Before you bake them, dip each cookie in cinnamon sugar. Or just sprinkle it on if you're lazy. Then bake for 10 minutes. This recipe makes 5 dozen. Store them in a metal tin. A big one. Hide them from the kids and from your viejo, your old man, and…. remember where you put them. Or have him… hide them from you.
I've got to go now, and put my cookies in my oven, and then wrap the slippers that I crocheted for the grandkids. What are you giving away for presents this year? Did you make any of your gifts? Are you rolling in the dough? What are your traditional holiday foods? Do any of them taste like black licorice?Come back next time and hear my granddaughter, la Carolina tell some of her childhood Christmas stories, and her stories as a young mother, and as an old one. I wasn't her only grandmother, you know, and you've heard enough from me for a while. Don't worry. I'll be back to tell you more about my viejo, whose birthday falls on New Year's Day. It's scary to think about how old he'd be if he were still alive. But don't tell him I said that. Hasta Luego, y Feliz Navidad!
20 episodes available. A new episode about every 20 days averaging 21 mins duration .