Manage episode 235184338 series 2383627
By
Discovered by Player FM and our community — copyright is owned by the publisher, not Player FM, and audio streamed directly from their servers.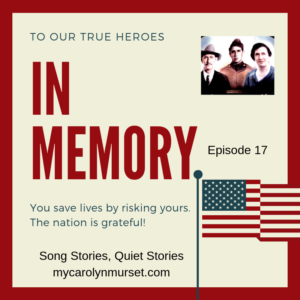 Memorial Day Chrysanthemums are now on sale at my local grocery store. It seems like the day after Mother's Day, retailers stock their shelves with potted plants or, silk and plastic flowers and wreaths suitable for placing on the graves of loved ones. But the original meaning of the holiday, to honor those American men and women who died during combat.has become somewhat lost over the years.
The holiday, was established in 1866 following the Civil War, when General John A. Logan, commander in chief of the Grand Army of the Republic, called for a holiday commemorating fallen soldiers to be observed every May 30. It was first known as Decoration Day and was set aside to remember both Union and Confederate soldiers alike. Soldiers would decorate the graves of their fallen comrades with flowers, flags and wreaths. Memorial Day became the official title in the 1880's, but didn't legally become Memorial Day until 1967, when Lyndon B. Johnson was President of the United States.
In 1971, Memorial Day was moved to the last Monday of May, so that we could have a long weekend. The Uniform Monday Holiday Act since then has also applied to our national observances of Martin Luther King Jr. Day, President's Day, Labor Day and Columbus Day, but not Veteran's Day, which will always be observed on November 11th. As a side note, it was originally called Armistice Day and honored the official end of World War 1 in 1918.
After World War I, Memorial Day commemorations honored not just the Civil War dead but soldiers who had died in all American conflicts.
At the Tomb of the Unknown Soldier at Arlington, Virginia, the President or Vice President of the United States gives a speech honoring the contributions of the dead and lay a wreath.
Each year the 3rd U.S. Infantry places a small American flag before the gravestones and niches of service members buried at Arlington National Cemetary (and the U.S. Soldier's and Airmen's Home National Cemetery) just before Memorial Day weekend.
The soldiers put flags in front of more than 260,000 gravestones and about 7,300 niches at Arlington. (Another 13,500 flags are placed at the Soldier's and Airmen's Cemetery.) It takes them about three hours to place them all, and then they stay at Arlington during the Memorial Day weekend to make sure the flags remain at each gravestone. I admire this respectful and honorable practice.
When I was a kid growing up in the northern New Mexico community of Taos, I attended Taos Elementary School. Physical Education, PE Day came once a week, and since the school didn't have it's own gymnasium, my class would walk to the Bataan National Guard Armory and use the gym there. The enormous olive green army vehicles parked in the connecting garage fascinated me.
It would be several decades later while interviewing my mom about her childhood and extended family that I learned about our two cousins who died while serving during World War 2. She mentioned that cousin Moises Miera died as a prisoner during the Bataan Death march, and that another cousin, Manuel Jaime Garcia had died a few weeks after the bombing of Pearl Harbor and was listed as missing in action. My interview with her was more than 20 years ago.
It took me a few more years to make the connection that the National Guard Armory, which later was sold to the town of Taos and made into a convention center, was named after the soldiers of the 200th Coast Artillery Battery H of the New Mexico National Guard who were deployed to the Phillipines in 1941 a few months before the Japanese bombs flew into the Pearl Harbor naval base on the Hawaiian island of Oahu. They were among the first Americans to engage in combat with the Japanese armed forces.
I hadn't studied the inscriptions below the memorial cross that had stood in the middle of the Taos Plaza since 1960, made possible by private donations through the War Mothers organization.
After intensive training at Fort Bliss in El Paso, Texas, these Hispanic, Anglo and Native American troops were sent to the Phillipines. Once there, they were issued outdated guns and ammunition, some of which dated back to World War One. This may have been because the prevailing sentiment was to get Hitler first, so the better equipment was sent to Europe while soldiers in the south Pacific had to make do with what they had.
The shared heritage of these men held them together while defending Manila, Clark Air field and training Filipino forces. Soon after the Pearl Harbor attack, the Japanese were also attacking the Phillipines. The 200th fought during those constant attacks, without any sign of reinforcements and successfully covered the evacuation of forces, equipment and suppilies in Bataan.
By April 2, 1942, the Japanese, after having recieved enough reinforcements, started the final drive through the Bataan peninsula. The defenders had resisted the enemy for three months, but were now surrounded, outnumbered and running low on food and medicine, and suffering from malaria, with many casualties. General Edward P. King Jr. reluctantly and formally surrendered about 75,000 Filipino and American soldiers to Japanese General Masaharu Homma on April 9, 1942.
In intense heat, the prisoners were forced to walk the infamous 65 mile "Death March" from Mariveles, on the southern end of the Bataan Peninsula to San Fernando. From there the groups of about 100 men were transported by train to prison camps. On the way, they were beaten and denied food and water. Many were tortured to death. The atrocities and depravation spanned three years. This was not made public in the United States until years after it happened.
The death date on the tombstone of my cousin, Moises Miera coincides with the October 24, 1944 sinking of the Japanese Hell Ship, Arisan Maru, which was transporting 1781 American and allied and civilian prisoners of war from Manila to Japan to be used as forced labor. Hell ships had extremely unpleasant living conditions and had reputations for cruelty among the crew.
This happened during a typhoon, and the Arisan Maru carried no markings or flag, indicating that it was carrying Allied prisoners. It was torpedoed by a US submarine, the USS Shark II which was also lost with all 87 on board in that same action. The Americans had no way of recognizing the Arisan as a prison ship.
No POWs were killed in the torpedo strikes and nearly all were able to leave the ship's holds, but the Japanese did not rescue any of the POWs that day. Many prisoners swam towards the Japanese destroyers hoping for rescue. They were pushed and beaten away with poles. The men climbed on whatever wreckage they could find to stay afloat for rescue. There were eventually eight or nine who survived. Five miraculously sailed to China and were taken to Allied forces and returned to the USA in December 1944. The remaining four were recaptured by the Japanese.
My husband and I interviewed my Aunt Lula Cantu three years ago. She'd told us how Moises and Manuel had come to visit my grandparents to say their goodbyes after enlisting and before leaving to Fort Bliss, in El Paso for training. They were close in age to her brother's: my Uncle Ralph who'd joined the Marines, and my Uncle Arthur, who'd enlisted in the Navy. My Aunt mentioned that after Moises had marched in Bataan, and was being transported on a ship to Japan, that the ship had sunk after being attacked by friendly fire!
After many hours of research, I found two rosters of the casualties, and was confused when his name was not in the first one I'd come across. I then found an article by William Bowen at (west-point.org,) a son of one of the POW's who'd died in the tragedy. His roster was more comprehensive and included my cousin's name. In the last column, Moises was described as, "MUTE, suave." His World War 2 enlistment record says he was 65 inches in height and weighed 114 pounds.
Cousin Moises was born to Moises and Pilar Miera. His older sister, Evangelina died at one year of age. He was born a few weeks later, and was named after his father. A year later, his father succumbed to typhoid fever, leaving behind Pilar and the one year old Moises. Almost two years later, Pilar married Lino, the younger brother of the elder Moises, and raised his nephew as his own.
By the time Moises enlisted in the National Guard with his cousin Manuel, in January of 1941, his mother had been deceased for almost three years and Moises was essentially an orphan. At the time of the 1940 US census, he was 23 years old and living with his step parents. His stepfather Lino had remarried by then. Moises is listed as a house building laborer and had earned $100 the previous year. I wish I had a photo of him to show you. I only have a photo of his tombstone. His body and Manuel's were never recovered. Their headstone's were placed in the Miera Family Cemetary in Taos years after their passing to honor their memories.
Manuel's family had no word of his status in the war until it ended. The military wasn't able to provide any information until then, and was listed as missing in action. One or two survivors of the Bataan March returned to El Prado, where the Garcia family lived near Taos, and unofficially told his parents that he had died at the very beginning of the war.
The Department of the Army, sent an official notification to his parents on January 18, 1950 declaring that Private Manuel J Garcia had been killed in action on January 24, 1942. With the letter came a Purple Heart Medal and certificate. By this time, his mother Jacinta had passed away. I imagine that Moises' stepparents also received a Purple Heart and certificate to honor their stepson.
January 24, 1942, the death date inscribed on the headstone issued by the Department of Veteran Affairs, was just forty five days after the bombing of Pearl Harbor. The National Guard 200th Coast Artillery had already been in the Philippines for a few months.
I researched events that occurred on that specific date, trying to find how this cousin of mine was killed. Several military events happened on that date, the closest but still too distant at 1800 kilometers away to seriously consider was the Battle at Balikpapan. Manuel Jaime's military enlistment record states his brand code as Coast Artillery Corp or Army Mine Planter Service. Planting mines does not sound like a safe assignment to me. Do any of you relatives know exactly how he lost his life?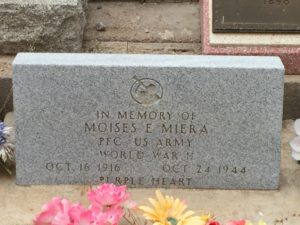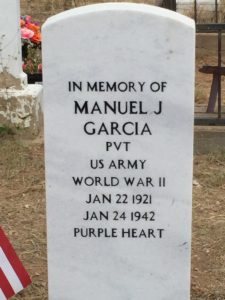 The history of the New Mexico National Guard dates all the way back to 1598 when Don Juan de Oñate brought in the first large group of colonists. … Centuries later when Pancho Villa attacked the community of Columbus, NM in 1916, it was New Mexico Guard troops from Deming who were first on scene.
Battery H of the 200th Coast Artillery, along with other National Guard Units in the long run may have helped delay and prevent a Japanese invasion of Australia. Many of these Taos soldiers were fluent in Spanish and English. This fluency in Spanish was useful because Spain had previously ruled the Philippines for 333 years, until the end of the Spanish American War in 1898.
Now, back to the Memorial Cross on the Taos Plaza. The week after the installation ceremony, theTaos News ran a front-page story declaring, "A simple cross, the symbol of a man who sacrificed his life to save all humanity, was dedicated…as a memorial to Taos County men who died and suffered that their neighbors might live in freedom."
Following World War I, as mentioned earlier, it was decreed that the May 30 remembrance be expanded to include all Americans killed in battle. Soon after, red poppies became associated with the holiday through the efforts of both American and French groups who took inspiration from the poem, "In Flanders Fields," written by John McRae in 1915. Memorial Day was, in its earlier days, marked by civic parades and patriotic observances, as well as ceremonies at veterans cemeteries.
So, if you visit a store on Memorial Day, to buy flowers to place on a loved one's grave, make sure you have cash on hand to also buy a red crepe paper poppy being sold by a member of your local American Legion Auxiliary sitting at a table outside the store. Their Poppy Program began in 1921, and on Memorial Day and Veteran's Day millions of the poppies, all handmade by veterans as part of their therapeutic rehabilitation are distributed across our country in exchange for donations that go directly to help disabled and hospitalized veterans in our communities.
Why is this so important? Although millions of soldiers have lost their lives in battle, many who return home alive after serving their country, either because of post traumatic stress syndrome or injuries incurred while serving, continue with the battle, physically, mentally, or both. To them, and to all who now serve we will be ever grateful. Thank you for your service.
Do you have a family member or friend who has lost their life while serving in the military? In what branch of the militia did they serve and where?
Come back next time and we'll talk about Father's Day. Until then subscribe to this free podcast at mycarolynmurset.com or at iTunes or your smartphone podcast app. Check out my online digital store on my website, and my events page. My one woman play, Tales of Tila will be playing this September 9, 10, 16 and 17th at Brigham's Playhouse in Washington, Utah. Tickets are now on sale at 435-251-8000. Thanks for listening, thanks for writing. I am your host, Carolyn Murset
20 episodes available. A new episode about every 20 days averaging 21 mins duration .