Manage episode 243861306 series 121731
By
The Staggering Stories Team
. Discovered by Player FM and our community — copyright is owned by the publisher, not Player FM, and audio is streamed directly from their servers. Hit the Subscribe button to track updates in Player FM, or paste the feed URL into other podcast apps.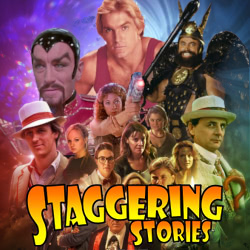 Summary:
Adam J Purcell, Andy Simpkins, Fake Keith, Jean Riddler, the Real Keith Dunn and Steven Clare review the Big Finish boxset Doctor Who: The Legacy of Time and the 1980 film Flash Gordon, find some general news, and a variety of other stuff, specifically:
00:00 – Intro and theme tune.
00:59 — Welcome!
01:57 – News:
02:09 — Marvel: Spider-man prepares for reentry.
04:32 — Star Wars: Feige wants in.
07:45 — Battlestar Galactica: Mr Robot man rebooting reboot.
11:21 — Aron Eisenberg: DEAD!
12:47 — Stranger Things 4: Teaser Trailer.
14:14 — Anniversaries: The Flintstones and Thunderbirds.
16:21 – Flash Gordon (1980 film).
31:37 – Doctor Who: The Legacy of Time (Big Finish).
53:37 – Emails and listener feedback.
67:52 – Farewell for this podcast!
69:01 — End theme, disclaimer, copyright, etc.
Vital Links:
305 episodes