Manage episode 244714223 series 121731
By
The Staggering Stories Team
. Discovered by Player FM and our community — copyright is owned by the publisher, not Player FM, and audio is streamed directly from their servers. Hit the Subscribe button to track updates in Player FM, or paste the feed URL into other podcast apps.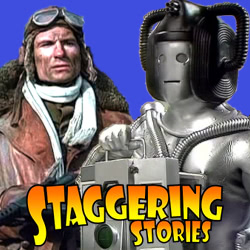 Summary:
Adam J Purcell, Fake Keith and the Real Keith Dunn review Doctor Who: Revenge of the Cybermen and the 1986 film Biggles, find some general news, and a variety of other stuff, specifically:
00:00 – Intro and theme tune.
01:04 — Welcome!
02:00 – News:
02:13 — Doctor Who: Is the Doctor now a doctor?
03:41 — Doctor Who: Back for Christmas or New Year?
06:46 — Stephen Moore: DEAD!
08:47 — Picard: Trailered and dated.
10:41 – Biggles (1986 film).
22:53 – Doctor Who: Revenge of the Cybermen.
39:49 – Emails and listener feedback.
58:19 – Farewell for this podcast!
58:44 — End theme, disclaimer, copyright, etc.
Vital Links:
305 episodes