Manage episode 245507694 series 121731
By
The Staggering Stories Team
. Discovered by Player FM and our community — copyright is owned by the publisher, not Player FM, and audio is streamed directly from their servers. Hit the Subscribe button to track updates in Player FM, or paste the feed URL into other podcast apps.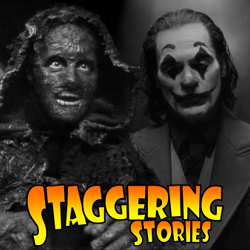 Summary:
Adam J Purcell, Andy Simpkins, Fake Keith, Jean Riddler and the Real Keith Dunn review Big Finish's Doctor Who: Dust Breeding and the 2019 film Joker, discuss their visit to the Panopticon Lite Doctor Who convention, find some general news, and a variety of other stuff, specifically:
00:00 – Intro and theme tune.
00:49 — Welcome!
02:44 – News:
02:56 — Doctor Who: Getting virtual with Whittaker.
04:36 — Red Dwarf: Feature length special in 2020.
07:17 — Doctor Who: Animated Fury from the Deep in 2020.
08:49 — Children in Need: Cover album featuring Jodie Whittaker and David Tennant.
10:29 — Doctor Who: Mission to the Unknown now on YouTube.
11:44 — Peanuts: Snoopy in Space TV series.
13:19 — Moomins: DVD of Moominvalley horror.
14:24 — Dracula: Moffat and Gatiss trailer out now.
15:24 — Batman: New Riddler cast.
16:02 — Batman: Composer for The Batman announced.
18:39 – Joker (2019 film).
33:24 – Doctor Who: Panopticon Lite 2019 convention.
48:47 – Doctor Who: Dust Breeding (Big Finish).
59:18 – Emails and listener feedback.
72:37 – Farewell for this podcast!
73:49 — End theme, disclaimer, copyright, etc.
Vital Links:
305 episodes