Manage episode 203417106 series 1108275
By
Discovered by Player FM and our community — copyright is owned by the publisher, not Player FM, and audio streamed directly from their servers.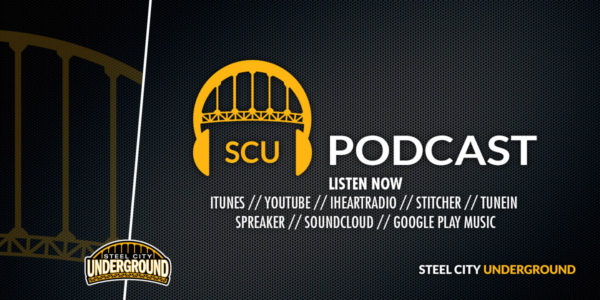 After a short break, Joe returns to join Brian as the duo debate on the day's topic: where does James Harrison belong in not only Steelers history, but that of the NFL?
The conversation segues into the upcoming NFL Draft. With draft day around the corner, what position is the most important for the Steelers to spend their top pick on? And who is the team targeting to add with that 28th overall pick?
The SCU team talks about those players the Steelers have shown the most interest in, and what round they could be available in.
SCU's 2018 Steelers NFL Draft "War Room" is now available everywhere eBooks are sold:
For more information about the March of Dimes contest:
Call the Steel City Underground Fan Line and have your question played on our podcast! The best questions will be answered in a future episode.
- Dial (203) 900-4SCU (4728) from any number, and leave your name, location, and a question on our automated attendant.
- Text (203) 900-4SCU with your question OR
- Email fanmail@steelcityunderground.com
Total Sports Enterprises is an official partner of the Steel City Underground Podcast.
TSE is Pittsburgh's exclusive supplier of signed memorabilia from the Steelers, Pirates and Penguins. All of TSE's autographed items come with a 100% money back guarantee! See why every day is game day at TSE by visiting
iTunes - /> Google Play Music - /> Stitcher - /> TuneIn - /> Spreaker - /> SoundCloud - /> iHeartRadio -
Facebook - /> Twitter - /> Google+ - /> YouTube - /> Instagram - /> Web -
The Steelers most important position to draft for, plus James Harrison in the Hall of Fame? appeared first on Steel City Underground.
451 episodes available. A new episode about every 3 days averaging 37 mins duration .