Manage episode 244416469 series 1258106
By
Tabletop Game Talk
. Discovered by Player FM and our community — copyright is owned by the publisher, not Player FM, and audio is streamed directly from their servers. Hit the Subscribe button to track updates in Player FM, or paste the feed URL into other podcast apps.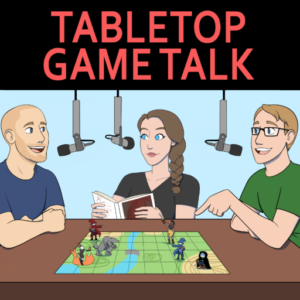 This week we're looking at the promises publishers make, and break. Should Kickstarter exclusives stay exclusive forever? Should publishers be punished for missing releases dates? Should preorder windows stay open for the entire window even if stock runs out? Maybe. But maybe not…
Email us at feedback@TabletopGameTalk.com – for questions and feedback.
Follow us on twitter http://twitter.com/TabletopGameTLK http://twitter.com/GameMasterChris http://twitter.com/LawfulGoodMom http://twitter.com/NetFletch
or Facebook http://www.facebook.com/TabletopGameTalkPodcast Chris's facebook (let him know you're a listener in the friend request): https://www.facebook.com/steele22374
Join the conversation on Board Game Geek http://TabletopGameTalk.com/bgg
Support us via Patreon http://TabletopGameTalk.com/Patreon
220 episodes