Manage episode 230506933 series 1757223
By
Discovered by Player FM and our community — copyright is owned by the publisher, not Player FM, and audio streamed directly from their servers.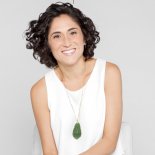 In a world of fad diets, Carly Pollack shares permanent weight loss solutions.There are countless diets, cleanses, and 30-day challenges geared to help people lose weight, but very rarely are these solutions permanent.
These fad diets tend to focus on the foods we should or shouldn't put into our bodies rather than providing us with the mental tools necessary for making permanent changes.
Nutrition expert Carly Pollack presents her unique understanding of body science, brain wiring, and spiritual principles to facilitate real, long-term change. She shares with listeners how to let go of negative self-talk and stress rather than trying to manage it.
And, she reminds us that our plate is a reflection of our state.
Listen as Carly Pollack joins Dr. Taz to discuss permanent weight loss solutions.
136 episodes available. A new episode about every 6 days .