Manage episode 231406443 series 1757223
By
Discovered by Player FM and our community — copyright is owned by the publisher, not Player FM, and audio streamed directly from their servers.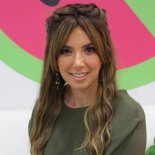 Learn how to incorporate mindfulness into your diet plan so you'll keep weight off after your diet ends.There are a number of diets available that focus primarily on the foods you can or cannot eat, or the amount of food you should consume per meal. However, without mindfulness, many people remain unmotivated to continue eating well after their diet ends and ultimately regain any weight lost.
Beth Warren, a dietician and "kosher girl," relates her experience with dieting to her Jewish upbringing, noting that keeping kosher requires the same discipline as sticking to a diet plan.
She explains how setting a daily intention and simply being cognizant of what you eat can make the difference between a successful or failed diet.
Listen as Beth joins Dr. Taz to discuss her 21-day intuitive eating plan.
136 episodes available. A new episode about every 6 days .