Manage episode 247774905 series 115977
By
Christy Isinger and Haley Stewart
,
Christy Isinger
, and
Haley Stewart
. Discovered by Player FM and our community — copyright is owned by the publisher, not Player FM, and audio is streamed directly from their servers. Hit the Subscribe button to track updates in Player FM, or paste the feed URL into other podcast apps.
It's Advent! Since we've already released episodes about Advent music and how we observe Advent in our homes, we decided to talk about the spiritual journey of Advent inspired by one of our favorite books of all time, The Reed of God by 20th century British Catholic and spiritual writer, Caryll Houselander.
We're sharing in this episode about the essential role of Mary as the model for Christians and how we can be inspired to faithfulness and holiness through her example in a special way during Advent. We talk about the reality of Advent as a time of "darkness" when the work God is doing to redeem us might be done secretly and quietly in our souls as Christ grew in Mary's womb–not yet revealed. We also discuss the difficulty in trusting God that He will complete the work He is doing in our lives instead of reaching for spiritual perfectionism that insists we can become holy on our own just by trying harder. Houselander has so many incredible insights in this book and we're excited to share some of her beautiful thoughts on Advent in this episode!
Things we talked about:
(Links to Amazon are affiliate links)
The Reed of God by Caryll Houselander
Sponsor
This episode is graciously sponsored by Nikolaus Design.
Use the discount code CARROTS to get 10% off!
The Rosary played a significant role in helping converts Meg and Kyle Tietz find their way home to the Church. But they ran into a recurring problem – rosary beads kept breaking in their hands. Kyle, decided to teach himself to make an indestructible rosary that was so beautiful, it would inspire frequent prayer. Nikolaus Design (named after Kyle's confirmation saint, St. Nicholas) was born from that mission! They create rosaries that are beautiful enough for special occasions but durable enough for daily prayer and they offer wire-wrapped, heirloom rosaries made from semiprecious gemstones, Swarovski crystals, Czech glass, genuine turquoise, and our specialty – handmade sterling silver Southwestern pearls.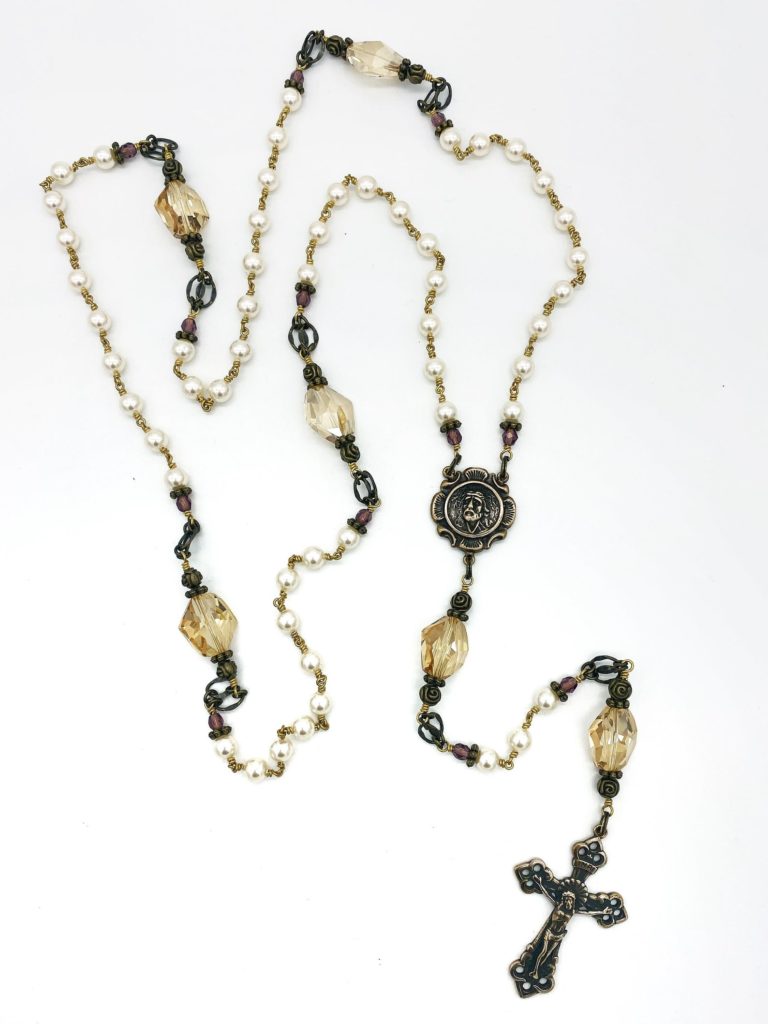 You will not find rosaries constructed with these unique handmade beads anywhere else! Rosaries by Nikolaus Design are perfect for gifts for weddings, baptisms, confirmation, graduation, or Christmas or as a gift to yourself to inspire a deeper devotion to Our Lady's Rosary.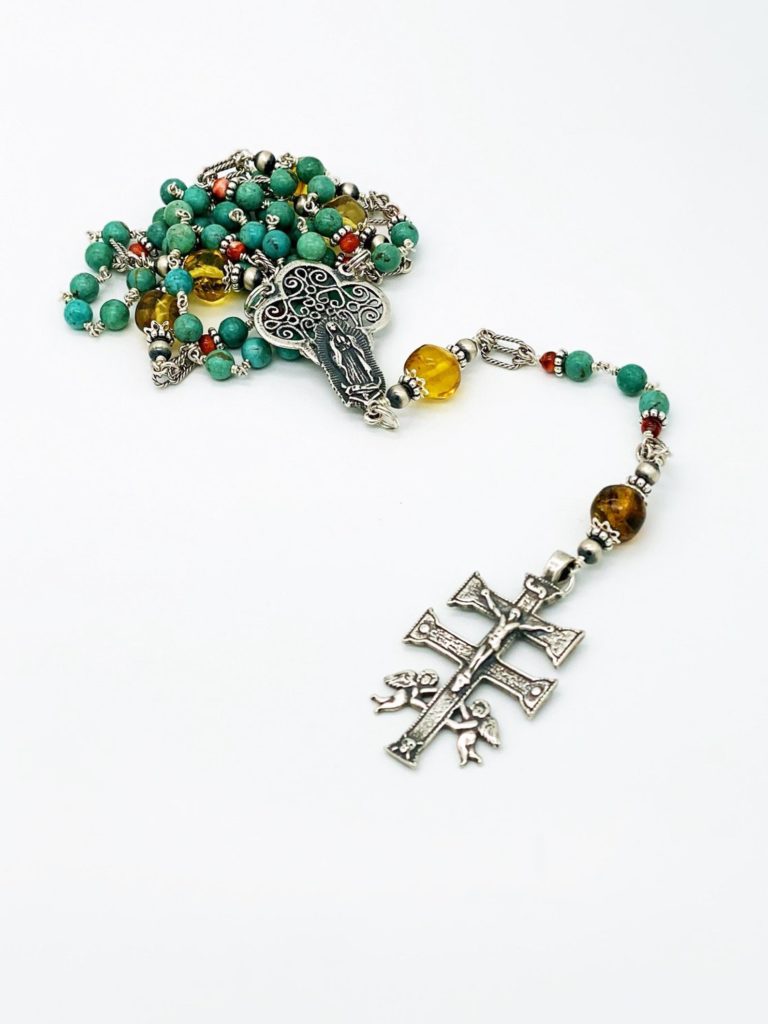 Visit nikolausdesign.com to view the beautiful rosaries that are available or follow them on Instagram or Facebook. (And don't forget to use CARROTS for 10% off!)
Patreon!
Did you love this episode and want to dive deeper into The Reed of God? You're in luck! We're discussing it this Advent in our Patron Slack community and Haley's sending daily email reflections, favorite quotes and study questions to your inbox. You can become a patron over at Patreon and get fabulous perks while supporting your friendly neighborhood podcasters.
Head on over to support the podcast as a patron (it's only $5/month–cost of a cup of coffee!) to get:
Monthly special episodes available exclusively to patrons (we call it Fountains of Carrots After Dark)
Access to the patron-only Slack community for conversation and fun
A Fountains of Carrots sticker mailed to you
Access to the Advent Book Club
Sign up to become a patron today!
Come hang out with us!
Haven't joined in on the fun with 4,500+ other FoC listeners in our facebook group? It's your direct line to some fantastic folks who also care about faith, culture, books, and whatever our current masterpiece theatre craze might be! Join in with the link below.
You can listen to us on iTunes, and we'd love a quick rating or review. If you have an android device we're also on Stitcher. And as always, you can find all links, show notes, upcoming guests, and listen to all episodes at Fountains of Carrots.com.
236 episodes