Manage episode 212446665 series 1449882
By
Discovered by Player FM and our community — copyright is owned by the publisher, not Player FM, and audio streamed directly from their servers.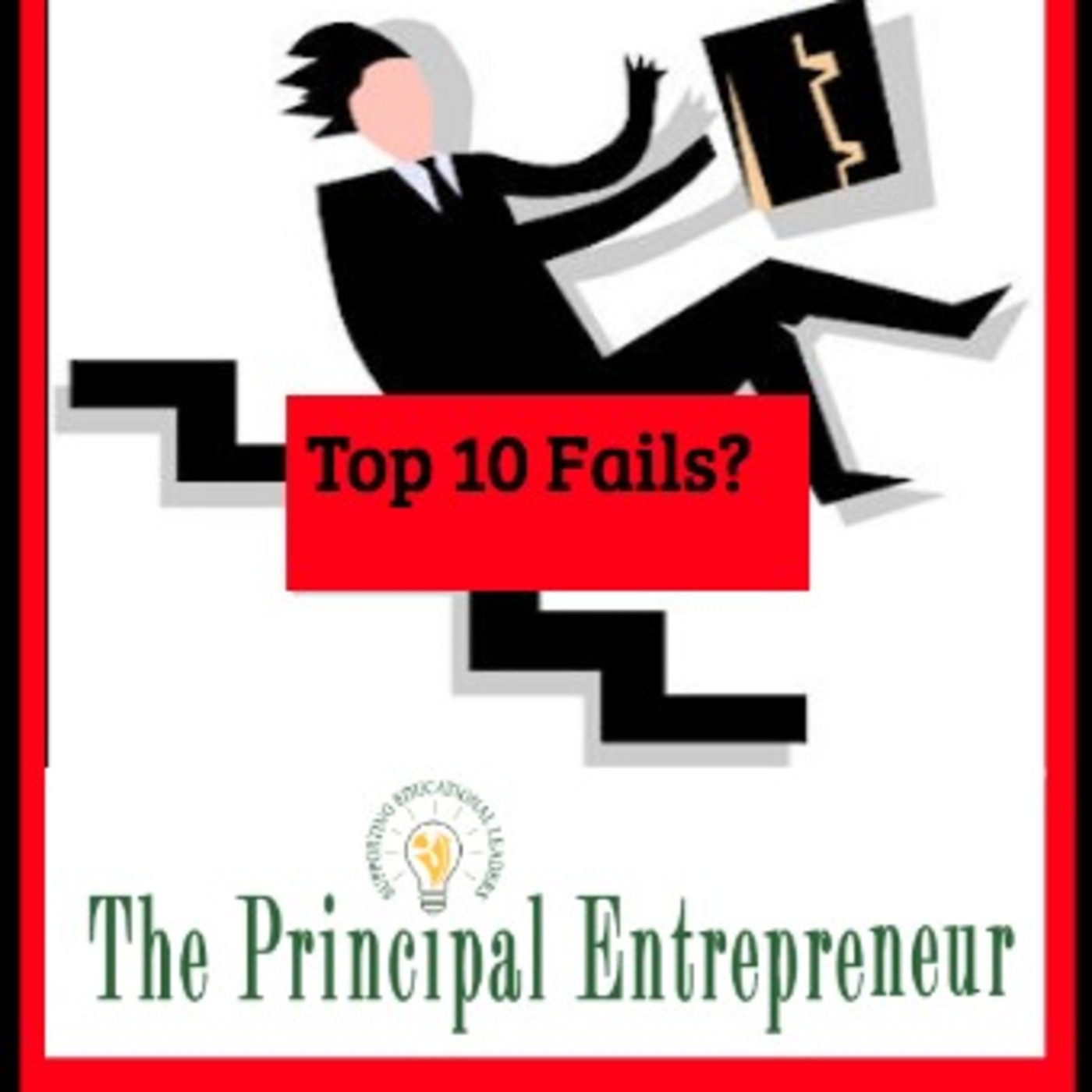 If you've spent any time on Facebook you can't help but to have at least caught a glimpse of kids skateboarding, BMX riding, or doing playground gymnastics and falling painfully onto sensitive body parts. Well this is the principal's version. My personal highlight reel of areas in which I need to improve. The school year is often composed of many fires each day which we race around and extinguish. Sometimes we're moving so fast that embers remain and ignite the very next day so we repeat the same race. Before we know it a Quarter, Semester and then 3/4ths of the year are gone. The goals we put in place for ourselves, no matter how SMART, are not fully reached. Below are my top fails of the 17-18 school year. These are areas that I will improve on in the 18-19 school year. Consistently Reach Out to Parents Connect consistently with community partners Complete evaluations in a timely manner Support struggling teachers consistently Increase student attendance to 80% Immediately address staff member/s who are out of line Spend more time with wife/family Spend more time with close friends Consistently appreciate my wife's support Learn more, more consistently. As you read these you'll notice that there is almost an even split between school stuff and school's impact on my personal time. I'm wondering if I do a better job of managing school related items this will free up time to be with my family. As I look at my list there are items here that can be delegated and streamlined with my excellent staff and perhaps even my students. I'm thinking 1, 2, and 5. Consistently Reach Out to Parents Connect consistently with community partners Increase student attendance to 80% This will free me up to do 3 and 4. Complete evaluations in a timely manner Support struggling teachers consistently Number 6, failure to address a staff member who was out of line is a priority. It is something I need to work on because I get really uncomfortable calling people out in the moment. I consistently do it the day after and come at it sideways by asking questions about the incident. I don't know if this is the best way to handle those types of situations and is something I will continue to think about. To spend more time with wife and family I should schedule that time just as I schedule time for school meetings and appointments. I can probably do the same thing with close friends. As for consistently appreciating my wife's support that's going to take the most work. I do do it, but not as much as she'd like. Number 10 can also probably be handled like I hope to handle family and friends. I can set aside time for personal growth and independent learning. The more I learn, especially about leadership the better both my role as principal, husband, father and friend will be. These were my top 10 failures of 17-18. My goal is to eradicate them in 18-19. Just like those kids in the Facebook videos, I'll dust myself off, put on some ice packs and try again. It's not the falling that counts, it's the getting up. In what areas do you seek to improve? Share your growth areas in the comment section below as well as possible strategies. That way we can continue to learn from each other. I know you'll have some ideas that I haven't even thought of. If you found this entertaining, educational or cause for reflection, please follow me and click share so your friends and colleagues can benefit as well. For more short articles and tips that support educational leaders check out my blog at the
www.howtobeagreatprincpal.com
and/or order my newest book How To Be A Great Principal: 36 Shared Leadership Success Strategies. You can also get a monthly email that delivers the most valuable blogs as voted by readers by joining the Principals' Prep Minute. You can register right on the website. If you're interested in principal swag that speaks to our #principallife you can take a look here. If you're an auditory learner you can download my podcast The Principal Entrepreneur, on itunes and podomatic, episodes replayed weekly. If you're interested in sharing your experience as an edleader please email me at jonathanroyce@theprincipalentrepreneur.com. Finally, I'm part of a community of supportive principals please join our private FB group. #theprincipalentrepreneur #leadership #principal #secondaryprincipals #nassp #massp #maesp #edchat #educhat #edadmin #sharedleadership #howtobeagreatprincipal #jonathanroyce #principallife
182 episodes available. A new episode about every 8 days averaging 13 mins duration .