Manage episode 159875081 series 1250744
By
Dale Tuggy
. Discovered by Player FM and our community — copyright is owned by the publisher, not Player FM, and audio is streamed directly from their servers. Hit the Subscribe button to track updates in Player FM, or paste the feed URL into other podcast apps.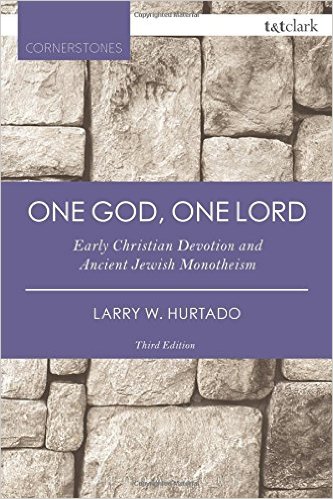 This episode starts with some listener feedback about episode 98 with Dr. Michael Heiser: is his position, trinitarian, binitarian, or "Arian"? I address this, and we hear a little more from Dr. Heiser regarding Jacob's blessing in Genesis 48:15-16.
My interview with influential scholar of early Christianity Dr. Larry Hurtado begins at 10:50. Dr. Hurtado explains the term "early high christology" and what it means when applied to his own work. He discusses various angels and men who in various ancient Jewish writings are in some way exalted and honored in God-like ways, and how these cases differ from that of Jesus. Dr. Hurtado has argued that in the early years of Christianity we suddenly see a distinctive pattern of Jesus-worship, as evidenced by the earliest books in the New Testament. Such practices don't derive from a second or third century, Gentile Christian context, but rather from the earliest, largely Jewish Christian context.
In his view, the New Testament portrays Jesus as having "divine status." Does this mean that they thought Jesus and his Father to be the same god? Dr. Hurtado discusses this in light of various passages in the gospel according to John, and also the statements of 1 Timothy that God is immortal. (1:17, 6:16) The New Testament, he observes, emphasizes that Jesus was a genuine human being, a man, although in his view it also presents Jesus as existing even when the world was made, in a pre-human phase of his existence. God and Jesus, in his view, are closely linked, but also distinguished in the New Testament. God exalts Jesus to divine glory, which is why we must worship Jesus, according to early Christians. Worship of Jesus, he argues, has a theocentric (God-centered) justification or basis.
He also comments briefly on James Dunn's Did the First Christians Worship Jesus?, the idea that "worship" by definition can be given only to God, and whether we should start our christological thinking with fourth century or with first century sources.
Our next is the 100th (!) episode of the trinities podcast: another new interview with Dr. Hurtado, about his God in New Testament Theology.
Links for this episode:
283 episodes