Manage episode 244512015 series 7084
By
Upper 90 Studios
. Discovered by Player FM and our community — copyright is owned by the publisher, not Player FM, and audio is streamed directly from their servers. Hit the Subscribe button to track updates in Player FM, or paste the feed URL into other podcast apps.
Gameweek 8 Points! 40 points (AVG: 36). Fixture Difficulty Cheatsheet is ready with all new team ratings. Working on the fixtures uncovered a new combination differential GW9. Sell Pukki, buy Wilson?
FANTASY PREMIER LEAGUE TEAM TIPS FOR 2019-20
FPL
GW9 Team

Final GW9 Team!

TRANSFERS OUT: Aguero, Gallagher, van Dijk
TRANSFERS IN: Abraham, Wilson (c), Alexander-Arnold
***UPDATE: Going for a mini-wildcard with 3 transfers and a -4 hit (2FTs). Late move for TAA whose price is close to rising. Waiting could price me out of next week's transfer plan. Digne and Everton have to deliver against West Ham, no excuses. Need a bit of magic from Son if he comes off the bench! Thanks for watching and good luck!!!


-Bruno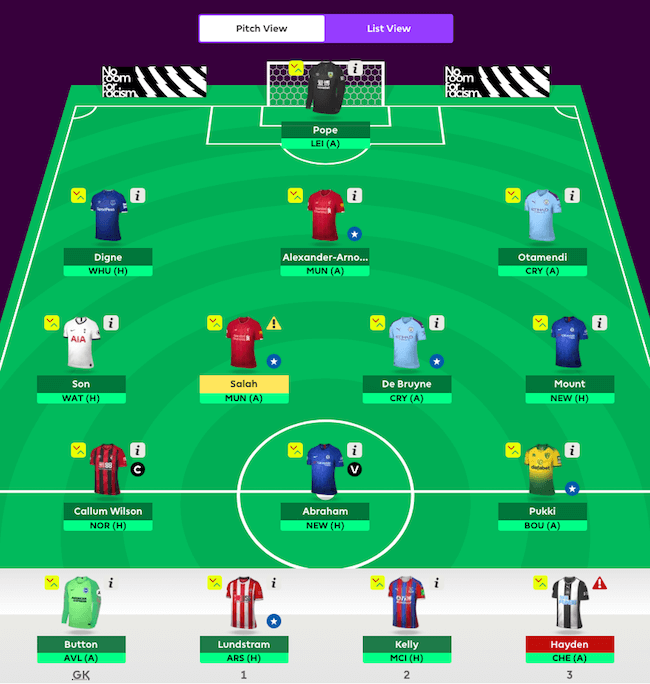 Previous updates.
• Nearly there! Two free transfers from Plan A to be confirmed before Friday night's price changes. There is a change in Plan B. If I take a hit, it won't be to sell Digne. Thinking ahead of next week's potential transfers requires a different swap this week. I'll post it as soon as it's confirmed.
• No transfers confirmed yet. Two free transfers this week to get back on track. GW9 transfer plan, or Plan A, revealed on the video. Plan B is to sell Digne for Pereira for a -4 hit.
PS: I've added #Elite64 ownership stats below.
---
Subscribe to our YouTube channel

https://youtu.be/xi3iFqspfTw
Description.
NEW Fixture Difficulty Cheatsheet!

Team Ratings BEST and WORST

Sell Pukki, Buy Wilson? GW9 Transfers
---
#ELITE64

ownership stats.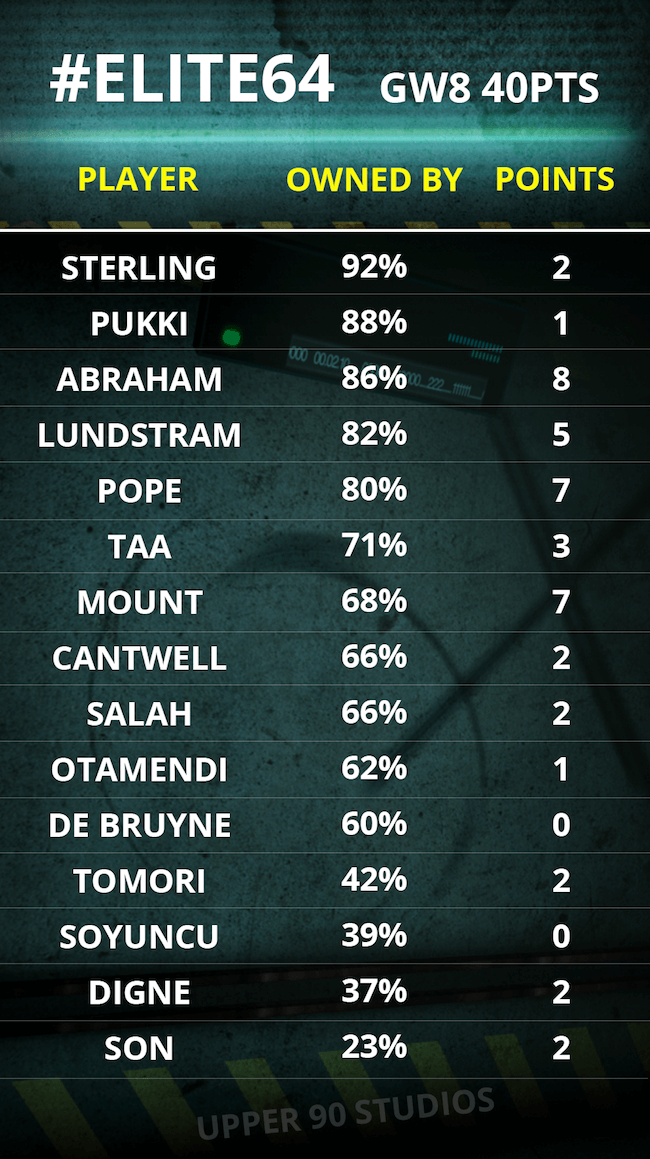 Ownership stats from fntsypl.com
---
Fantasy Premier League
strategy.
With a decade-long winning record in the top 1-2%, our Fantasy Premier League tips and tools help managers from all around the world play and win. Last season was our best ever, finishing top 0.3%, Overall Rank 21k out of 6.3 million! ALL-NEW strategy 2019-20, from analyzing direct competitors to smashing the

club with Chips. Previous finishes: 13k, 20k, 20k, 21k, 54k, 61k, 63k, 65k, 78k…
Stay ahead of your competitors! Don't forget to subscribe to our email list at the top right of the page. We'll send you our weekly team prediction and best tips which you can use to tweak your team. Stay up-to-date with our last-minute transfers and captain choice on Twitter or Facebook.
---
Rate My Team.
Gameweek 9 Team! 40 points, yet another low-scoring average. Fixture Difficulty Cheatsheet is ready! Sell Pukki, buy Wilson? Thanks for watching and let's rate your team!
Thanks!
-Bruno
18 episodes