Manage episode 194977026 series 1421122
Discovered by Player FM and our community — copyright is owned by the publisher, not Player FM, and audio streamed directly from their servers.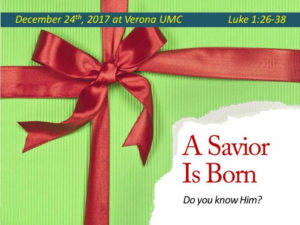 December 24, 2017 A Savior Is Born. Do you know Him?
It's one thing to know of Jesus. It's another thing to know Jesus. This Sunday's worship will focus not just on telling the story of Jesus' birth. It will focus on acquainting us with the Jesus who often disappears in all the clutter of the season. We'll slow down for a few moments at our morning and evening services, and get to know Jesus as Lord, friend, and Savior.
In Christ's Grace and Peace, Pastor Bob
Luke 1:26-38
The post A Savior Is Born appeared first on Verona United Methodist Church.
177 episodes available. A new episode about every 6 days .