Manage episode 227595984 series 1421122
Discovered by Player FM and our community — copyright is owned by the publisher, not Player FM, and audio streamed directly from their servers.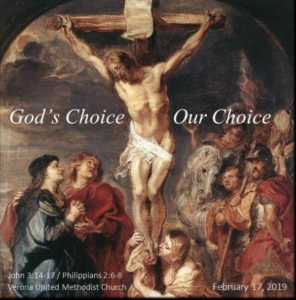 Feb 17, 2019 God's Choice / Our Choice Chad Brown
Sermon Series: Choices – Biblical examples of faithful decision making
Chad Brown will preach in my stead this Sunday as I am with family in Woodbridge for several birthday celebrations (including my own). I'll then be in Richmond Sunday evening through Wednesday for the Virginia Conference Board of Ordained Ministry meeting - please keep us in your prayers. Please keep Chad in your prayers as he preaches on "God's Choice / Our Choice."
Our Sunday morning sermons in January and February are focusing on CHOICES. Like Joseph, Moses, Jonathan, and other people of faith in the Bible, our United Methodist denomination has some critical choices to make in the near future. Over 800 delegates from around the world will meet in St. Louis at a General Conference of the UMC in St. Louis from February 23-26 to attempt to make decisions around the issues of human sexuality and biblical authority that divide our church.
As we pray for this conference and God's will to be done, it seems wise to turn to the Bible and study the men and women who, in their own time, made the critical choice to follow God.
Please pray and ask for God to guide us all in the coming days.
Peace in Christ, Pastor Bob
John 3:14-17 / Philipians 2:6-8
The post God's Choice / Our Choice appeared first on Verona United Methodist Church.
207 episodes available. A new episode about every 7 days .