Manage episode 213547389 series 1421122
Discovered by Player FM and our community — copyright is owned by the publisher, not Player FM, and audio streamed directly from their servers.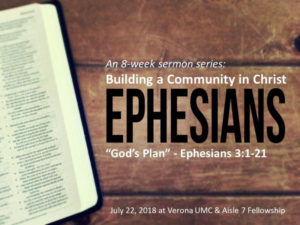 July 22, 2018 God's Plan
Sermon Series on Ephesians Continues with Chad Brown
A sermon series covering the six chapters of Ephesians began on July 8 and extends through the month of August. The series is preached at both Verona and Aisle 7. A mid-week Bible study on Wednesdays at 7 at the Verona Community Center will offer an opportunity to go deeper into Ephesians.
Ephesians 3:1-21
The post God's Plan appeared first on Verona United Methodist Church.
203 episodes available. A new episode about every 7 days .