Manage episode 217209441 series 1421122
Discovered by Player FM and our community — copyright is owned by the publisher, not Player FM, and audio streamed directly from their servers.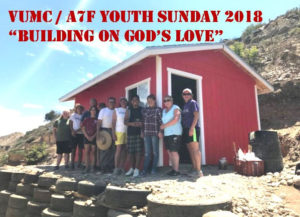 September 16, 2018 Building on God's Love – Youth Sunday 2018
Our youth will bless the church this Sunday as we celebrate "Youth Sunday" at the 8:30 and 11:00 services. Music will be led by our youth band and the message from I Corinthians 13 will be shared by Paige Sailor. Other youth will lead us in prayers and Scripture readings.
I'm always amazed at how God uses our youth under the leadership of Bill and Carolyn Harlow and the help of other adults who regularly accompany the youth group on mission trips. Over the years our youth have served others from Mexico to the Dominican Republic to sites throughout the United States. Please come on Sunday and be blessed by this remarkable group of disciples of Jesus!
Grace and peace, Pastor Bob
1 Corinithans 13:4-8a
The post Love Is appeared first on Verona United Methodist Church.
204 episodes available. A new episode about every 7 days .